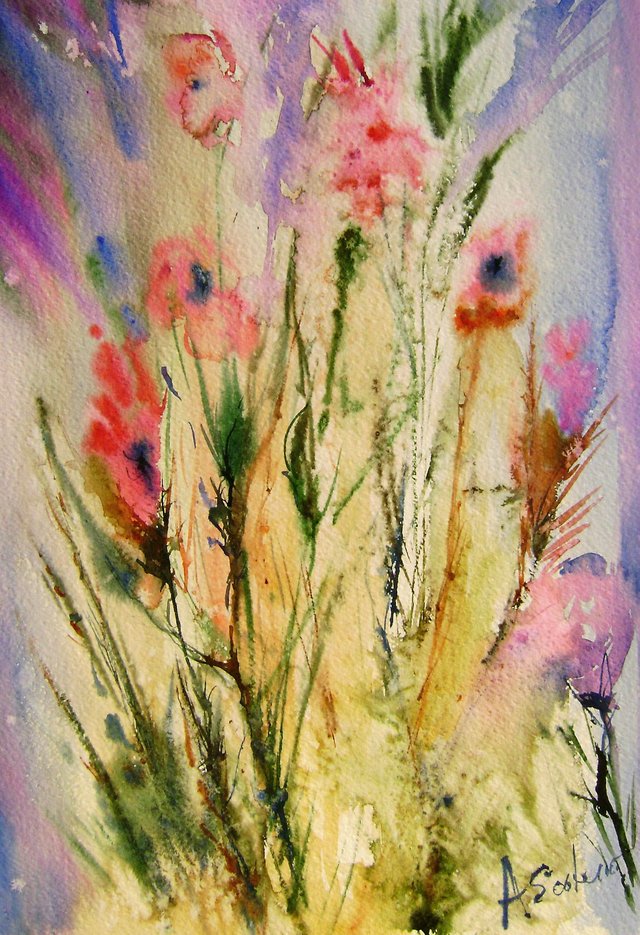 Floral abstractions - improvisation n° 21

2  0  1 9 
watercolor on paper - private collection - Milan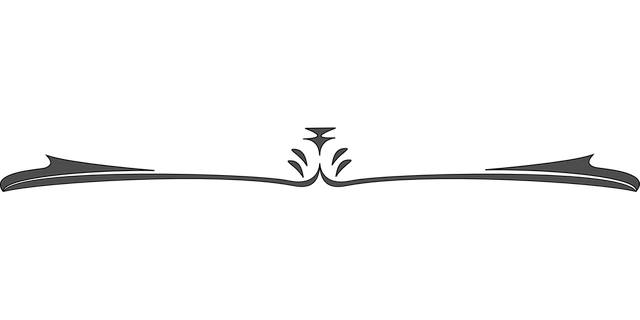 [ENG]
Floral abstractions - improvisation n° 21
Hello everyone.
Today I share a very particular watercolor painting.
In this painting the composition is invented, and built by brushing with color.
So no preliminary drawing in pencil, but free rein to creativity and imagination.
A creative exercise that I often put in place with my students, to free them from the chains of preparatory design.
A pictorial exercise that is very close to abstraction, that is, to create art without a drawing or a background scheme.
Very close to creative writing, this painting is based on the gestures of the pictorial sign, on the immediacy of the execution.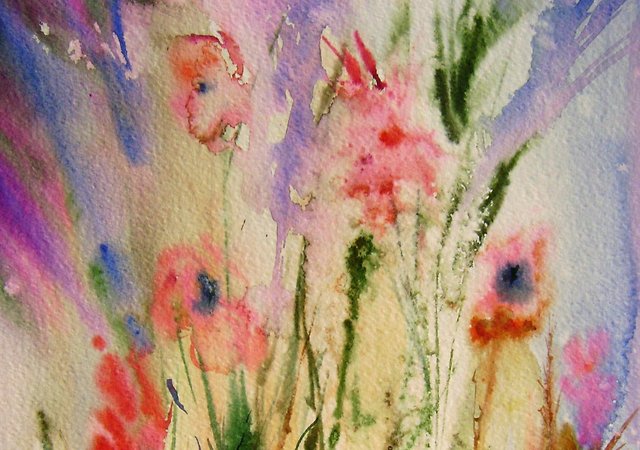 The wet sheet of paper allows very intense and evocative effects.
A tutorial that I recommend to all my friends who paint with other pictorial techniques.
I repeat once again, the watercolor give us endless satisfactions and nuances that other pictorial techniques do not have.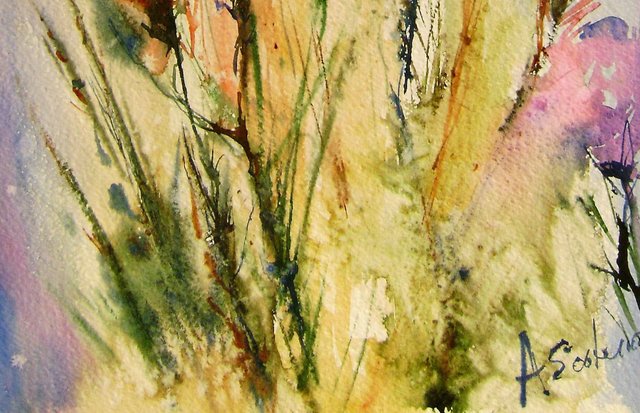 Such as paper sprays or multiple color blends.
The painting was liked and was purchased by a client of mine in Milan.
I hope you like it too and appreciate the suggestions for a good painting.
A hug.
Armando
Let's talk about peace!!!
STEEM ON!!!


[ITA]
Astrazioni floreali - improvvisazione n. 21.
Ciao a tutti.
Oggi condivido un dipinto ad acquarello molto particolare.
In questo dipinto la composizione è inventata, e costruita pennellando con il colore.
Quindi niente disegno preliminare a matita, ma libero sfogo alla creatività e alla fantasia.
Un esercizio creativo che spesso metto in atto con i miei studenti, per liberarli dalle catene del disegno preparatorio.
Un esercizio pittorico che si avvicina moltissimo all'astrazione, cioè al creare arte senza un disegno o uno schema di fondo.
Molto vicino alla scrittura creativa, questo dipinto è basato sulla gestualità del segno pittorico, sull'immediatezza dell'esecuzione.
Il foglio di carta bagnato permette effetti molto intensi e suggestivi.
Una esercitazione che consiglio a tutti i miei amici che dipingono con altre tecniche pittoriche.
Ripeto ancora una volta, l'acquarello ci da infinite soddisfazioni e sfumature che altre tecniche pittoriche non hanno.
Come ad esempio le nebulizzazioni sulla carta o le fusioni multiple di colori.
Il dipinto è piaciuto ed è stato acquistato da una mia cliente di Milano.
Spero che piaccia anche a voi e che apprezziate i suggerimenti per una buona pittura.
Un abbraccio.
Armando
Parliamo di pace!!!
STEEM ON!!!

https://www.ntopaz.com/ go for a ride, for art lovers.


Art teacher
Curator of cultural activities
Artistic director and President of the Cultural Association "I Colori della Vita"
https://www.icoloridellavita.life/
and "Fuori Controllo" Festival
https://www.facebook.com/fuoricontrollofestival/