Bounty to create smart contracts on NULS + Bounty to write an article about NULS
Create Smart Contract and get a chance to win 1000 NULS !
NULS has launched the smart contracts on the testnet at 16:00 on Oct 15th (GMT+8).
They are offering bounties for developers to create smart contracts.
Deploy your smart contract to the testnet and submit it to : https://github.com/nuls-io/contracts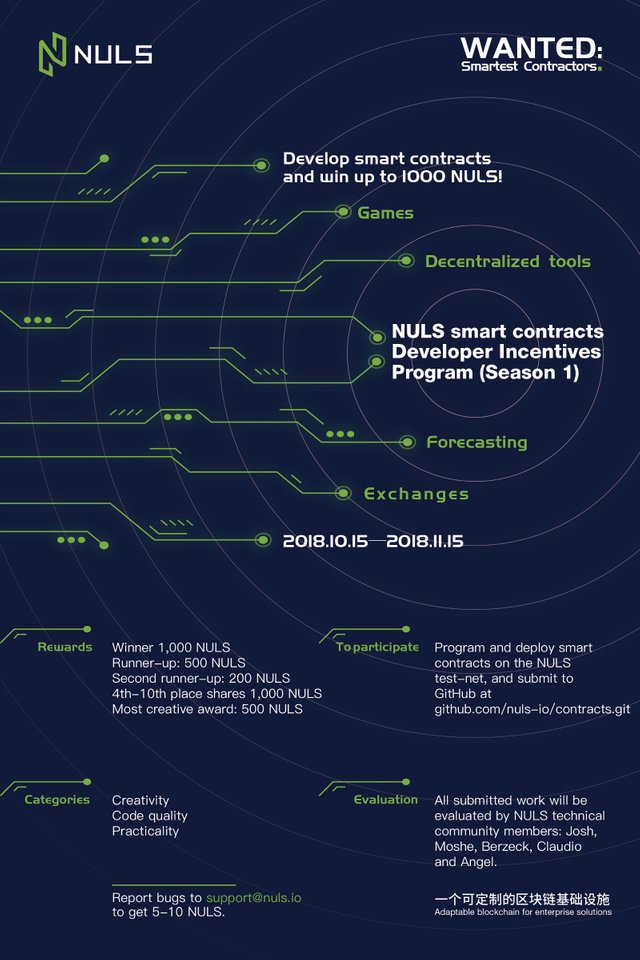 Are you are writer ? 200 NULS for the best article !
NULS also has a bounty for great writers, check it out !
https://community.nuls.world/d/139-want-200-nuls-starting-writing-now-200-nuls
Join the NULS telegram for a special personal bounty of 2 NULS !
Rules :
Join https://t.me/Nulsio and https://t.me/NulsNews
Shoutout to @JohanCrypto (my telegram username) on https://t.me/Nulsio and tell me what are the best features of NULS and I will give you 2 NULS from my own pocket ! Limited to the first 50 new members only and for the next 24h only.
Check this out too
On Oct 14th in Chengdu, China, NULS Founder Jason Zhang was invited to a technology salon hosted by #CSDN, the largest Chinese technical community in the world. In this event, Jason introduced NULS' smart contract and its modular design, fast deployment and JVM-friendly features.
https://twitter.com/nulsservice/status/1051731459164102661
MC Payment partnership
"MC Payment is pleased to partner NULS in this latest expansion in ASEAN markets. With the reputation we have built over the years in this region, finding a partner that can go the extra-mile with us, is vital."
https://steemit.com/nuls/@najoh/mc-payment-partnership-with-nuls-video-by-crypto-investing
Official channels :
Official Telegram : https://t.me/Nulsio
Official News Telegram : https://t.me/NulsNews
Official Twitter : https://twitter.com/nulsservice
Official Reddit : https://www.reddit.com/r/nulsservice/
Official Medium : https://medium.com/@nuls
Official Chinese Telegram : https://t.me/Nulscn
Official Facebook : https://www.facebook.com/nulscommunity
Official Steemit : https://steemit.com/@nuls
Official Forum : https://nuls.community/