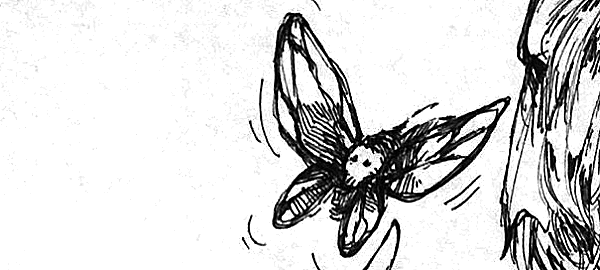 Finally Friday !!!
It was really hot during the day today, reaching 42C at 1 PM (108F) but it has now cooled down considerably. I think it is right now around 21C or 70F. It started to come down at around 3 PM to 26C... so it dropped like around 15C in a matter of two hours. Melbourne is pretty crazy like that :D
But really, such a wonderful weather right now! There is an airy breeze and the evening air feels fresh and really springy :D :D :D Too bad the sun has gone away!
Anyway, I am glad the week's done and I've got the weekend to look forward to \o/
Today, I picked up my favourite arting weapon, the Sakura Micron Pen (black) 005 and this girl came out. This pen is very nice to draw with and although I didn't know what would come out when I started to draw, you can trust that, when your hand is comfortable and it knows the behaviour of your favourite tool well, SOMETHING would come out, alright !
Preview~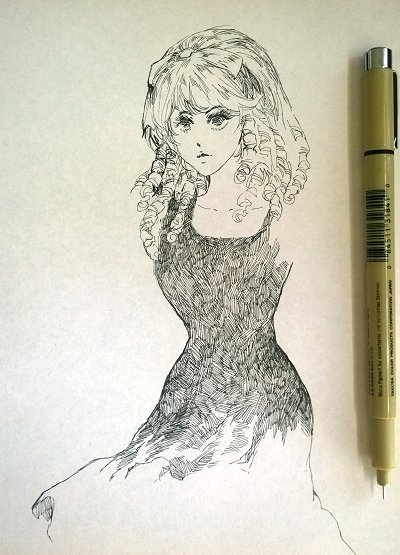 The crosshatching is really therapeutic to do at first but after a while I really got sick of it and I was quite glad that I didn't have to do the entire dress! Sometimes, leaving some parts blank actually creates an illusion of form and folds :D
Step by Step
Step 1: Face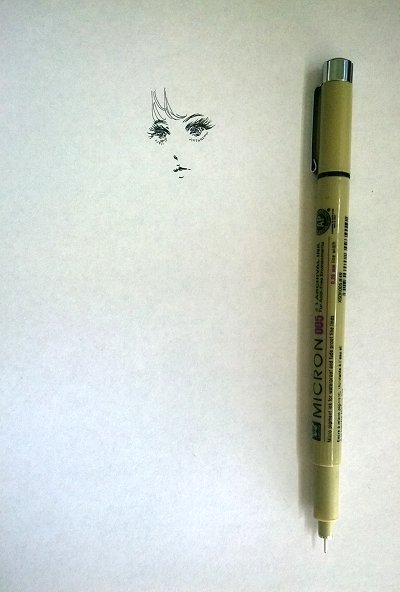 Step 2: Hair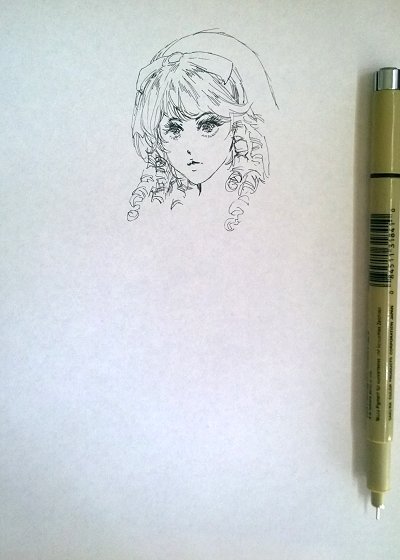 Step 3: Torso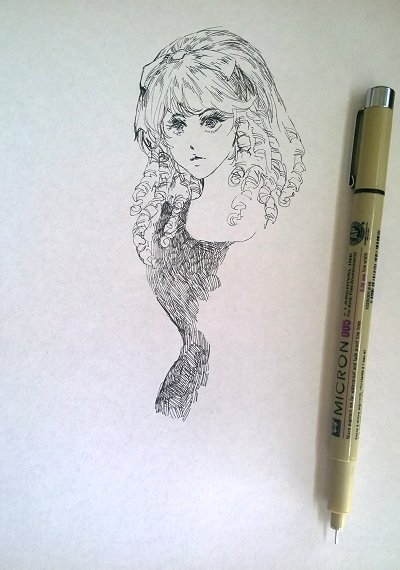 Step 4: Dress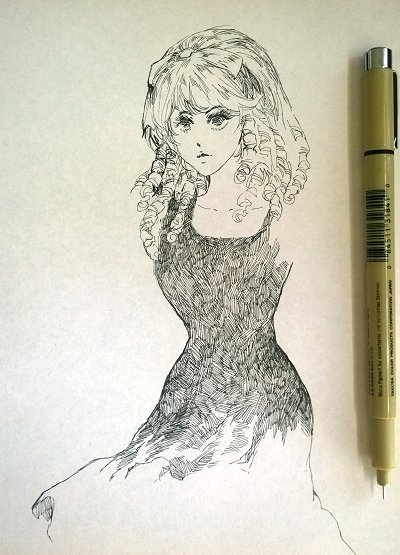 Step 5: Arms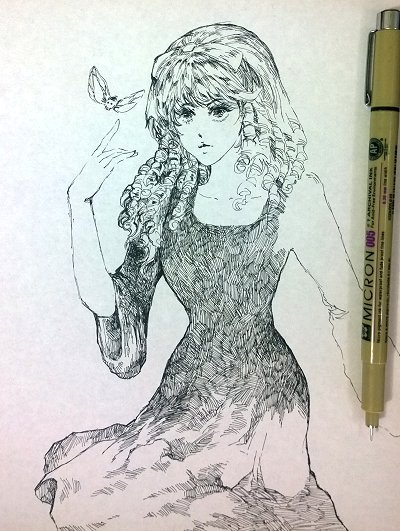 Step 6: Shading and outlined and DONE!!!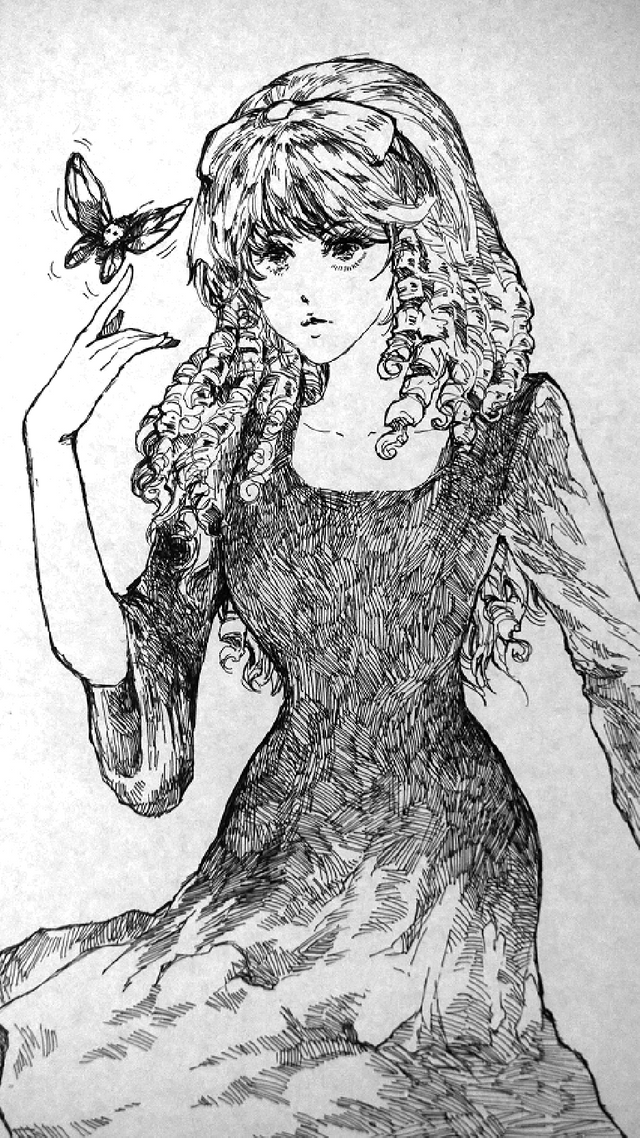 clicku
The moth I'm drawing here is the one made famous by the poster for the movie "Silence of the Lambs"... I was actually listening to someone talking about this movie during work time and I guess parts of it sank into my subliminal because this drawing came out at the end of the day? They didn't mention the poster or the arts for the movie, but I know I remember the poster well~
If you are curious, the moth's name is Death's-head hawkmoth and this is how they looks like in real: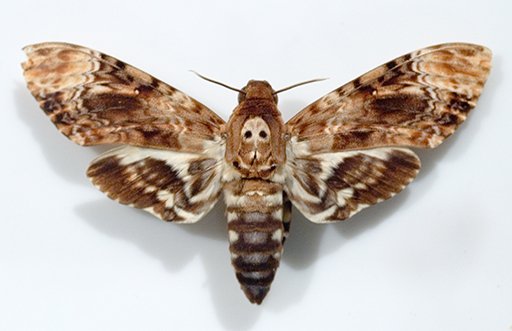 I didn't look 'em up before I was drawing so I ended up giving them a butterfly type of wings instead of a moth's type of wings :3 This is what I do. I blunder into things with vague knowledge :D :D :D But anyway, erroneous details aside, I think this girl probably spends entirely too much time on her hair and she isn't too concerned about the moth's scientific accuracy......... :D :D :D
See you tomorrow, friends o/
copyright @veryspider. all rights reserved.

To all of you artists out here at Steemit! Hello~ If you ever are lost and lonesome, please join Steem Artists at our discord chat: https://discord.gg/ENN8KCb

We network with fellow artists here on Steemit and we help each other succeed :) Come and say hi~ ^ __ ^





curator for curie, c-squared (and c-cubed), and nTopaz