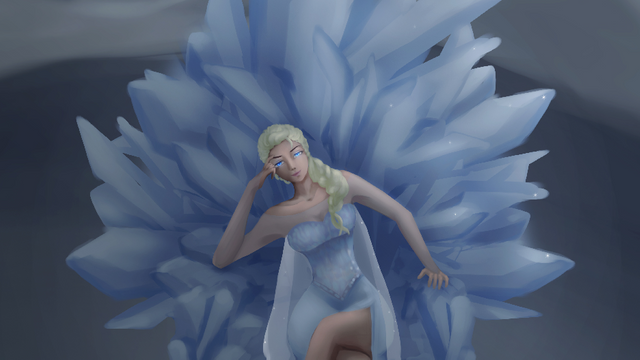 Hey peeps! Sooo, I made another Elsa >u< I had this one follow my original concept except I made her sit on an Ice Throne! I'm a little frustrated that I gave up before even trying before and I think this one went okay! First time drawing a seated character and a reference was all that's needed~
---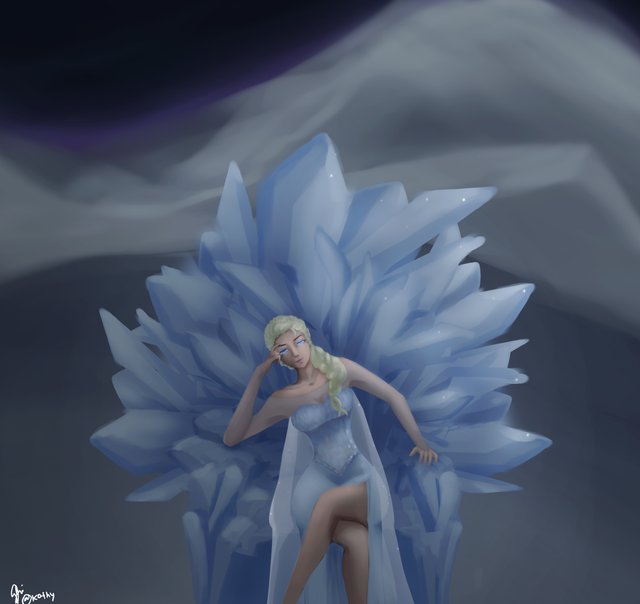 ---
In this one, I successfully made her look colder rather than sad like my first attempt! Mission Accomplished! My first Elsa looked soft and sad while this one is an Ice Queen~ Also, if you look a little closer, I added a few details on the dress! I made it look a little more accurate to what Elsa was really wearing. I recycled the background since I was pretty proud of it >u< I'll be off to download brushes as soon as I finish this post :>

No progress shots for this one, unfortunately. I was a little too eager to draw since I haven't touched my drawing tab for a week!
---
Anywaysss, I'm making a bunch of Disney princesses ♥ If you're interested, here are some of my previous posts:
♥ Rapunzel
♥ Elsa 1
---
That's about it! I hope you liked this one as well!
---
If you wish to have an amazing companion through your drawing journey, feel free to join us @steemartists! It's full of amazing artists, both new and old, who are willing to share their experiences. I learned a lot from them, I hope you will too n_n
---

---
We also have a discord channel and we'd be more than glad if you dropped by: https://discord.gg/C9PsHV6
---
Thank You!

I hope you guys enjoyed this one as well!
Feel free to comment any tips or suggestions. It will be greatly appreciated! If you liked the content, please leave an upvote. For more, please follow @kothy.

Please support my work at nTOPAZ as well by tipping some hats! ♥
https://www.ntopaz.com/artwork/14461
---
All images were made by @kothy
All rights reserved
---