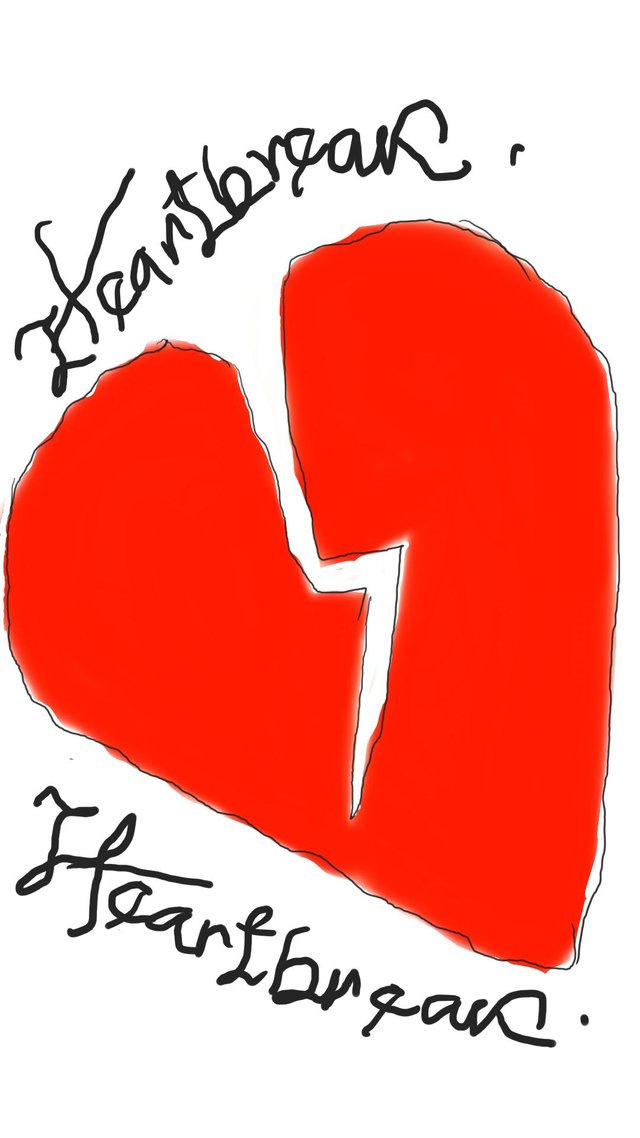 # Hello guys,
Today, I came up with an illustration and an article titled HEARTBREAK.
To start with, what would you say is the cause of HEARTBREAK? To me, I will say the cause of HEARTBREAK is DISAPPOINTMENT. The only factor that can cause a hitch or break to a heart is when disappointment 😞 is felt. A person will get heartbroken when a person that is given a high esteem & respect misbehaves and do something which the other person does not expect at all.
Relating this to LIFE, Heartbreak is certain to happen to every person in life and this is because definitely, a man will believe so much in another person and place him/her so high to a place where just an ordinary person will never be. When heartbroken, different thoughts and challenges comes up, depression comes and atimes push many to committing suicide or even something greater than suicide. Life is not made of bed of roses so a man shouldn't believe or even think there is a person that will stand the test of time with them all the time and all the rest of their life's. An instance I will use is the scenario of the components in the mouth which are the TEETH & TONGUE. Despite, the closeness of both, they still bite each other,yet none abandoned the home for another. Therefore, they just have to live with themselves and cope with their differences. In Marriages too, couples have misunderstandings and crisis but they still pick each other up and settle their differences.
How can HEARTBREAK be reduced?
To me, Heartbreak can be reduced through consecutive agreement and straight mind with a person. You should never expect too much from a person because when you do, you get heartbroken easily. Don't get me wrong. I am not saying you should not trust or believe a person for what they do or say but rather, when moving with a person, always have in mind that you should always create a space in your heart for misunderstandings from the other person or disappointment so that the heartbreak can be minimized. Nobody can ever make you happy like the way you will make yourself happy and this is because you know yourself and you know what to do to keep yourself happy always.
Thanks for reading in my blog for today, I love you all.
#PEACE OUT