Namatzu - Mr. Fish 🐱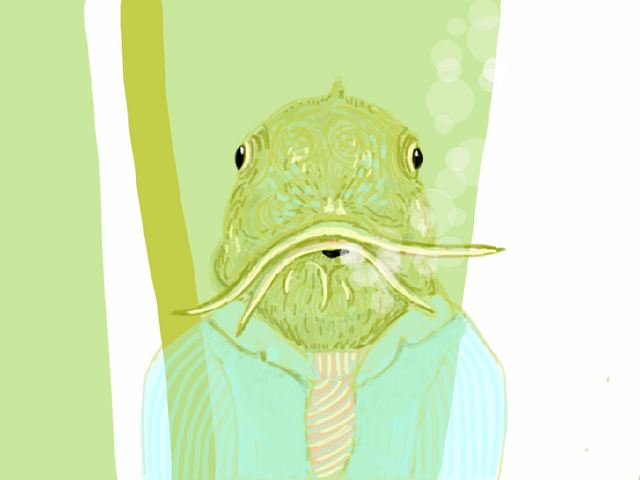 [ITA] L'immagine e il contenuto sono proprietà dell'autore e realizzata su Dada [ENG] Images and content are property of the author made on Dada

[ITA] Cari steemies,
oggi ho pensato di condividere con voi questo disegno che ho fatto ieri su Dada e che fa parte di una conversazione intitolata
whiskers
che significa:
uno qualsiasi dei peli lunghi e rigidi che crescono sul viso di un gatto, un topo o altri mammiferi.
Praticamente barba, baffi e basette.
---
[ENG] Dear steemies,
today I thought to share with you this drawing I did yesterday on Dada and that is part of a conversation called
whiskers
what does it mean
any of the long, stiff hairs growing on the face of a cat, mouse, or other mammal.
In practice, a beard, mustache and sideburns.
---
[ITA] La mia interpretazione del tema ha come protagonista il Signor Pesce, un pesce gatto silenzioso e resiliente che vive sul fondo di un lago della mia immaginazione. È un signore distinto che indossa sempre abiti chiari ed eleganti per poter risplendere nella luce che attraversa la superficie dell'acqua.
I suoi baffi sono chiamati barbigli e il suo nome in giapponese è Namatzu
è considerato un animale sacro capace di generare terremoti perché secondo una leggenda la sua coda è intrappolata sotto la crosta terrestre mentre il possente corpo si trova sotto il Giappone.
[ENG] My interpretation of the theme features the Mr. Fish, a silent and resilient catfish that lives on the bottom of a lake of my imagination. He is a distinguished gentleman who always wears light and elegant clothes in order to shine in the light that crosses the surface of the water.
His whiskers are called barbels and his name in Japanese is Namatzu
is considered a sacred animal capable of generating earthquakes because according to a legend its tail is trapped under the earth's crust while the mighty body is located below Japan.
A big hug! Se you soon!
Isa