Cold as Ice - Light Painting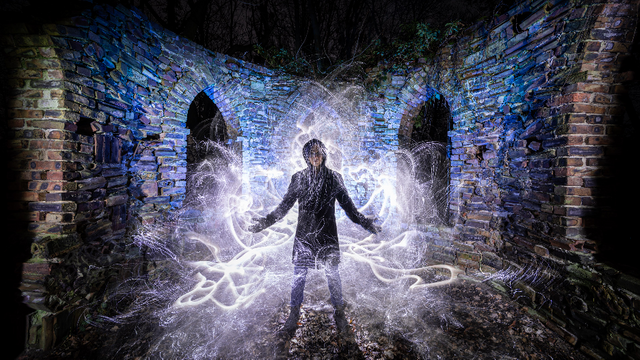 After work fun in a tiny old chaple ruin just outside of Berlin. After work i joined two friends (Sven and Eric) on a short trip to the borders of the city. One of the Light Paintings i came home with is this one. Its a 114 second single exposure photograph. At first i used a 2m long fiber wip to create the Ice cyclone, after that the shadows of his legs then some cold blue on the walls followed by the white from the side and on the ground. The camera was set to ISO 100 and the lens to F8. Eric was my model and was holding perfectly still. So thank you for that. Sven was givin mental support ;-)
---
Glad you found your way to my gallery to enjoy my art work.
For more of this kind of art look for my pages: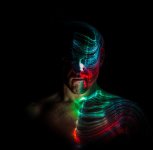 Gunnar Heilmann Photography
My Website
My YouTube channel
My Facebook Page
My Instagram Feed
In my role as a co-founder of LightPainters.com i am reaching out to get support for our project. If you are interested in the art form of Light Painting please see the our platform. See some more art like that on @lightpainters and support us.

We are LightPainters
For us to support more LightPainters we appreciate your deligation of SteemPower. How to deligate:
Delegate 100SP, 200SP, 500SP, 1000SP, 2000SP, or even 5000SP
Any amount is welcome and helps a creative community to grow.
Thank you so much.