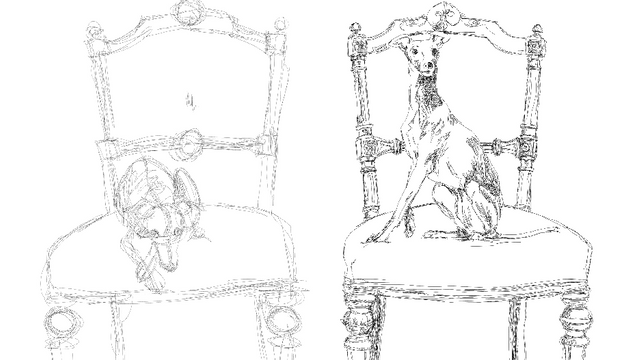 Here is a section of the WIP sketch:
The Entire piece, you can see it will be two dogs, two chairs.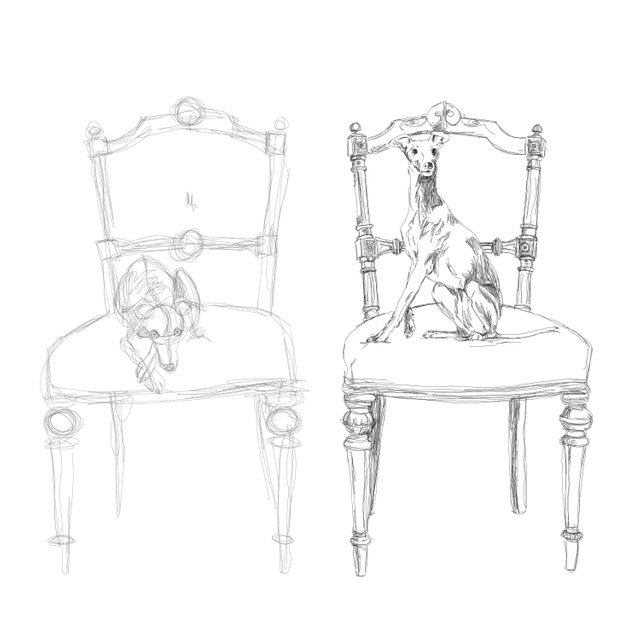 Italian Greyhounds are one of my favourite dogs
having had a few in my life and even breeding them, they are always close to my heart.
I haven't decided on a colour story yet or a background pattern.
At this stage I am simply laying out a general composition
and you can see with the dog on the right that I have gone in to start adding detail. Much of the sketch detail may go away when it gets it's final Graphic design layout.
I love to sketch
and messing with details and shadow is important even if they disappear somewhat in a black and white ink or a graphic colour version. If I decide to use the sketch again in a digital oil, then I'll be happy for the detail and shadow.
I have been very busy of late
as I know many of you have. I have noticed I am not the only one not getting to a post each day. It is most like a busy time for all.
I have another long list today, so will be making this a very short post.
However, using my morning tech time for my sketching was more fruitful.
And having spent last night and early this morning on this idea/layout/beginning sketch was better use for my time then trying to write a longer post I feel.
My joy with Steemit is getting to share my art in process
there is a feeling of accomplishment being able to send out my half finished 'children' into the digital world to be shared. I think many of us feel this way.
Steemit really is a haven for artists
it allows us to life our heads from our drawing tables/computers/easels and say, "Hey, this is what I've done so far, what'd ya think?" And I like that about this platform.
Luckily today the wind has ceased, the sun is out and I can get to my long list, some of which involves my being outside.
I hope all of you get some good weather and a moment to enjoy it.
I hope your day is either filled with sun or if rain, then I wish you cozy fire and corner to curl up and read and dream.
As always, if you feel so inclined, upvote, resteem, and by all means comment.
My Previous Post: A Witch & her Familiar gathering writing supplies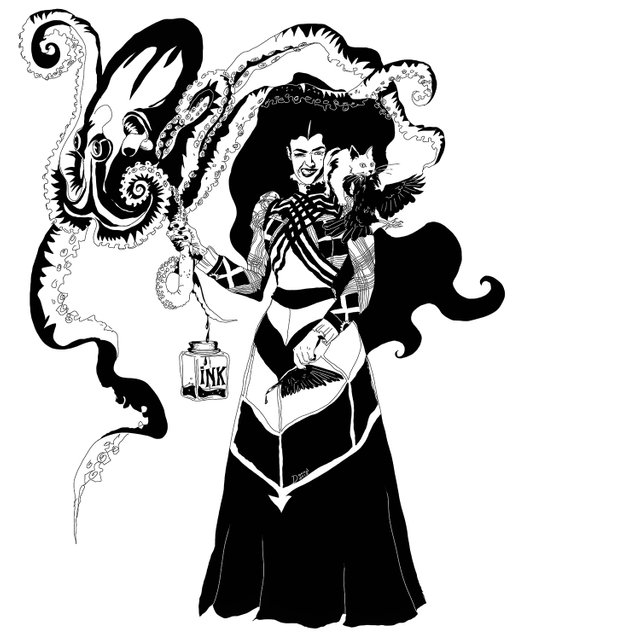 Copyright @donnadavisart - All Rights Reserved

---