---
[ENG]
---
Hi there! <3
This publication is intended to be a hybrid of a tutorial, motivational publication, and photography post. I've been doing courses on hairdressing and styling, tomorrow I'll graduate as a hairdresser and decided to make myself an acrylic nail system with embeds. Usually, to do this kind of work you go with a manicurist, but in this post, there is evidence that you can do it for yourself if you have the knowledge.

---
ACRYLIC NAIL SYSTEM
It's artificial nails elaborated over the natural nail with minimally invasive procedures. There are several techniques and styles, in this particular case were made with dual system forms.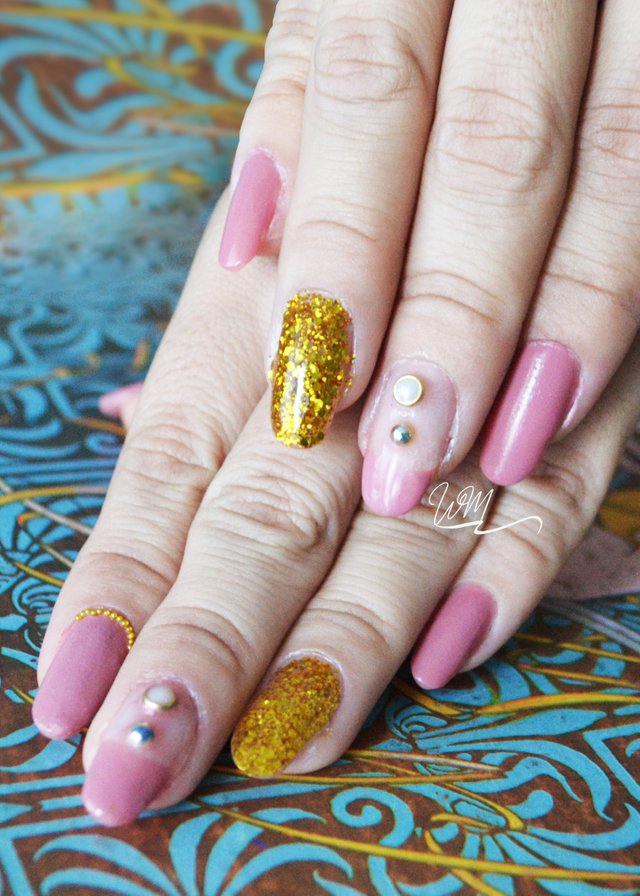 SUPPLIES:
Cotton - Alcohol - Dual system forms - Natural Nail Primer - Polymer - Monomer - Brush #8 - Finish Gel - Nail art deco accesories - Nail files 100/180 & 80 - Buffing Block - Dappen Dish - Gold frost - Nail Polish - Nail Lamp - Napkins - Nails Dotting Pen - Pick up Tweezers - Creativity - Patience.
Working time: 5 HRS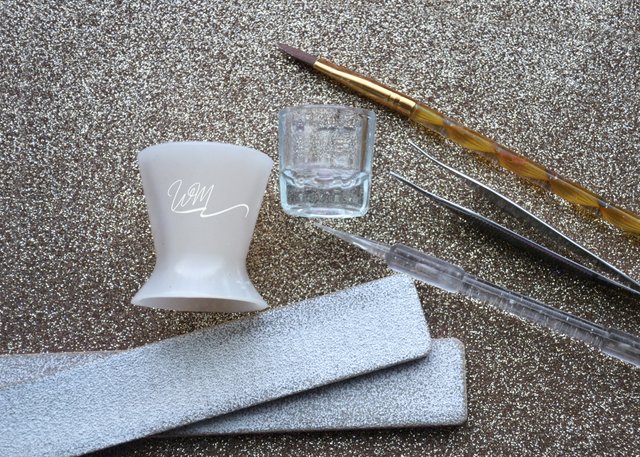 PROS
No wear on the nail surface
Natural look and feel
Different polymer shades that make nail polish unnecessary.
Protects the brittle and weak natural nail
Extensive range of inlay accessories
CONS
Minimum maintenance every 15 or 20 days
Long elaboration process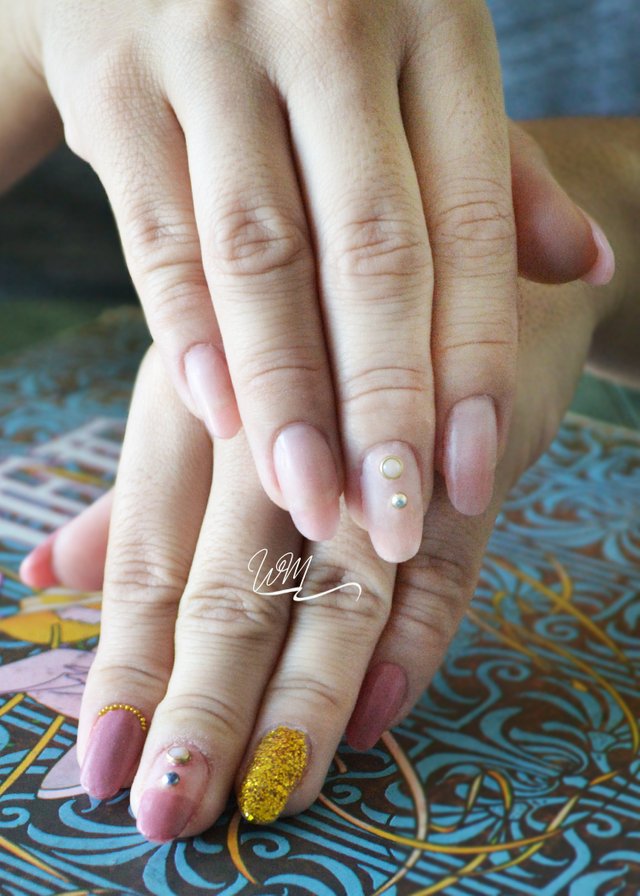 NAIL POLISH AND DECOR:
Valmy's Nail Polish #07 - Traslucid Nail Polish - Frosting nail polish - Gold frost - Finish Gel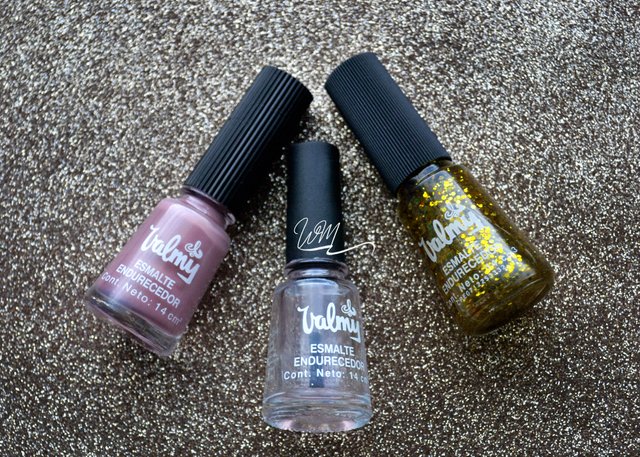 BEFORE AND AFTER
I'm very happy with the decision I made to make them myself. Going through the same procedures that your client makes you empathize with them much more. It's a long process with a lot of details to take care of, but I love to do it. It is the first time that I dare to use false nails, I will tell you how it goes. At the moment I've been 4 days, and everything has been a matter of getting used to wearing long nails.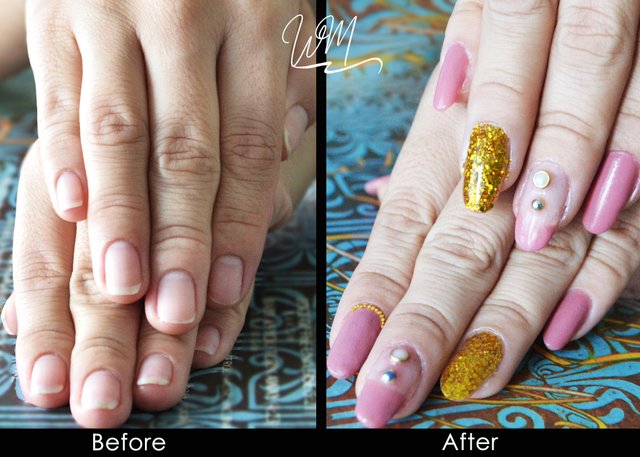 ---
I'd like to know what do you think about this technique and the result below in the comments.
---
Thank you so much for supporting my work!
Lots of love,
W.

---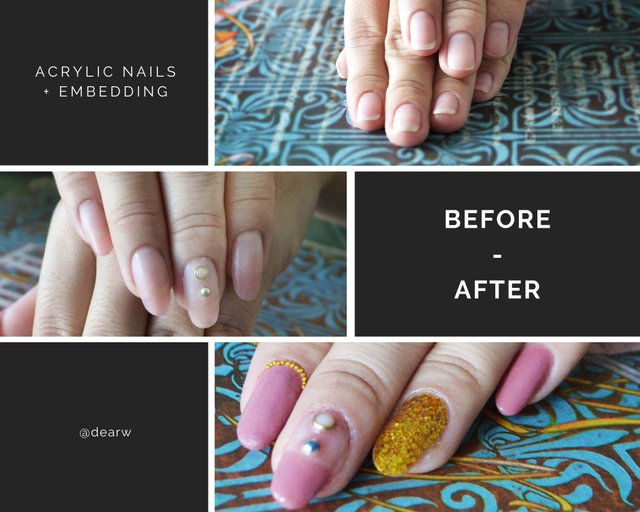 ---
[ESP]
---
¡Hola! <3
Esta publicación pretende ser un híbrido entre tutorial, publicación motivacional y fotografía. He estado realizando cursos sobre peluquería y estilismo, mañana me gradúo de peluquera y decidí hacerme yo misma un sistema de uñas en resina con incrustaciones. Por lo general para realizar este tipo de trabajo acudes con una persona capacitada pero con este post queda la evidencia de que tu misma lo puedes hacer.

---
SISTEMA DE UÑAS ACRÍLICAS
Son uñas artificiales elaboradas sobre la uña natural con procedimientos mínimamente invasivos. Existen diversas técnicas y estilos, en este caso particular fueron elaboradas con moldes duales.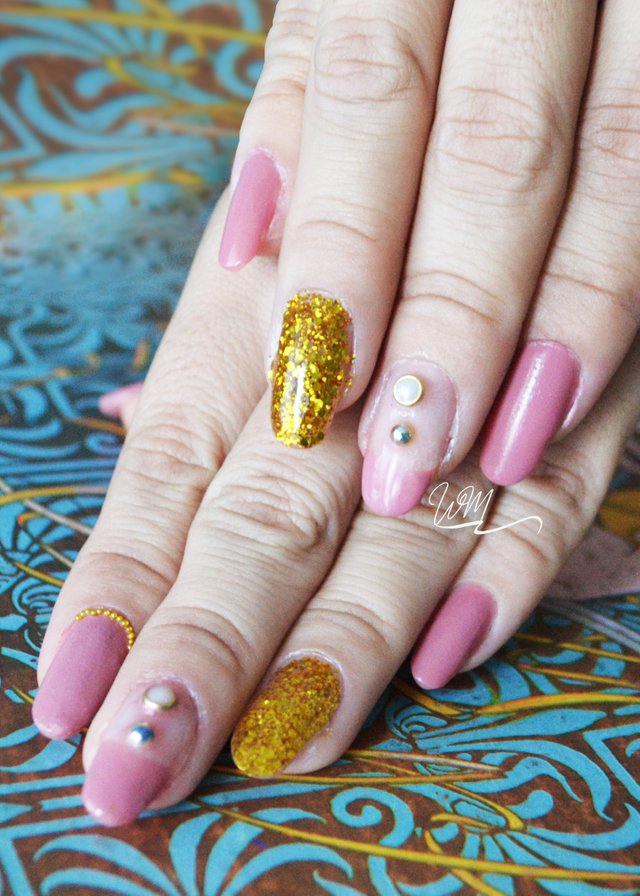 MATERIALES:
Algodón - Alcohol - Moldes duales - Primer - Polímero - Monómero - Pincel #8 - Finish Gel - Incrustaciones (caviar - perla) - Limas 100/180 y 80 - Taco - Vaso Dappen y de silicon - Escarcha - Esmaltes de uña y brillo - Lámpara de uñas - Servilletas - Aplicadores - Pinzas - Creatividad - Paciencia.
TIEMPO DE TRABAJO: 5 HRS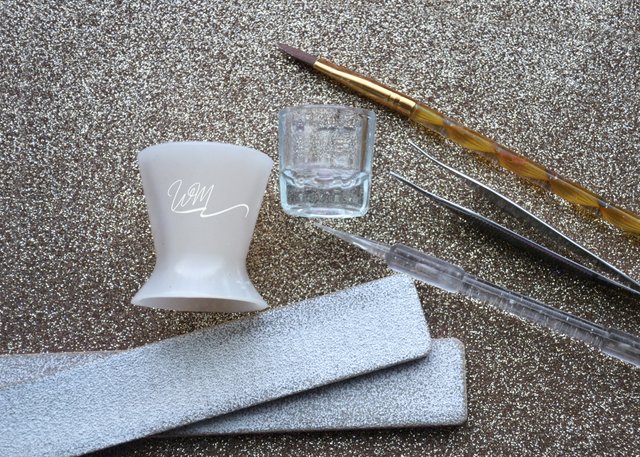 VENTAJAS
No se realiza desgaste en la superficie de la uña
Acabado y sensación natural
Diferentes tonos de Polímero que permiten prescindir de los esmaltes de uñas
Protección para la uña natural quebradiza y débil
Muchísima variedad para la aplicación de incrustaciones
DESVENTAJAS
Mantenimiento mínimo cada 15 o 20 días
Largo proceso de elaboración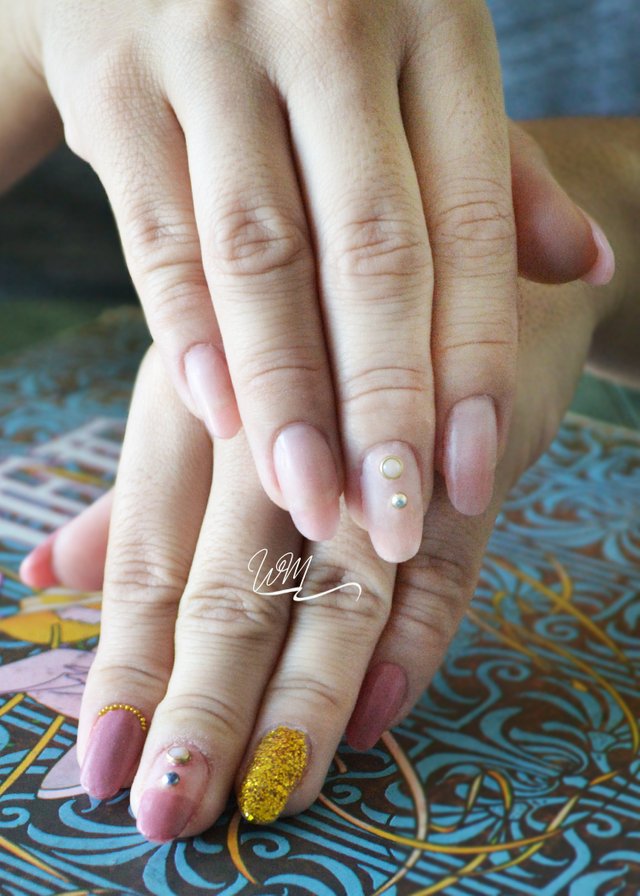 ESMALTADO Y DECORACIÓN:
Esmalte Valmy #07 - Brillo para uñas - Brillo escarchado - Escarcha dorada - Finish Gel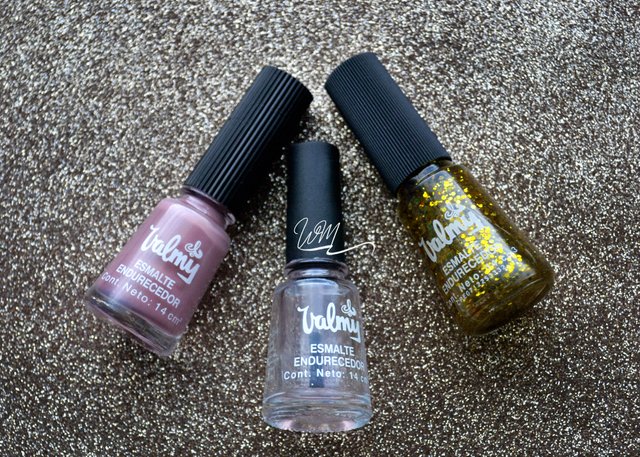 RESULTADOS
Estoy muy contenta con la decisión que tomé de hacerlas yo misma. Pasar por los mismos procedimientos que tu cliente hace que empatices con ellos mucho más. Es un proceso largo y con muchos detalles que cuidar pero que me encanta realizar. Es la primera vez que me atrevo a usar uñas postizas, ya les contaré como me va. Por los momentos llevo 4 días y todo ha sido cuestión de acostumbrarme a llevar uñas largas.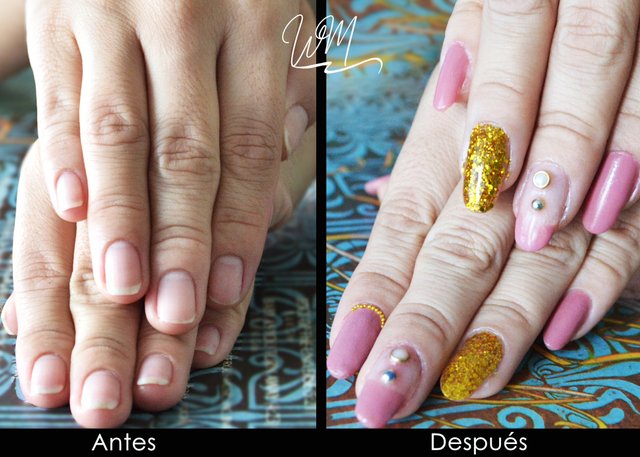 ---
Me gustaría saber que opinas sobre esta técnica y el resultado en los comentarios.
---
¡Muchas gracias por apoyar mi trabajo!.
Con mucho cariño, me despido
W.

---
Sígueme en / Follow meTwitter and Instagram || Crea contenido desde / Create content on Partiko || Juguemos / Let's play Steem Monsters || Gana recompensas por tu actividad diaria / Earn rewards for your daily activity aqui/here || Separadores / Dividers hechos en Canva