As the semester is coming to an end, all of us on the @phillyhistory project are considering what we have and have not accomplished and evaluating our Steemit experiment. Although the experiment will continue once we've passed on the funds and account, our time with it is over.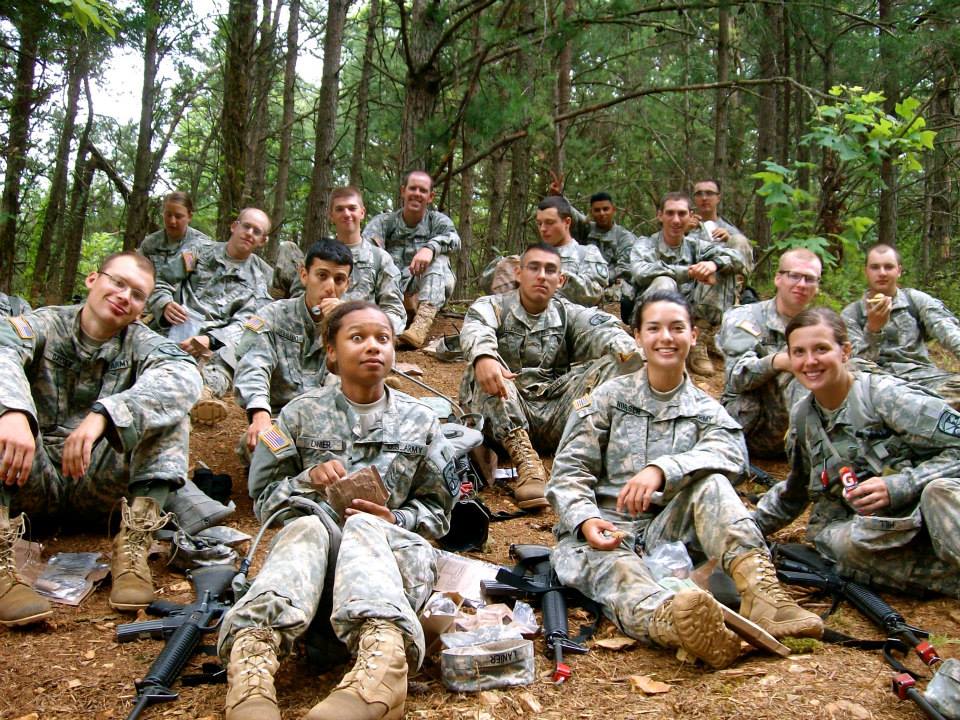 My platoon and I eating during an AAR at Ft. Knox. Photo credit: Probably our instructor, it was a few years ago
I started my posts for this project with an introduction to myself and my military ways, and I think it's suitable to end on it too. After every drill or major exercise, we do an after action review (AAR). Leaders of all levels gather together and discuss the event—what went well to what went poorly, all with idea of improving it for next time. It requires tact but also openness—those who planned and ran things need to be willing to listen to constructive criticism from below. At the same time, it can't just be a whining session: the issues must be fixable and they should come with suggestions. Being familiar with this format, I'll use it to critique our project so far.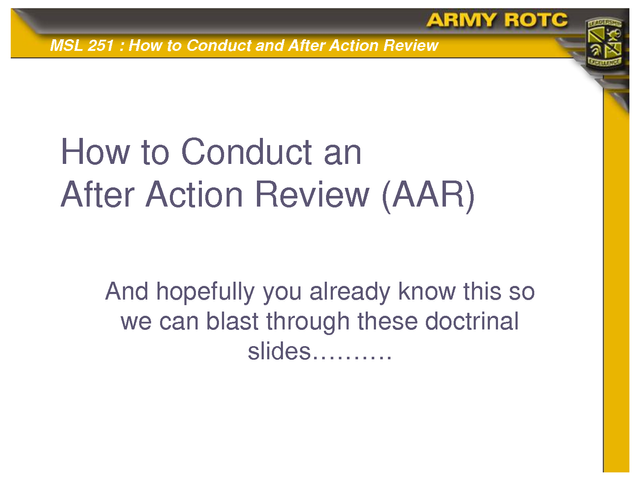 I thought this slide was hilarious but you probably won't get it. Let's just say doctrine is boring and one of a soldier's most-used phrases is "death by powerpoint." Photo credit: aplg-planetariums.org
Typically, AARs deal with sustains and improves. Sustains describe what we should keep doing, while improves describe what should be done better. Each improve should discuss an issue and provide a suggestion. Usually AARs are done with everyone in the same room, then written up as a report to reference for next time. This AAR will be online, however, and you can bring up sustains and improves in the comments. Let's get to it!
PHILLY HISTORY PROJECT
SPRING 2018 AAR
Inclusive Training Dates: JANUARY-APRIL 2018
Commander's Intent for Training:
Use Steemit to raise funds for a Philadelphia nonprofit IOT teach students about various aspects of nonprofit management and allow them to experience grantmaking
Training Conducted, What Really Happened:
Classroom discussions
Steemit blog posts and comments
Assigned readings
~3000 Steem raised
Nonprofits projects identified, organizations reached out to
Training not Conducted/ Reason:
Nonprofit leaders brought to class to answer questions/none willing to take our Steem
Sustains:
We made money out of nothing by publishing content. As grad students we'd be writing (probably a blog) for this class anyway, if by using Steemit that writing earned money for a nonprofit, great!
We made lots of good history content more available—however, see caveats in improves
We became familiar with the process of administering grants. Especially tools like developing criteria and using a matrix to rank projects
We worked with another class of non-history students, good interdisciplinary approach
We explored many issues with nonprofits and came up with lots of interesting ideas and some dreams
We had useful discussions in the comments and engaged (sometimes) the community outside of the academy
Support from @sndbox allowed us to get much more out of Steemit than we would have on our own
Improves:
We needed to offer the money as USD—most institutions are not ready for Steemit yet, at least not on the short timetable we offered them
We needed to make the offers much earlier—even the smaller NPOs didn't have sufficient time to consider and reply to our offer and our questions. We wouldn't have had enough time to make a decision either
The Steemit platform is not widely viewed enough—ideally, we need to reach out to wider community. We should have some way to either direct them to our Steemit posts or post our content in multiple places (linked back to the original at Steemit) to make it more accessible/available
A partnership with a museum or NPO from the beginning would have allowed us to use their collections/content for posts, which would strengthen the argument for the usability of Steemit to NPOs
We need to bring more whales in and get greater community engagement. Perhaps we could do this by discovering good content by others and commenting, or by better use of tags, or contests like the 1918 contest @phillyhistory held at the beginning
There's nothing we could do about this, other than wait, but once Steem can be incorporated into already established social media and web platforms it will be much more useful
In the army, I have the authority to require groups to provide three sustains and improves. Since you're all civilians, however, I'll politely request them from you in the comments below. It's been a pleasure talking with you all this semester!
100% of the SBD rewards from this #explore1918 post will support the Philadelphia History Initiative @phillyhistory. This crypto-experiment conducted by graduate courses at Temple University's Center for Public History and MLA Program, is exploring history and empowering education. Click here to learn more.