How to Make Grilled Stock Fish with My Secret Recipe
Hi Steemers! Kenneth here and am going to teach you how to make grilled stock fish with my secret recipe. We like eating fish in Nigeria a lot, probable because we have loads of them due to the many rivers and streams in the country we are also boarded by the Atlantic Ocean in the south and Lake Chad in the north eastern part of the country.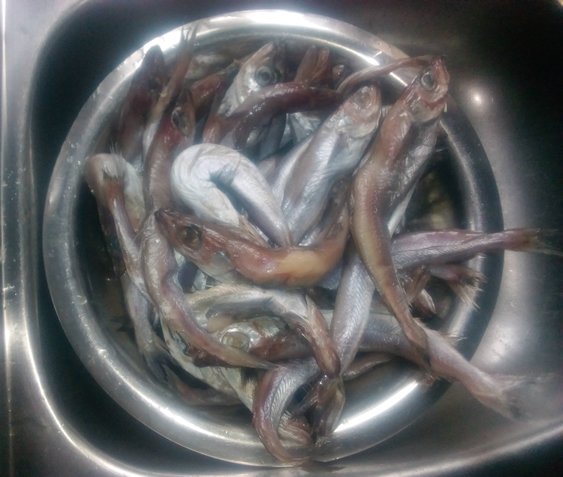 photo of Bowl of fresh stock fish
Nigeria, home of Different Types of Fish
There are loads of different types of fishes we see in the Nigeria market, some are caught in our numerous rivers while others are imported into the country. However, in this post my focus will be on Stock fish, the Blue whiting specie that is normally folded, smoked and dried before been sold at the local market places in Nigeria. It is called Panla by the Yoruba speaking people and Okporoko (the dried ones) by the Igbo speaking people in my country.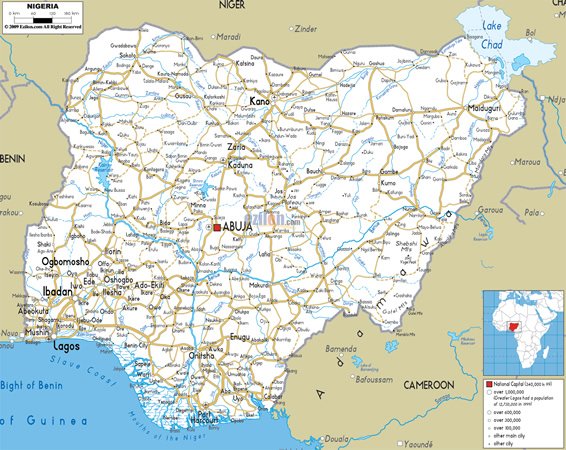 Map of Nigeria showing the various water ways – Photo courtesy https://www.ezilon.com/
Health Benefits of Eating Stock Fish
Apart from the fact that grilled stock fish taste great, they also have a lot of health benefits, some of them are listed below:
It has very little fat, which is good for weight watchers.
It is high in omega-3 fatty acid.
It is a source of protein.
It is a source of various vitamins.
You can visit this link to see 9 health benefits of Stock fish.
https://www.pharmanewsonline.com/interesting-benefits-derivable-from-eating-stockfish/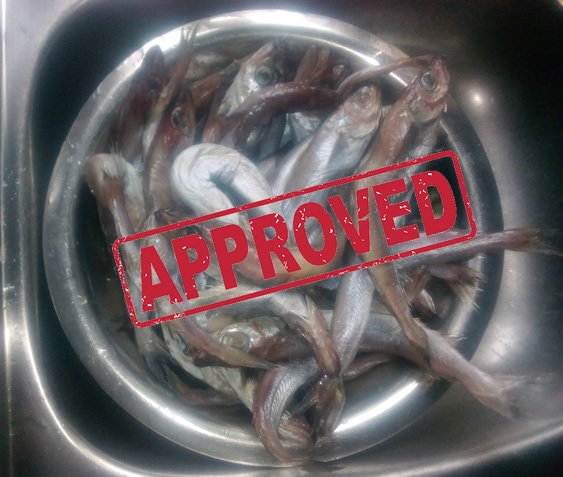 Eating Stock fish has my health approval stamp; don't know how much that is worth though. Lol!
Ingredients:
• Some fresh stock fish (Panla, Okporoko)
• 6 cloves of garlic
• a bulb of onion
• 2 hunks of ginger
• 1 hunk of turmeric
• 3 tablespoons of vegetable oil
• 2 teaspoon of Thyme
• 2 teaspoon of curry
• 6 cubes of seasoning cubes (I like knorr but maggi chicken or others good products will do just fine)
• 2 teaspoons of grounded pepper
You can see all the ingredients are spicy, healthy and have a lot of medicinal values. So you're not only going to eat a delicious meal of grilled stock fish, you are also going to stay healthy eating it.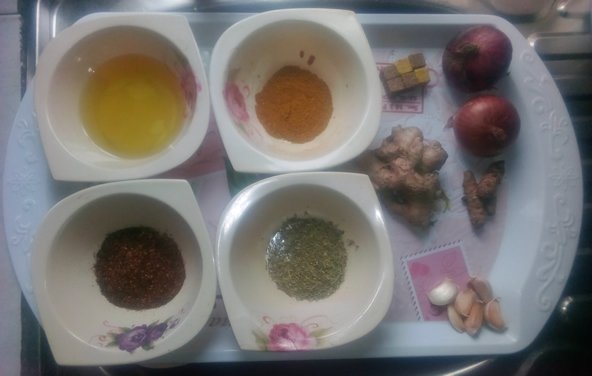 Photo of ingredients to make grilled Stock fish
Instructions:
The first thing you need to do is wash your hands with soap and water thoroughly, this is because you're going to use it to make contact with the stock fish a lot and we don't want any games or dirt on our food.

After washing your hands, chop off the head of the fish from the body, we don't want the head, we also want the spices to enter into the inner body of the fish so that it be well garnished.


Cut of the head of the stock fish and wash the body part
Next put the washed stock fish in a sieve and allow it to drain for 10 minutes.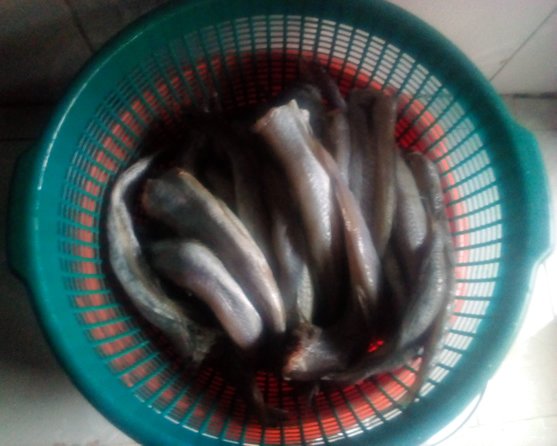 Photo of fresh stock fish in a sieve
While waiting for the water to drain from the stock fish, clean and mash the ginger, turmeric, garlic and onion. I don't like them rough a bit so they stick to the body of the stock fish very well.


Photo of mashed onion, galic, turmeric and ginger
Put the fish in a bowl, pure the ingredients into it and mix them with your hands properly. Remember, the ingredients you're putting into the bowl are: the fishes, mashed ginger, turmeric, onion and garlic, thyme, curry, pepper, seasoning cubes and vegetable oil.
Note: Salt is not a part of the ingredients, please don't put salt, if you put the ingredients as directed here, you'll see that there is no need to add salt.


Add ingredients to the fish and mix the with your hands
Next, force some of the ingredients into the body of the stock fish through the area you chopped off the head from. This will make the fish taste delicious the more. Ooh la la, just describing this is making me crave for it already. Lol.

Force the ingredients into the body of the stock fish
Place the stock fish into the grill and make sure you arrange the fish in such a way that direct fire doesn't touch it. We're not making burnt grilled stock fish are we?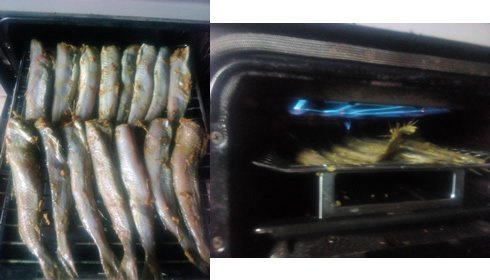 Photo of stock fish in a grill
Gill it for 10 minutes, bring them out, turn the other side of the fish and then put it back into the gill and allow them to grill for another 5 minutes. Turn off the grill and let it stay inside the grill for another 5 minutes. That is it, your grilled stock fish is ready.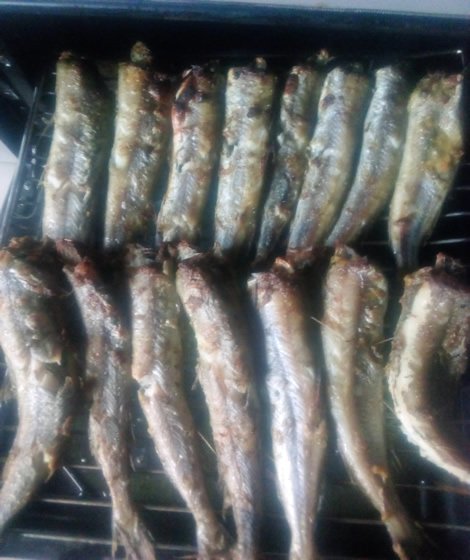 Photo of grilled stock fish ready to serve
Conclusion:
It can be eaten on its own as a meal, but there are loads of other combinations we can do with it. You can put it inside your stew or soup when dishing out your food, serve it with Jollof rice, eat it with soaked Garri and use it to eat African salad popularly called Abacha in Nigeria. There are just too many ways we can eat it but what I can tell you is that you might not want to share it after tasting it.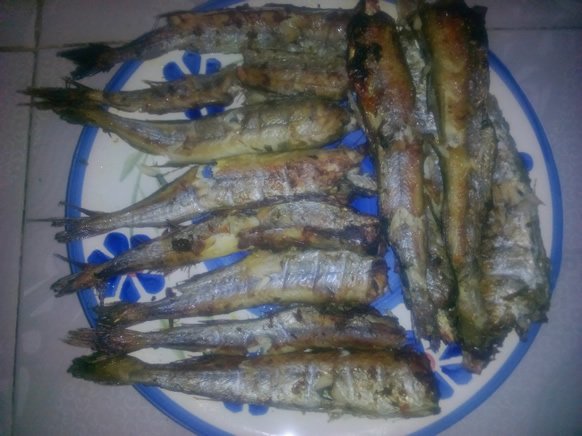 I hope you'll enjoy eating this food!
Please leave your comments below, ask questions or just let me know what you think about the making of my grilled stock fish, I'll really appreciate it. Cheers!
I'll be posting more on various interesting topics so you can follow me on steemit or read more about who I am at https://steemit.com/introduceyourself/@ketcom/hi-i-m-kenneth-a-web-designer-bulk-sms-provider-and-rabbit-farmer