Tonight's The Night as the NHL 2017/18 Season Get's Underway.
It's becoming a young man's league and 4 Young Gun Stars will be on display in tonight's action.
Toronto Vs. Winnipeg
Tonight most of the attention will be on the ongoing competition between Patrik Laine of the Winnipeg Jets who was chosen at number 2 overall in last years NHL draft and the number one pick from Toronto, Austin Matthews who was chosen at number one. 
They finished one two in the rookie scoring race but keep in mind that while Patrik Laine finished at number two he also played only 73 games to Matthews 82! 
Toronto though boasts 3 of the top four leaders in rookie scoring from last year. Take at look at the final standings and you'll see that both William Nylander and Mitch Marner of Toronto were right there with the two leaders in the scoring race!
Check Out This Clip Featuring Toronto's 3 Young Gun Rookies From Last Year!
Here's a List of Last Years leaders in Rookie Scoring!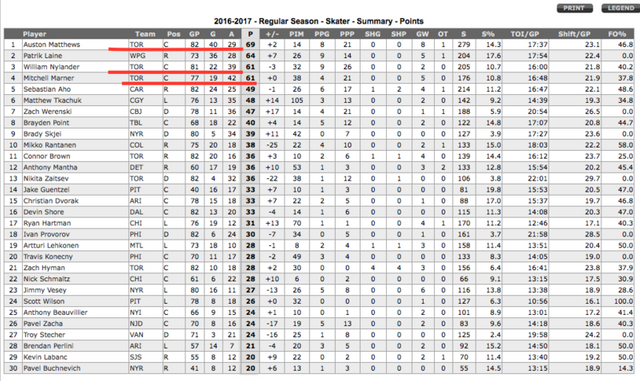 Do You Want to Have Some Fun And Win Some Prizes With NHL Hockey?
There are other Steemit members who are NHL fans and They're running contests. Check them out, have fun and perhaps win some prizes!
NHL - THE ULTIMATE LINEUP CONTEST! October 4th, 2017 - WIN 100% of the SBD Post Payout - Closes at 7PM EST
NHL DAILY FACE-OFF CONTEST: Oct. 4 Season Opener Match-ups - Win SBD!
Check out the tag NHL for more information!
Let The Action Begin!