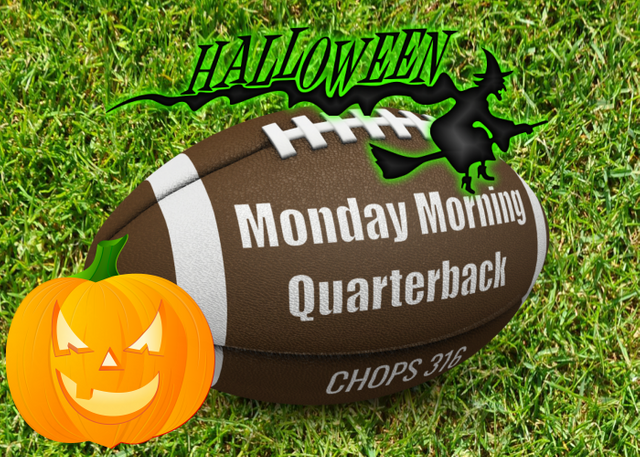 The eighth Sunday of the 2019 NFL season is in the books so here are the different thoughts and opinions I have on various things I witnessed this past weekend. Halloween is well on its way as some teams this week got a treat while others had to settle for a trick. I wonder how many quarterbacks saw ghosts on the field this week? My Cowboys were on a bye, but have no fears, I'll figure out a way to bring their name up somehow this week. (Spoiler Alert: I did)
Just remember I am a Dallas Cowboys fan and I'm extremely biased. Feel free to agree or disagree about anything mentioned here. All comments are welcome.

Defense Wins Championships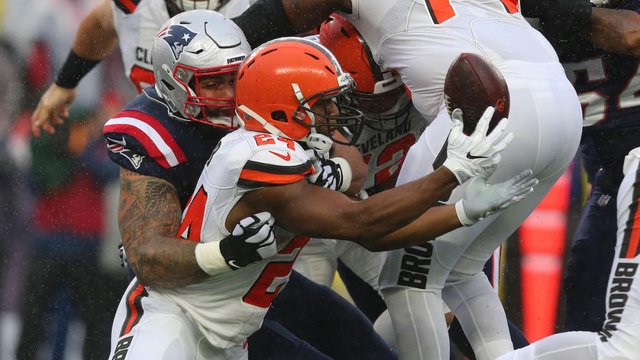 Hold on to the damn ball!
Source
The old cliché "defense wins championships" seems forgotten in today's high flying offensive driven NFL, but it still holds true. Coming into this week the San Francisco 49ers and the New England Patriots were ranked first & second in total team defense respectively. Is it a coincidence they are the last two remaining undefeated teams in the league?
Both team's defenses lived up to their billing this week as New England beat the Browns 27-13 and San Francisco crushed the Panthers 51-13.
I was hoping the Browns would give the Patriots a good fight, but they were overwhelmed by the moment. They turned the ball over on three consecutive offensive snaps in the first quarter (2 RB Nick Chubb fumbles and 1 QB Baker Mayfield INT) and the Patriots took advantage to take a 17-0 lead. That was pretty much it as Cleveland never got the ball rolling against the tough Patriots defense.
The Patriots have benefited from an extremely weak schedule to start the season. They have only played one team with a winning record and that was Buffalo, who they barely squeaked by 16-10. New England has much tougher competition coming up, starting with a road test against the Ravens next week. Teams have been able to run the ball against the Patriots and if there is one thing the Ravens can do it is run the ball.
I hope somebody in the AFC puts up a fight against them in the playoffs. I need to see another New England Super Bowl as much as I need another hole in my head.
I had higher hopes for the San Fran/Carolina game, but the 49ers simply kicked their ass. The Panthers were riding a four game winning streak. The key word in that last sentence was "were". The 49ers dismantled their offense with precision. Panthers QB Kyle Allen threw his first three picks of the season and was sacked seven times. Maybe Cam Newton will be getting his job back sooner rather than later. RB Christian McCaffrey had nice numbers (14 carries, 117 yards, 1 TD) on the ground, but after taking a 27-3 half-time lead the Niners were happy to let him run the ball and chew up the clock.
49ers RB Tevin Coleman (11 carries, 105 yards, 3 TDs rushing, 1 TD receiving) led a running back committee that piled up 232 rushing yards on Carolina. The 49ers play great defense and can run the ball, two attributes that play very well in the playoffs. I'm looking forward to seeing some of their games coming up on the schedule, something I haven't thought in a long, long time.

Jekyll & Hyde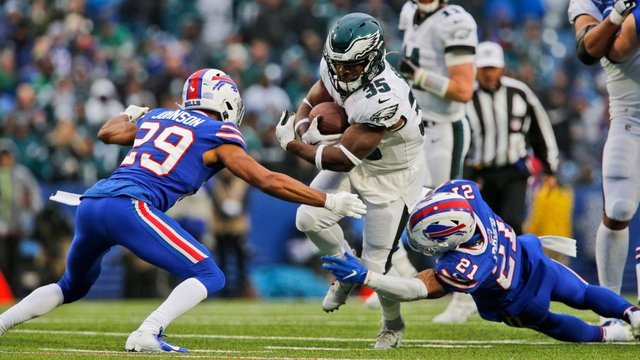 Extremely rare photo of the Eagles actually using a run play
Source
The Buffalo Bills had the NFL's third ranked total defense coming into this week, but you wouldn't know it by watching the Philadelphia Eagles run the ball right down their throats. The Eagles ran all over the Bills in their 31-13 victory.
The Eagles record now stands at 4-4 and that is perfect for this Jekyll & Hyde team. You never know from week to week which team will show up. Will it be the inspired squad that marched into Green Bay and handed the Packers their only loss of the season so far or will it be the lifeless team that laid an egg in Dallas last week?
I don't think much of Eagles head coach Doug Pederson. Sure he led them to their only Super Bowl win, but the more you watch this team and watch what his former offensive coordinator Frank Reich is doing in Indianapolis you start thinking the wrong guy gets the credit for that win. Pederson falls into the same trap as his mentor Andy Reid (Pederson both played QB and coached under Reid) all the time: he falls too much in love with his quarterback and neglects the running game.
The Eagles traded for RB Jordan Howard and drafted RB Miles Sanders, yet even though their receiving core has been beat up Pederson still loves to call passing plays. A gusty windy day in Buffalo forced the Eagles to run the ball more. Hey what do you know, it worked!
Both Howard (23 carries, 96 yards, 1 TD) and Sanders (3 carries, 74 yards, 1 TD) had good games as the Eagles racked up 218 yards on the ground. This game marked only the second time this season Philadelphia rushed more times than they threw the ball. You know what other game they employed this strategy? Their win in Green Bay. Hmm. For the sake of my Cowboys I hope Pederson doesn't figure this out.

He's Baaack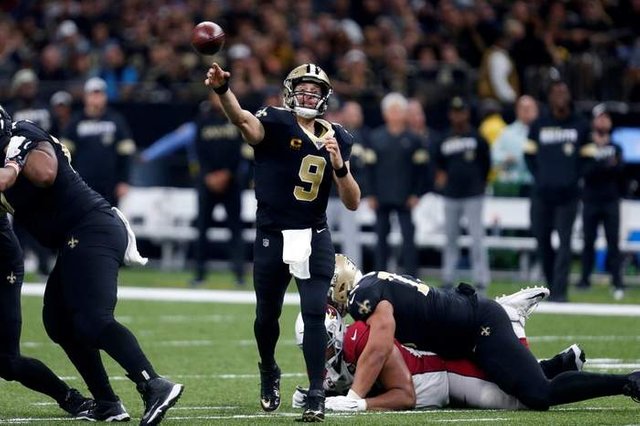 Excuse me while I whip this out
Source
Saints backup QB Teddy Bridgewater has played very well this season and with the Cardinals coming into New Orleans this week there was no need to rush QB Drew Brees back into the lineup before the Saints bye week. Except Drew Brees declared himself ready to play and well dammit when a guy as good as Brees says he's ready you play him, the doctors can mind their own business.
Of course Brees came in and showed no rust after missing five games to lead the Saints to a 31-9 victory over the Cardinals. Just another day at the office for Brees: 34/43, 373 yards, 3 TDs, 1 INT. He has more 300 yard/3 TD games than any other QB in NFL history. WR Michael Thomas was sure glad to have Brees back, he caught all 11 of his targets for 112 yards and a TD.
The Cardinals didn't just turn over and play dead though, the Saints were only up 10-6 in the third quarter when Arizona rookie head coach Kliff Kingsbury decided to go for it on a 4th and one on the Cardinals own 30 yard line. WTF! Big surprise, New Orleans stuffed the rush and quickly marched 30 yards for a touchdown. They say Kingsbury is an innovative guy, but that was just plain dumb. It reminds me of the old Jerry Glanville quote: "This is the NFL which stands for Not For Long when you make calls like that."
Two years ago I thought the Saints were the best team in the NFC and headed for the Super Bowl when they lost a playoff game in Minnesota on miracle receiving play where the Saints defenders fell asleep. Last year I thought the Saints were the best team in the NFC and headed for the Super Bowl when the referees became blind in the NFC championship game.
I think I notice a trend here. Once again I think the Saints are the best team in the NFC and headed for the Super Bowl. Their offense and defense is playing at an even higher level than the last two seasons. They won't get bit by the bogeyman three years in a row, right? We'll see.

Rodgers vs. Mahomes Moore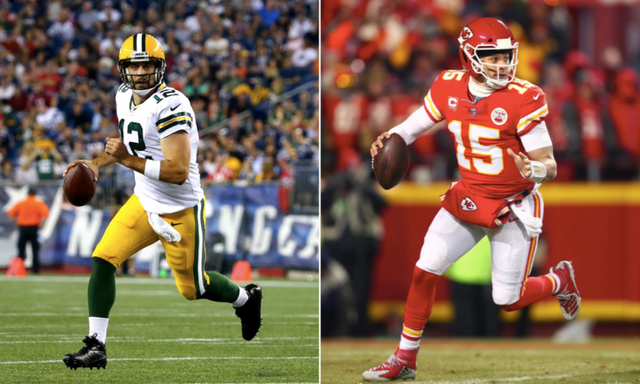 The match up we were denied. Maybe we'll get another chance in the Super Bowl.
Source
The whole nation was supposed to get a treat this Halloween season as the Packers visited the Chiefs for Sunday Night Football. Aaron Rodgers against Patrick Mahomes, what could be sweeter. Then the reality of playing in the NFL reared its ugly head as Mahomes dislocated his kneecap and was forced to miss the game. What a dirty trick.
The Chiefs had to place their hopes on the arm of backup QB Matt Moore. Moore, who wasn't even in the league last season, has made five starts in the last seven years. With good reason, he isn't very good. What a bummer, easy win for the Packers. Except it wasn't. Moore not only wore the costume of a NFL QB, he played like one as the Green Bay had to sweat out a tough 31-24 win over Kansas City.
Andy Reid is known for being a QB guru and he showed us again why as he had Moore well prepared to face a very good Packers defense. His numbers weren't exactly Mahomes-like, but still solid: 24/36, 267 yards, 2 TDs. Moore kept the Chiefs in the game and it's a good thing he did because, like I stated before, even with a backup QB Andy Reid doesn't like to run too much. The Chiefs used a committee to gain 88 yards on the ground on 20 carries.
Although the Chiefs played well without Mahomes, in the end it wasn't enough to stop Aaron Rodgers. Rodgers threw for 305 yards and 3 TDs on 23/33 passing attempts. But the real story of the Packers offense has been the breakout campaign of RB Aaron Jones. What is it about Green Bay and guys named Aaron anyway?
Jones rushed for 67 yards on 13 carries, but did his most serious damage to the KC defense as a pass catcher. He hauled in seven passes for 159 yards and 2 TDs. Jones has stepped up to be a dual threat RB this season and that makes the Packers offense even more dangerous.
While the Packers improved to 7-1 while the Chiefs fell 5-3, with all three losses coming at home. Ouch. Don't get too worried Chiefs fans, Mahomes should be back fairly soon and the rest of the AFC West isn't very good. The Chiefs could probably win the division handily with only nine wins.

300 and Counting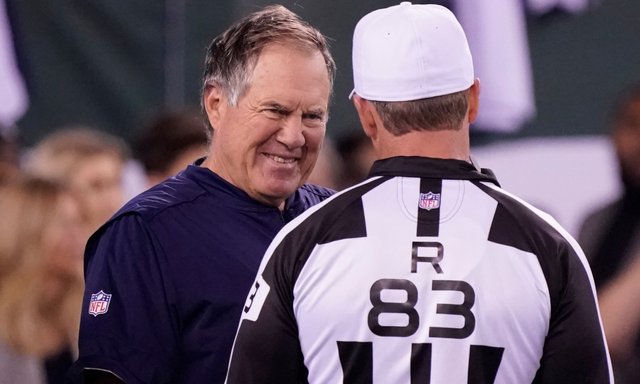 I swear this is not photo-shopped. Belichick actually smiled once during a game.
Source
The Patriots win over the Browns was the 300th career victory for head coach Bill Belichick. Ironically his first career head coaching win was over the Patriots in 1991 when he coached Cleveland. Weird huh. He now only trails Don Shula (347) and George Halas (324) on the all-time head coaching wins list.
As much as I am sick of the Patriots, I could not have any more respect for the brilliance of Belichick. He is so much smarter and better prepared for every situation than any other coach in the league. A win next week will clinch the Patriots 19th consecutive winning season, one year behind the record set by Tom Landry and the Dallas Cowboys.
To have a record that good in this age of the salary cap and free agency is mind boggling. Sure having a great QB in Tom Brady makes things easier, but he is just one part of the puzzle. A huge part, but still one player doesn't make a team. Hell the Patriots won 11 games in 2008 when Matt Cassel started 15 games at QB. Matt Cassel!
Maybe his greatest coaching accomplishment was taking the Browns to the playoffs in 1994. I mean c'mon, it was Cleveland! He even won a playoff game that year, against New England. Did you know that is the Browns last playoff win? The Browns have made the playoffs one time since Belichick was canned in 1995.
Every year we see players who were never that impressive anywhere go to New England and play great. And we also see guys who excelled in New England move to other teams and play lousy. That is good coaching. Belichick knows his schemes and knows how to find players that can execute them. Don't forget Belichick was the defensive mastermind behind the Giants major upset of the Bills in Super Bowl XXV. How ironic it's the Giants that have given him fits in Super Bowls with New England.
Belichick has faced some controversy with Spygate and other accusations of cheating, but I tend to ignore those kind of things. Every head coach is looking for an edge and the great ones usually aren't afraid to bend the rules. Read some of John Madden's books to see the games his boss Al Davis and Chiefs head coach Hank Stram played in the name of gamesmanship. Former head coach George Allen was well known for having copies of the playbooks of his opponents. Those guys weren't afraid to bend the rules either and all of them are in the Hall of Fame, deservedly so.
There is a lot of chatter Tom Brady might be playing his last season and I know a lot of fans are hoping that is true so the New England dynasty will finally die. But will it die? As long as Bill Belichick is still the head coach I'm not so sure.

The Dumbest Coach in the NFL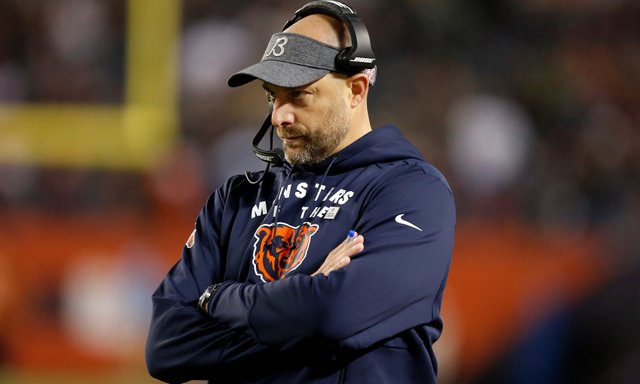 Nagy on the sidelines with zero thoughts running through his head
Source
Not every head coach can be a Belichick. Think how boring the game would be if they were. It's the idiots who sometimes make the games fun. Unless they are coaching your favorite team of course.
Is there a rule that says every Chargers game has to be weird? They couldn't run the ball on Sunday and didn't pass very well either but still escaped Chicago with a 17-16 in over the Bears. The Chargers defense let the Bears run all over them, but kept them out of the end zone. Three times the Bears moved the ball inside the ten yard line, but couldn't cross the goal line.
Maybe the Chargers' MVP on Sunday was Bears head coach Matt Nagy. Down by one with 43 seconds left to play, the Bears had a first down on the Chargers 21 yard line. Plenty of time left to gain more yards for an easier field goal attempt with one time out left to use. Especially since kicker Eddy Pineiro already missed a 33 yard attempt earlier in the game. I mean that would make sense. Unless your name is Matt Nagy I guess.
Unbelievably, Nagy had the Bears take a knee and run forty seconds off the clock for a last second 41 yard field goal attempt. Of course, Pineiro missed the kick. The situation was so absurd he had to. That's how karma works.
After the game, reporters pressed Nagy on why the Bears didn't try to gain more yardage with so much time left on the clock. He said it was the right thing to do, he wasn't going to take a chance on a fumble. In fact he said he gave "zero thought" to try gaining more yards.
So let me get this straight. You have a completely unreliable kicker, who already missed a 33 yard field goal in this game. OK. You have a young RB in David Montgomery who was having a big day (27 carries, 135 yards, 1 TD) without fumbling the ball once. OK. In fact you ran the ball 38 times and the only person who fumbled once was QB Trubisky on a scramble. OK. You have a first down with 43 seconds left on the clock and a timeout left. OK. Instead of trying to gain more yards you take a knee and run down the clock? Not OK!
Seriously, this is was one of the dumbest things I've ever heard a head coach do. When you place that much faith on a kicker you deserve to lose. What kind of message did Nagy send to his offense? I can't trust you guys to even gain one yard? If I was a Bears fan I'd be tempted to toss my TV out the window.
One year after winning the NFC North, the Bears are the worst team in the NFC North. If that kind of play calling doesn't put Nagy on the hot seat well then that's where they deserve to be.

Around The League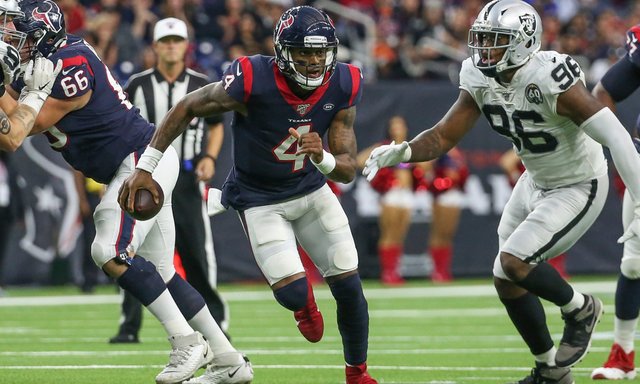 Watson was a modern day Houdini against the Raiders
Source
Deshaun Watson led Houston on two fourth quarter touchdown drives as the Texans came from behind to beat the Raiders 27-24. Watson's most impressive play was throwing a TD pass after getting kicked in the face on a near sack. The kid has guts. The Texans lost J.J. Watt to a season-ending injury again. For a guy who kicks so much ass on the field, he sure is brittle. To add insult-to-injury a CBS sports page says the Texans lost T.J. Watt for the year. That really would be news since T.J. plays for the Steelers and doesn't play until Monday night. Just in case you don't know the Watt boys are brothers.



The Raiders are now 3-4, but let's give them some credit. They just finished playing their 5th consecutive road game, with one of those games being in London. That's ridiculous. If Al Davis was still alive he would have sued the league over this schedule. I miss Al. He was a lot of fun.
I was never really impressed with Jon Gruden as a head coach and I laughed when the Raiders gave him a ten year deal, but he deserves praise for focusing his team after the Antonio Brown debacle and navigating through a brutal stretch of the schedule with a decent record.



I'm not a fan of the NFL playing regular season games in London. Sorry British fans, but it is an unfair burden to place on only some teams. The NFL thinks it's necessary to expand their brand, but if that's the case why did they send the Bengals over there? Who is that going to impress?
The Rams beat the Bengals 24-10 as the Jared Goff (17/31, 372 yards, 2 TDs) to Cooper Kupp (7 catches, 220 yards 1 TD) connection was too much to overcome. The Bengals fall to 0-8 and are still in contention for the number one pick in next year's draft.



Seattle just basically showed up in Atlanta and went through the motions of pretending like they cared to be there. That was good enough to beat the Falcons 27-20. Don't let the score fool you, the Seahawks were up 24-0 at the half and just farted around until they could leave. The Falcons are an embarrassing 1-7 and I wonder how many games head coach Dan Quinn has left until he's fired. Atlanta is on a bye next week so now is the time to do it.



I'm going to tell you the secret to beating the Tampa Bay Buccaneers. Make sure QB Jameis Winston makes it to the game on time and make sure you pick up all the gifts he gives your defense. That guy is a turnover machine. He had two INTs and two fumbles in the Bucs 27-23 loss to the Titans.



Last week I said a lot of nice things about the Colts and also said I'd be surprised if they missed the playoffs. This week they needed a late 51 yard field goal to beat the Broncos 15-13 at home. Way to make me look bad guys. I don't need your help, the Cowboys do it enough on their own.



Last week Jets QB Sam Darnold said he saw ghosts on the field against the Patriots. I wonder what he saw after getting sacked 8 times by the Jaguars? My guess would be stars. The Jags beat the Jets 29-15 as I wonder once again how in the hell did the Cowboys lose to that dumpster fire?



Thanks for reading. Let me know your thoughts on Week Eight.