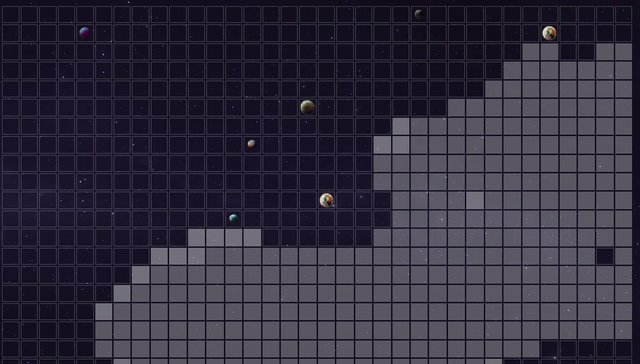 I didn't have big luck with explorations in this game. My hard core decision not to invest into game forced me to use 'Explorer I' ships, which founded only 1 planet in my home corner of universe. I made more than 200 missions, lost dozens of them just to find one planet. While doing that I watched players from neighborhood found a lot more and become jealous and angry on my bad luck.
Game turned on in positive way for me since I discovered nextcolony map where you can see abandoned planets with resources waiting for you to take. I founded out few quickly and start gaining resources for building ships and structures on my two planets. Because almost all around me was explored I decided that exploration is useless. At that point I started building ships to sell them for stardust and think about unlocking laser and bullet ships which have better price. After a while I concluded I need some steemit coin to do that unlocking. I started to write blogs more often and thanks to @talesmcrypt's contest about baseball results gained some steem coin and unlocked blueprints. I remembered great web site freebitco.in faucet where you can click every hour and get 300-400 satoshi and I did it for some time until I get 10000 satoshis. Then I converted them into startdust and start doing right things on nextcolony.
Once I get enough stardust I unlocked higher grade and good priced ship (Explorer II) and start selling them. Soon I had enough stardust to buy new planets. Game started to look far more interesting. One of those new planets has non explored areas relatively close to it. Why not try to explore a bit with Explorer II there ? I sent one Explorer II from main planet there and start exploring. After one mission I noticed I can't see it on mission list any more and thought oh he must be destroyed, but on my surprise I found out that it founded BIG RARE planet at the edge of known universe! Excitement was big and I regret selling dozens of explorers II for 1500 stardust and started building new ships. I sent them on 6 days long voyage to this new planet and quickly started to setup base to be able to send 3 missions from it. As soon as ships arrived I sent them into investigation around planet.
Unfortunately one dark day yesterday on 12.02. I lost all 3 of them after missions and now I am sending 5 new again there. They should have better luck than these first wave.
My advice for you is to keep an aye on Market to check if you can buy something (blueprint or planet) for good price. If it's planet check on map where is it, does that planet have abandoned planets or non investigated space around ? If it has it's good investment because you can explore or gain resources. Once when you develop planet and discover all around you can sell it for good price.
It's very interesting game and you can earn by playing it. Friendly developer team is ready to help you in discord channel. New modules and features are coming. Ensure your place in known universe before it's to late. :)