Explore the Galaxy - earn Rewards!
As soon as we release the Yamato module on November 15th you have the chance to find Stardust and Reward-Blueprints while exploring deep space. This makes explorations much more valuable.
We have already completed and tested the backend and the frontend of the incentive element. Now you are informed about on what we are working in the background and what you can expect from the next update.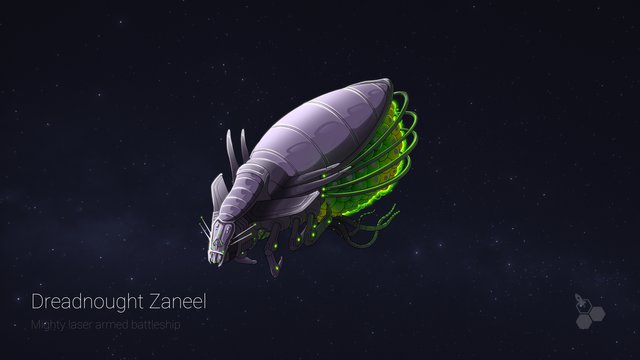 Dreadnought Zaneel - laser armed battleship by @bronkong
How does this work?
If an exploration wasn't successful in search of a planet and your explorer returns safely, i.e. has not been lost, your explorers have a 10% chance to find a small amount of Stardust. If Stardust is found, the dice are rolled to determine the number of Stardust.
If Stardust has been found and the amount determined, the dice are going to be rolled again for a chance of a blueprint on top. There is a 15% chance to get a blueprint (i.e. in 5% of the explorations). The defined droprate is used to decide which blueprint is to be issued.
Blueprints
There are basically three different types of blueprints. The allocation of a third ensures a fair balance between Free, Buy and Reward.
Free-Blueprints
Buy-Blueprints
Reward-Blueprints
Free-Blueprints are already activated and can therefore immediately be build (provided you have the appropriate shipyard level/skill and ship skill). Buy-Blueprints can be bought in the shop. Reward-Blueprints you can earn while playing. 11 blueprints can be found in the galaxy...
10 battleship blueprints:
Scout Minerva
Patrol Cruqal
Cutter Orchis
Corvette Najtar
Frigate Droeel
Destroyer Halgoin
Cruiser Eceza
Battlecruiser Dejah
Carrier Bhun'il
Dreadnought Zaneel
1 civil ship blueprint:
The droprate of the blueprints is based on the value of the ships. We have kept the droprate of some blueprints enormously low, so these blueprints represent a rare gem.
The date for the next big module is getting closer and closer and we have no doubt that we will be ready in time and that we will publish exactly on the announced date. Keep an eye to this date...
---
Yamato starts on
November 15, 2019 20:00:00 UTC
---
You can already find planets during your explorations, and legendary planets are dropping Yamato blueprints, as you already know.
Stay tuned.
NextColony