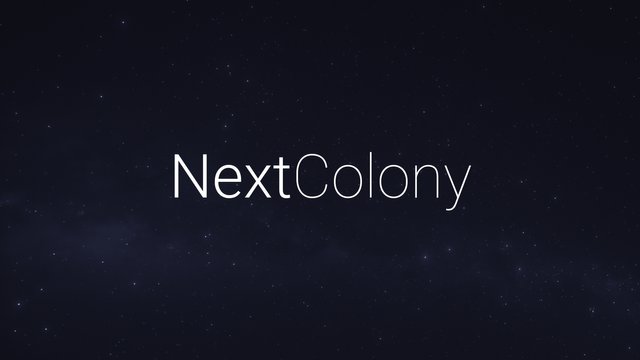 Witajcie drodzy Steemianie, wczoraj o godzinie 22 wystartowała gra pod tytułem NextColony. Jest to gra online z elementami RPG. W dzień premiery do gry zarejestrowało się ponad kilkaset osób. Jest to całkiem imponujący wynik. Niestety niezbyt imponująca była wydajność serwerów podczas uruchomienia gry. Osobiście po zarejestrowaniu się do gry musiałem z piętnaście minut zaczekać aż ruch się uspokoi i będę mógł swobodnie grać. Na grę jednak przyszło mi czekać jeszcze dłużej, ponieważ twórcy nie otrzymali jeszcze przelewu tokenów.
W porządku, po uruchomieniu gry przez developerów otrzymałem dostęp. Przez pierwsze kilka minut oswajałem się z interfejsem. Muszę przyznać, nie jest skomplikowany i po chwili jesteśmy w stanie się zorientować co i jak. Zainteresowała mnie zakładka Shop. Pomyślałem, że jest to jakiś wbudowany item shop. Po części miałem rację. Mogliśmy za STEEMy kupić sobie skrzynki z surowcami oraz magiczne runy, które dodają nam procentowego boosta.
W czasie pisania tego posta sklep jest opróżniony (ba, pewnie po paru godzinach od startu już był pusty). Mam nadzieję, że niedługo zapasy zostaną uzupełnione i zobaczymy nieco bardziej rozbudowany sklep. Mam tu na myśli surowce w różnych ilościach, statki itp.
Czytając Discord'a zobaczyłem wiele opinii, że gra nie ma przyszłości, da się parę rzeczy obejść i tak dalej...
Ja nie mam zdania na ten temat. Osobiście NextColony traktuje jako świetną inicjatywę wykorzystania możliwości blockchain'a. Sama rozgrywka jeszcze mnie nie urzeka, ponieważ aktualnie bawię się w farmera i ulepszam wszystko na co mnie stać. Kiedy przyjdzie czas na eksplorację kosmosu moja opinia będzie na pewno powiększona o te aspekty. Jak na razie nie ma co przekreślać tej gry ani jej wywyższać nie wiadomo po co, ponieważ jest to po prostu "świeżak".
Zobaczymy co się stanie w przyszłości. Jeżeli jesteście chętni zagrać w NextColony to link jest o tutaj :)
Pozdrawiam!