Backpacking in New Zealand - Auckland and the Far North
As most backpackers do in New Zealand, I arrived at Auckland Airport. Just a couple of km's outside this biggest city in this beautiful country. It was the beginning of my great adventure. It would eventually take me 4,5 months to travel this country from top to bottom. Let's start with the far north of New Zealand. Plenty to see, plenty to do!
Auckland, the City of Sails
Far North, Bay of Islands
Far North, Cape Reinga
Ninety Mile Beach and Giant Sand Dunes
Tane Mahuta, Kauri Trees and Museum
Auckland, the City of Sails
The biggest city is also called the City of Sails, because of the numerous marinas and boats lying offshore. You can hear sailboats chiming in the wind at all corners of the harbour. It is quite a lovely sound. Spend some time in the marinas and book a tour to Rangitoto Island. This small volcanic island gives you great views of Auckland once you climbed the summit. A great day tour you should not miss. If you have more days available you should consider going to Waiheke Island. It is one of the most accessible islands in the gulf with regular car-ferry and passengers services. There are many scenic beaches to explore.
Far North, Bay of Islands
On your way to the far north you definitely have to stop at the Bay of Islands. If you enjoy the hustle and bustle you should stay in Paihia, a great place to explore the area. You can swim with dolphins or book a sailing trip on a sailboat it is the best way to see all the great islands. If you like peace and quiet, drive to the other side of the bay and put up camp in Russell. It is a lovely place with access to the harbour and the beach. You can even find mussels and cook your own dinner. Something I enjoyed most was a day tour on the Tucker Thompson, an iconic tall ship. It is often voted as the best day of the holiday. They even let you steer the boat. http://tucker.co.nz/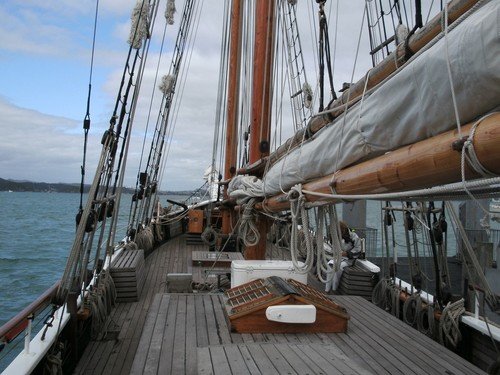 Far North, Cape Reinga
Although it always plays the second fiddle to the Bay of Islands I strongly recommend you to drive up to the far north to Cape Reinga. The road used to be gravel for many kilometres, but nowadays it has improved quite a bit. Be there early, before the other tourists arrive (after 10.30 a.m.) and enjoy the majestic views over the Tasman Sea and the Pacific Ocean. The two oceans collide right under your eyes. Magnificent! Enjoy a walk from Cape Reinga to Cape Maria von Diemen and make time to spend the night a Tapotupotu Camping Area with its very own lagoon. Beware, the showers are cold. But who cares in such a great environment. Bring your groceries, because apart from great scenery there is nothing there.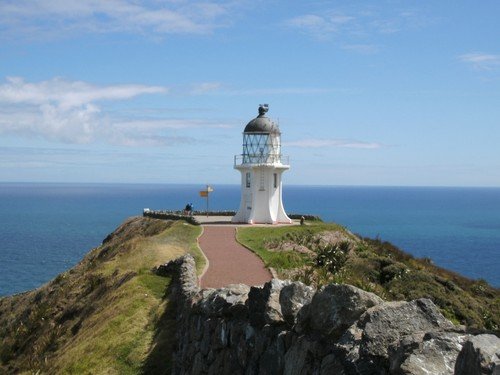 Don't forget to visit the Waitangi Treaty Grounds. Dive into New Zealand's history and discover the Maori culture including the Haka! It is one of New Zealand's most historic locations and a must see when you visit the Bay of Islands. http://www.waitangi.org.nz/
Ninety Mile Beach and Giant Sand Dunes
On your way back south you can have a look at ninety mile beach, or more accurate ninety kilometres beach. Which looks like a never ending line of beach and dunes. Thrillseekers can rent a board and ride the 'waves' of the Te Paki Giant Sand Dunes. The steep climb up the giant sand dunes gives you a desert like atmosphere right before you hit your board and surf down. Great experience, but not for the faint hearted.
Tane Mahuta, Kauri trees
If you like to encounter a real giant, go and visit Waipoua forest. You can meet the giant of the forest, Tane Mahuta. One of the largest types of trees in the world. Walk beneath Tane Mahuta and admire this 51.5 meters tall tree. It has a trunk girth of 18.8 meters. Nowadays Kauri trees are protected. But in the 1700 and 1800s the young Kauri trees were used to for building ships and homes. The gum too, became essential in the manufacture of varnishes and other resin-based products. It was obtained through digging, fossicking in treetops, or more drastically, by bleeding live trees. In the Kauri Museum in you can read, hear and see all about it. You can find the museum in Matakohe a one hour drive from Whangarei. https://www.kau.nz/
One week
Travelling the far north and enjoying all these great sights takes about a week. I know it sounds like a lot and many people don't travel north of Auckland but believe me it is really worth it. Lovely golden beaches, great weather, amazing and breathtaking sights, you cannot wish for more.
Have a good one! Enjoy your time in the far north of New Zealand. And discover more of New Zealand in my other blogs.