Happy New Year and what to expect in 2020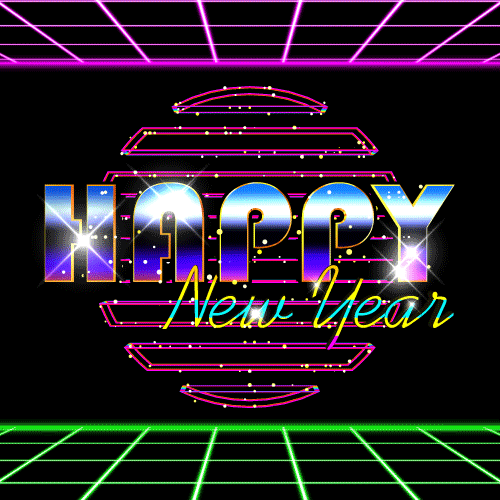 Hello my dear Steem family!
First of all, I want to wish everyone a Happy & Healthy New Year!
What's new?
I've been lurking around Steem every day, but have been posting a bit less the last few weeks because I am working
hard on the new project. I wanted to post my intro post a few weeks ago, but someone reminded me that it would be better to do it once everything is in order, rather than too early.
Of course, he was right, so I postponed the intro so I could focus on other things.
Well, the website is up but still under construction. However, this is great news. It's a great start.
I've been busy getting some help and people together too, which is working out fine. Better than expected to be honest!
There's still lots and lots of work to do, but it'll get there.
That being said, I am hoping to 'Launch' this coming week and ALL will be revealed!
Changes here
Dropping my paying jobs
I've been watching a lot of YouTube videos lately (I know...ShitTube, but they're just not all here yet) and there's this one guy that stands out above all the rest. There's one video he made that had me thinking. He was basically saying that if you want to be successful in what you're planning to do, you have to give up investing your time in return for money.
Whether this is 10 or 500 dollars an hour.
It might sound crazy to some, but it was exactly what I needed to hear.
In order for me to be able to focus on what I want to do, I decided to look at all the jobs and side-jobs I'm doing and drop some of those... It's scary!!! (something he said too)
But I feel I have to do it, in order to be able to get more done in the end.
Now, I am still not dropping everything, AND I am starting my new 'real' job in the 2nd week of January, but this will give me the time to work on my project, rather than other people's.
Once the new job has started, I will be dropping the rest too.
Moving
Yes. That's right. It couldn't have come at a more crazy time, but we're moving. Again.
I received an email last week from the people who own the house we were renting.
They realized that it's not viable to keep the house, and they are putting it on the market in the summer, so we need to vacate the place by March 1st.
My very first response was one of panic. Where the hell am I going to get a house, with land, this short notice and in the winter?
This panic only lasted a few minutes though. It's probably a blessing in disguise.
Now, don't get me wrong: I was very happy when we first moved here. And it was a great house and opportunity (paying little in rent) and I will be forever grateful for it. However, not long after we moved, the first problems arose.
The house is only half-finished. More like 'half-assed'. The plumbing is done on a Monday by a drunk plumber, or so it seems. Every 2-3 months or so, our septic tank gives us issues, meaning that I have to get outside, somehow ALWAYS when it rains, to scoop....well, fill in the blanks (hint: it rhymes with scoop). NOT FUN!!!
The last few months have been worse than ever before. First, we had to deal with an electrical problem due to a wasps nest in the attic. We would have been without electricity completely if I hadn't found out I could pull electricity from the shed. Which could have ended badly (fire!) and was far from ideal (cables everywhere, pulled from the shed).
This ordeal lasted for 6 weeks!
Then, around the same time, we discovered there was a leak somewhere because the shower water wouldn't heat up.
In the last few weeks, we only had hot water when the fire was on. Now, this stopped completely, which leads me to think there are bigger problems. So no hot water...at all. The owners couldn't do much about it since they live in Scotland, and the West of Ireland seems to experience a chronic lack of plumbers...so far, I haven't been able to get this solved.
Because of the leak, which will probably be found in the toilet area, or the utility room, the toilet has come off the floor completely, and the water basin has come off the wall.... So now, every time we flush, I have to stand next to the toilet with a mop...
The landlord told me they plan to do repairs in the spring, but they'll get a big surprise I think. The fact is, if they would have handled the repairs when they first started, they would have had it solved by now, with little cost. Now? Hmmm, let me see...I'd say it's going to set them back for a couple of thousand. Well, not my problem anymore...
And to top it all off: the washing machine has died. I have a strange feeling that it's all connected though.
So yeah, I am looking forward to moving away from this...
The downside is that I was waiting for my eldest daughter to finish her school this year (in May) so we could either: move away from this county, or move out of the country altogether. Now I will have to find something in the county and close enough to her school.
Ah well, we'll be fine. I'm sure of it. Everything happens for a reason, so this too.
I'm sure something will come on our path.
Either way, it will be good to start packing and getting rid of everything that doesn't serve us anymore.
Looking forward to all the great things 2020 will bring!
I am taking everything as a blessing. The move, the time I spend on something better, letting go of 'security' to create our life as I would like to see it. I'm ready for all the changes. It will be an amazing year!
Wishing you all many blessings for the year 2020!
Thank you for reading!