On the 31st of December, I fixed my old bike (Changed the tire and the inner tube on one of the wheels) but the weather was too cold for a first cycling trip so I decided I'll do the trip on the 1st day of 2020, of course, if I'd still feel like it.
On the 1st of January, (yesterday) I was sitting at home deciding what movie or series to watch on my laptop when I got this idea of keeping my "promise" to myself about starting the new year with a new record and doing my first cycling trip in the first day of 2020.
And so it all began...
The weather was still so cold and windy, the clouds were almost covering the sun, as in you can't see it but you can know where it's hiding. I had to wear two hoodies, one of them was designed for windy weather.
I have already decided where I was going since before I fixed the bike. I checked the GPS and it said it's 25km away, which makes it 50km of biking in total because I was meaning to stay alive and come back home :D ( Spoiler alert the GPS was wrong and it turned out to be a little more than that, well, maybe not just a little).
The road was continuously going up and down.
Going up was always challenging, going down was fun and scary at the same time, fun because I can let gravity drive me down and open my arms and feel like flying, scary because it means I'll have some hard time on my trip back home or at least that's how I kept feeling at the beginning of my trip. By 15km, I stopped caring about going back and all I was thinking of was making it to my target.
Did I tell you where I was heading?
It's an old Amazigh (Barbarian, though I hate this word) town called Takrouna situated on top of a hill. Getting to it wasn't the only hard part, climbing it is a challenge, too. But I wasn't thinking about the climb at that time.
By 20km,
I had this renewal of energy I usually get when I'm training, the ups and downs stopped bothering, the beautiful sights around me stopped impressing me, it was just like I was on an exercise bicycle in a gym. The only thing that was bothering was my headphones threatening to fall from my ears from under the two hoods and, because I was wearing these gloves, I didn't have enough fingers in one hand to deal with them.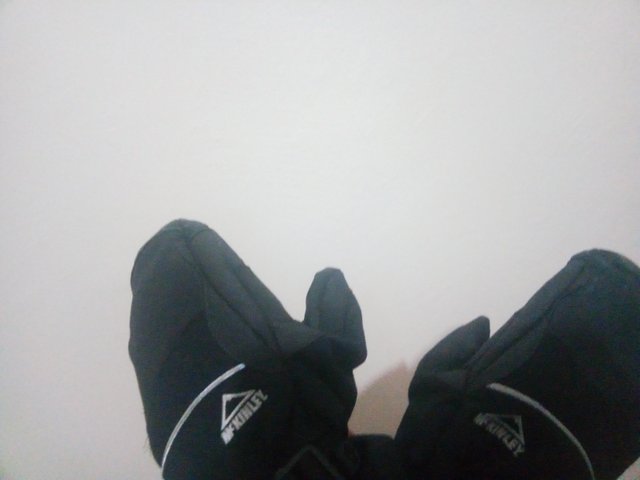 Past 25km,
when there was no sign of Takrouna, I started doubting the GPS or doubting my eyes, I knew I was on the right road and I knew I would have seen it on my right if I passed it, but I kept doubting myself for 2 or three km until it was visible to me, a little far but visible.
The right distance was not 25km it was more than 30.
Then comes the climbing,
well it was still called cycling, and sometimes walking and dragging the bike, sometimes even sitting or taking selfies. Then I had this genius idea of abusing my already angry muscles and resume biking despite the insane angle of what was left of the road instead of making some new angry muscles by walking that tough road. Somehow, the idea worked and I made it to the top.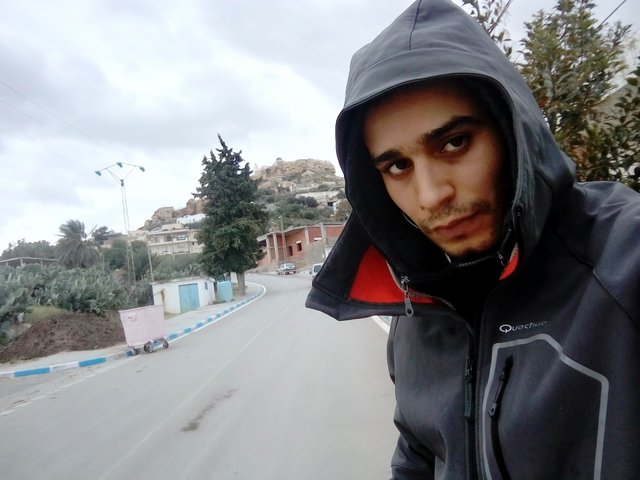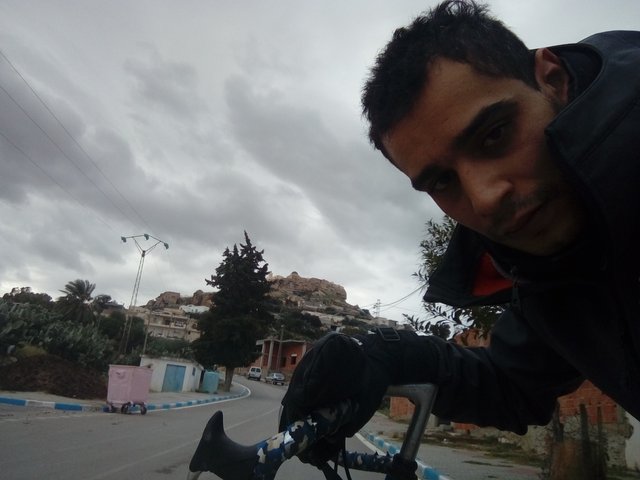 ( Don't mind my hair, I told you I was wearing two hoodies so..)
I was so proud of myself for doing it (for a while).
The town was beautiful! Very beautiful, but I couldn't take many photos because my phone had 1% battery when I got there. I only took these: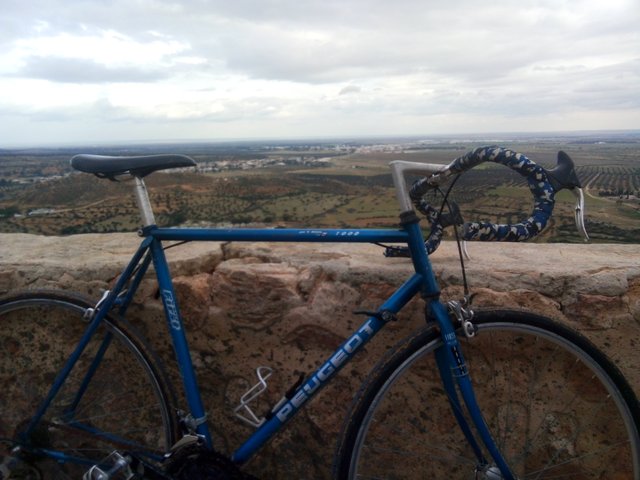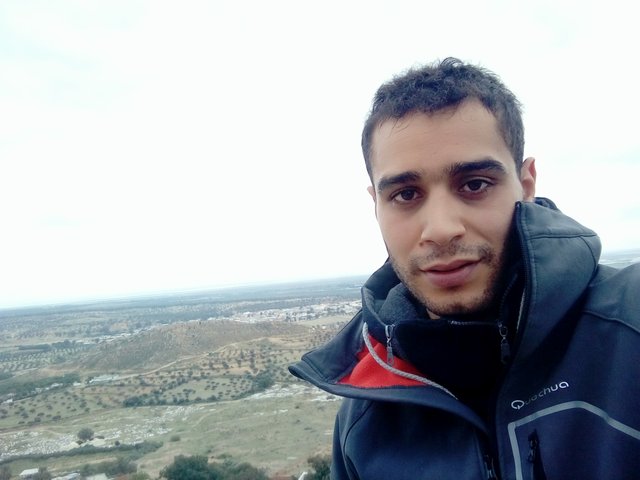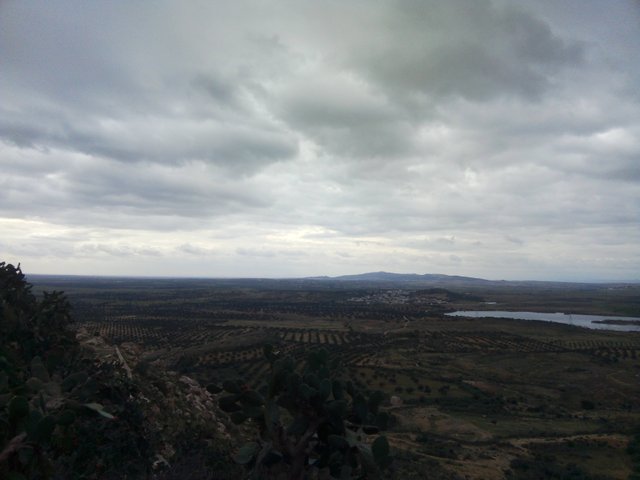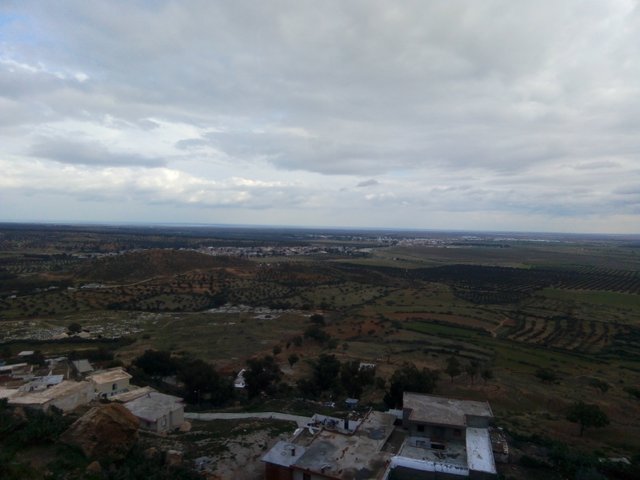 They might look like normal photos from the top of a normal hill but, to me, they were taken from the top of every aching muscle and every drop of sweat and every second of hesitation I had to go through to finally get there.
On my way home,
there was no exhaust or fatigue (or maybe I was ignoring them), there was Pain! The freezing wind that was pushing me forward on my way here was blowing in my face making breathing a little hard but that was manageable, what was not quite manageable was that it made warming up impossible, and I felt my knees freezing and aching, not to mention the pain in my ass😳 (well, bicycles' sits aren't known to be any comfortable, plus, it wasn't the best road in Tunisia. Actually I think it would still hurt even if I was biking on Germany's Autobahn, of course, if I managed to stay alive in such a road with a bike🤪). I couldn't do much intense physical effort, I had to reduce the gears and go slower to reduce the pain.
Imagine I didn't even have my playlist to keep me company, all because of this application that asked me to keep the GPS and 4G both activated so that it can give me the count and duration of my activity, then, after draining my battery empty, it gave me no good result because, according to it, the GPS signal was not good enough.
Every time I get to one of my favorite parts of my first trip, the parts where I was opening my arms and screaming "woohoo!" and "I'm so glad I decided to do this", this time I was screaming "keep going", "don't give up", "don't f****** give up!" (after all, you have to get home, you can't sleep out here tonight😏).
Ok, I won't keep writing/remembering the details of that painful experience because it brings back some bad memories but I assure you that today, after having some good rest, sleeping and resuming my daily life, I am proud I did it.
I did about 65 km, that's a new record for me, I did my old record of 60 km about 4 years ago, so that's one more reason for me to be proud.
OH BTW! Happy New Year