Matic - The Most Adopted Layer 2 Blockchain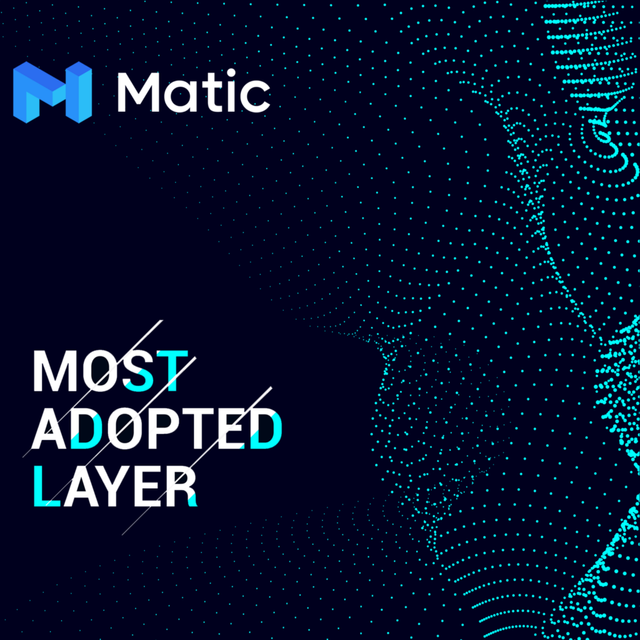 ''We aim to change that by simplifying the interaction between users and the decentralized world. We want to make interacting with the decentralized ecosystem so easy that anyone can do so without worrying about the complexity of the system.''
The Matic Network is a platform that provides scalability, high transaction speed at 7,000 TPS on a single sidechain and a smooth user experience thanks to the beginner-friendly interface. Matic is what is known as a 'Layer 2 Blockchain', a secondary protocol that is built on top of an existing blockchain network.
The layer 2 blockchain was invented to allow cryptocurrencies to achieve a high throughput of transactions and solve the scalability problems. The main mission of the Matic Network is to enable cryptocurrency users to freely interact with a decentralized ecosystem. Matic is trying to solve the current problems with slow block confirmations and high gas fees in order to achieve mass adoption.
The Matic Network is a decentralized platform that solves all the issues mentioned above using an adapted version of the Plasma framework. The Matic team has been a significant contributor to the implementation of the Plasma MVP into Ethereum's ecosystem. Plasma's goal is to move as much transaction load off of the mainchain as possible.
The team of Matic has been working really hard on the project and has completed an extensive 2019 roadmap so far. Matic now allows users to cross-asset swap between ERC-721 and ERC-20 tokens.
The Matic Wallet is available on the App Store as well as Google Play. It offers users the ability to instantly transfer Ethereum tokens as well as interact with DApps in a totally decentralized way, which means users won't have to share their private keys with anyone.
Key Features of the Matic Network
There are a lot of innovative features that the Matic Network offers to users. We have talked about scalability and high throughput but Matic also offers customers an amazing user experience thanks to its smooth user interface. Additionally, Matic offers native mobile apps and SDK with WalletConnect support.
A different PoS Mechanism
The Matic Network does use the classic PoS consensus but with a twist. On the Matic Network, there is something called a checkpointing layer, every few blocks on the block layer a 'proposer' will be picked among the holders to propose a 'checkpoint' on the mainchain. These checkpoints are mainly used when users want to withdraw their cryptocurrencies, checkpoints allow users to prove their assets are there.
This allows the Matic Network to achieve a high transaction speed but also to stop any fraudulent transaction from happening. Additionally, Matic uses 'fraud proofs' so that even if both the block producer layer and the checkpointing layer collude, the network will still be able to prevent fraud.
Multi Chain Support and Interoperability
The Matic Network supports multiple side-chains by design, theoretically, the network could support an unlimited number of side-chains. Anyone is free to use these side-chains as they are public. The decentralization of the side-chains is made possible by using the checkpointing layer and fraud proofs. According to the official website of Matic, a single side-chain can handle around 65,000+ transactions per second.
Matic Network provides blockchain interoperability to users, it has the ability to seamlessly share information across different blockchain networks. The Matic Network intends to provide users with the ability to exchange different assets from various blockchains.
Matic allows decentralized exchanges to host cryptocurrencies from different blockchain networks which could lead to new use-cases. No one denies that Decentralized exchanges will be very present in the near future and Matic will be there acting as the pillar for Decentralized exchanges.
Robust Security
The Matic Network counts with a robust security protocol that ensures real decentralization even for the side-chains. The network is trying to become a public blockchain that is completely open to the users. Economic incentives or disincentives will drive more security and will stabilize the system.
All side-chains will be public though, however, Matic can and will provide dedicated side-chains. The security of these dedicated side-chains will be accomplished thanks to the checkpointing layer as well as fraud proofs. Side-chain transactions can be challenged at any point and if the challenger succeeds, the stakes of the fraudsters will be transferred to the challenger. This incentivizes people to check transactions randomly and ensure a better security system overall.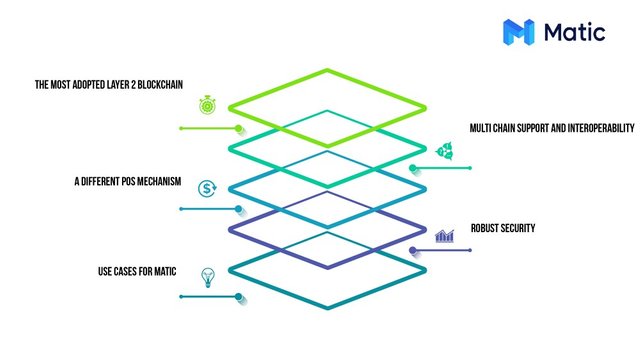 Use Cases for Matic
As the most adopted layer 2 blockchain, the Matic network offers a wide variety of use cases. One of the most important real use case is payments. Matic allows developers to easily integrate Matic Payments on DApps which are extremely fast due to the high throughput of Matic. Additionally, anyone who uses Matic Payments will also benefit from lower fees and the ability to accept and pay in a wide range of cryptocurrencies and tokens.
As mentioned above, Matic can also be really helpful for Decentralized exchanges by providing faster transactions to traders. This is one of the key features of any exchange. Decentralized exchanges usually lack the speed of their counter partners, the centralized exchanges. As transactions on a DEX are actually performed, they are not instantaneous, however, Matic has been able to solve that and provides DEX's with the ability to process transactions just as fast as centralized exchanges.
Another interesting use case for Matic is gaming. The blockchain already offers gamers the ability to actually fully own their in-game digital assets. Matic can help by increasing the transaction speed which is crucial. No one wants to buy an in-game digital asset and wait minutes or even hours for it to arrive.
Other use cases of Matic include identity verification for DApps. Matic allows users to hold their private keys to themselves without having to submit them to DApps. Matic will also help merchants by giving them the ability to check customers' transaction history.
Significant Projects Built on top of the Matic Network
The Matic network has helped dozens of companies to build their projects on top of the Matic network. One of the first projects to join Matic was Plentix, a decentralized platform that uses the blockchain technology to create an online referral program that is fair and effective. Matic network helps Plentix by allowing the project to process transactions faster than the rest of the similar platforms.
Other important projects that have joined the Matic Network include BankIT, Pocket Full of Quarters or CryptoControl. The latest is a cryptocurrency news media website as well as a trading platform that leverages the technology provided by Matic to help traders spend less money on fees and enjoy super-fast trades.
The Matic Network is always looking for new partners and is currently trying to integrate USDC, a cryptocurrency stablecoin, on its side-chains. This will allow people to pay for fees using USDC.
Matic already counts with several protocols to prevent fraud but it's looking for more. The team is working closely with Coral, a decentralized protocol that protects consumers by providing data and analytics on blockchain addresses. The Matic Network wants to use this technology to flag questionable addresses before a fraudulent transaction even takes place.
Matic is also currently working with Ripio Credit Network and MakerDao. DAI is currently trying to become the first stablecoin on the Matic Network and Ripio will work together with Matic to provide users with microloans thanks to the extremely cheap transactions provided by the Matic technology.
Anyone is free to build their project with Matic to receive the perfect scaling solution that is not only fast but also easy to use thanks to its smooth UI/UX.
Conclusion
Matic has become one of the biggest blockchain projects in the market even though it's a relatively new platform. This is not only reflected in the number of projects using it but also in the high trading volume of MATIC and Market Capitalization.
The Matic Network offers solutions to the biggest and most common problems among cryptocurrency projects, scalability and fees. The platform provides projects with the ability to infinitely scale and process transactions at speeds faster than ever but also lowers the cost of fees dramatically. This is what makes the Matic Network so attractive to any project, this is the reason why Matic is the most adopted Layer 2 Blockchain in the world.
The team of Matic continues to work hard and improve the platform every day. The team is also constantly looking for more and better partnerships to help other projects and incentivize the adoption of blockchain technology.
To find out more, check out these links:
Website: https://matic.network/
Twitter: https://twitter.com/maticnetwork
Telegram: https://t.me/maticnetwork