Downvoting has become a huge issue on Steem recently ever since Hard fork No. 21 and economic improvement proposals enacted a 25% down vote reward pool.
Before HF21
Bid bots were popular before the recent changes were made. Authors could buy votes for their posts. Bid bot owners would sell votes which usually ensured a positive ROI. Bid bot owners would receive Steem in exchange for the vote, as well as, curation rewards ensuring a healthy profit for anyone who delegated to them.
After HF21
Now because of all the downvoting, buyers are reluctant to purchase votes because they will probably get downvoted. Vote sellers (bid bot owners) are seeing less income as a result. Some of them have changed to just curation. However, others have started targeting accounts that down vote their customers. This has created an unpleasant environment.
Moving Forward
I think the nasty situation we are in will be temporary as most of the bid bot owners are losing delegations and are on power down while the people attacking the bot owners are gaining strength.
I am happy to see fewer bid bots. I used to use them a lot as it was the only way to be noticed under old Steem.
I by no means support all of the downvotes going around and don't trail anyone for this. I sometimes flag posts when I think they are really bad or if I see them on @steemflagrewards and agree.
Most importantly we need a discussion on downvoting. People need to understand why it happens. Downvoting is not just happening because of revenge. Most of it is initiated because of "bid bot abuse" or other "voting abuse". If you have received a downvote, ask why before downvoting back. Also, all downvotes risk revenge for now.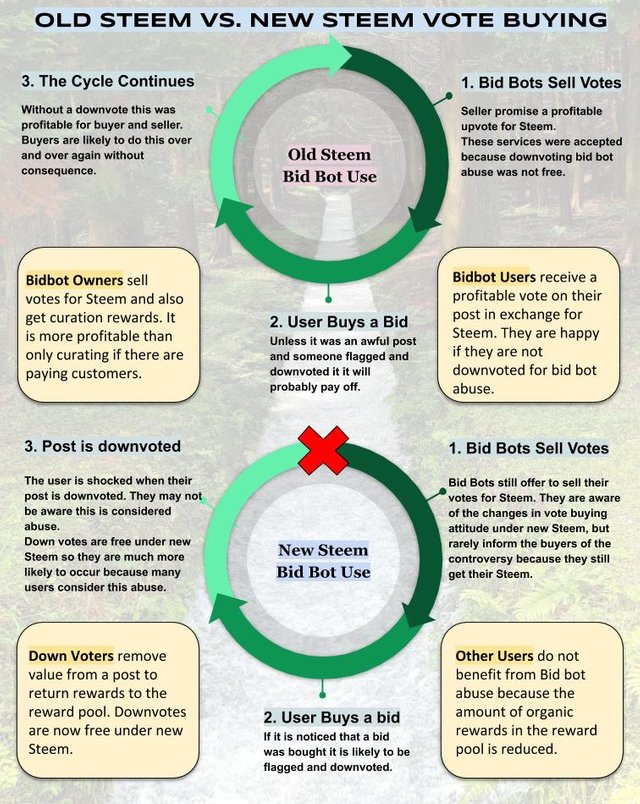 This is my attempt to create an infographic to explain why downvotes are more prevalent. I was inspired by
@acidyo
's
post
.
Inspired by @abh12345's post I have set beneficiaries as 50% @null and 50% @steem.dao. I will not be taking any rewards for this post. If you downvote it, you are downvoting rewards that will go to the Steem Proposal System or just be burned.
Why Was I downvoted for Bid Bot Abuse?
The problem is a huge amount of rewards was used for this reason under old Steem. Under new Steem the effects are even worse.
For example, a 100SBD bid with a 10% ROI requires a bid worth 220SBD at payout. The author gets 50% rewards which is 100SBD from their investment and 10SBD ROI. 220SBD is something like 30% of Steem current hourly production (SPS gets around 70 an hour at 10%). No one deserves this much just for buying it. This is what is meant by bid bot abuse.
If you engage and curate and build up your actual reputation on the platform (not that number next to your name), you will eventually start to get decent votes.
Here is the link to the Steem Etiquette, maybe it needs to be updated to mention avoid vote buying, selling and trading.

In the popular HBO series Game of Thrones, the Dragon queen said she would break the wheel. Some people thought HBO broken the series in the final season. HF21 has broken the wheel of bidbots. Does that mean Steem is broken? I doubt it.
---
My infographic is a work in progress and I will change it or make more if I get constructive feedback. If you found it useful, please feel free to copy it into your work. It was created using google draw and the background watermark is my photo.