My New Steem Resolutions: What will you do in HF21?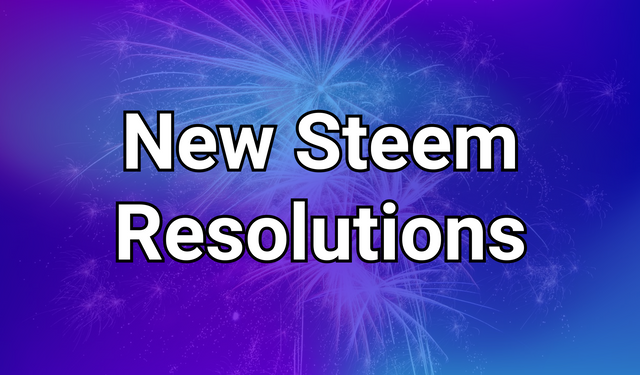 Happy New Steem everyone!
Today felt pretty much like your normal first of January. Tired from a hectic day of closely following the implementation of the fork in order to immediately make the necessary update to our witness (@steempress) as soon as the fix to the experienced problem was provided to bring the chain back up and running for people to use asap. Tired from the following afterparty with other Steemians firing celebration downvotes on the trending page. But also slowly realizing that it is now a new time for Steem, with new opportunities to start a new.
For that reason, I thought it would be fun to share some of my own "New Steem Resolutions". And explain the things I want to try to do better in HF21 to make the place better and co-create the Steem that I want. So I hope you'll like some of my ideas, and I would also be curious to hear what you would like to do differently in HF21 as your #newsteem-resolutions.
Reflections on a new fork
First of all, I've had some mixed feelings about the details of the EIP. As I believe most of us do. On one side, I believe there was a need for change with abuse going on for too long unchallenged, too much stake going the way of bid bots, and users generally no longer participating in the intended proof of brain curation game. On the other hand, I fear that this may hurt smaller users and communities, as well as producing an environment that is overall less pleasant.
However, at the end of the day, it is we who make the effects of the changes. Thus instead of going on about how I think it could have been slightly better, I want to highlight some of the opportunities I believe it gives, as well as the things we can all do now that may add value to and grow Steem. After all, we are all very lucky to have the power and ability to shape the future social web that we have always wanted, one that others will look at and find worth joining. And while it is always easier to yell at others who we believe misbehaves, it is always a good idea to begin by making the best of out of one's own decisions. So without further delays, here are some of the things I want to do better and differently in HF21:
My new Steem resolutions
1 . Help make alternatives to bidbot delegations more attractive and give people a good reason to un-delegate their current bidbot delegations in favor of what I believe brings more value to Steem.
I've always been a harsh critic of bidbots and the negative effect they have on Steem. But rather than spending more time complaining to the bidbot owners of why their services are mostly harming Steem, I want to help make the alternatives more attractive. After all, the more good options we can create that makes holding Steem Power attractive, the more demand we will create for the token. Also, the moment the alternatives provide better returns than bidbots, it won't require any further arguments as stakeholders looking for the best returns will follow naturally. Additionally, I think the responsibility is also on us stakeholders who believe that Steemians bring more value to the platform when curating manually, or when they support those who do, to give Steemians better incentives to do so.
Thus, I've also undelegated my previous 20,000 SP delegation to @ocdb. I will instead spend the next week deciding where I can delegate it instead with no other expectations of returns other than that it makes the most positive impact to Steem possible. Which I really believe will benefit myself as a stakeholder more in the long-run than any bidbot returns at 16-17c.
To be fair to @ocdb, it is not the same as most other bidbots since it is a non-profit and exist primarily to provide quality creators sbetter opportunities to earn rewards.
2 . Spend more time looking for, upvoting, engaging with and sharing good #introduceyourself posts.
Increasing the size of the userbase through attracting more people and retaining new members ought to be the number 1 priority for anybody looking to help increase the value of Steem. And while I'm working hard these days to launch new onboarding and user retention mechanisms for SteemPress, I think one of the easiest and most impactful things we can do right now to assist this is to better welcome new Steemians on the traditional sites like steemit.com.
So to all of you curators out there, I hope you don't mind if I DM you once in a while with a link to a new introduction post I've considered curation worthy. I would also encourage everyone else to do the same, and not be shy to share such posts with me as well.
3 . Contribute more to growing curation projects.
Curators should be the big winners in HF21, and community-run curation projects in particular. Imo their work has been some of the most under-valued contributions made to Steem and one area where all stakeholders can and should step up their support.
While we've done a lot to support most of these projects through trailing their votes on steempress content to boost their curation rewards, I plan to do much more with my own stake. I hope to also make better tools available for others looking to add their support to a variety of projects, and also for steempress users to discover and become a part of different community projects.
4 . Not being afraid to downvote what I believe is the wrong allocation of rewards in order to bring more back to the real value-adding contributions. And assist in forming the right culture to support it.
Free downvotes is our new anti-abuse tool, so let's use it! No more low-effort content on the top of Trending that none of us wants to see represent Steem to curious outsiders considering if Steem is a place worth joining or investing in. No more spam comments taking a large chunk of the reward pool.
I've heard many express their concerns that downvoting will not happen sufficiently due to fears of retaliation. Well, not if we work together to create the right culture around downvotes, as well as to stand up in support of those who we believe are receiving unfair downvotes in retaliation. This may not always be the most profit minimalizing thing to do short term. But following good principles and establishing an environment that people want to be a part of and feel that they can express themselves without fair is fundamental to our growth.
Conclusion
In short. My new Steem resolutions are to do the things that I believe are right to create the Steem I want to be a part of. That I believe add more value and interest to our blockchain. I don't know how anyone can look at the current market price and not feel that spending time and effort min-maxing inflation-derived returns from a 16-17c coin is rather petty. When instead we can work to build the web we want, and take a big fat chunk of a trillion-dollar market that is online media.
So here is a kind reminder to any stakeholder or fellow Steemian who may have forgotten some basics during the depressive days of old Steem:
your ROI from STEEM is not the amount of new STEEM tokens you get per year.
instead,
ROI = New STEEM tokens earned * STEEM price +/- the change in the value of the SP you hold.
so note how both variables depend on the value of STEEM, and thus how you can help it grow over time. Additionally:
The returns on your curation is not curation rewards + author rewards. It is curation rewards + author rewards +/- the effect your behaviours have on the value of the tokens you earn and hold.
So think of how every vote can help, directly or indirectly, short term or long term, to increase the value of STEEM. And tell the next person who implies that min-maxing their STEEM/SBD/SP on votes or delegation is the same as min-maxing the ROI that they're missing the most important part of the puzzle.
New (Steem) profile picture
You may have also noticed that I recently changed my profile picture on Steem as well as the other places I'm active. While the old picture fit well for my initial plans for a space-related blog on Steem, it doesn't reflect my current activities as much. On top of that, dark colors and a serious look is very old steem. Colors and a cheeky smile is totally a lot more new steem!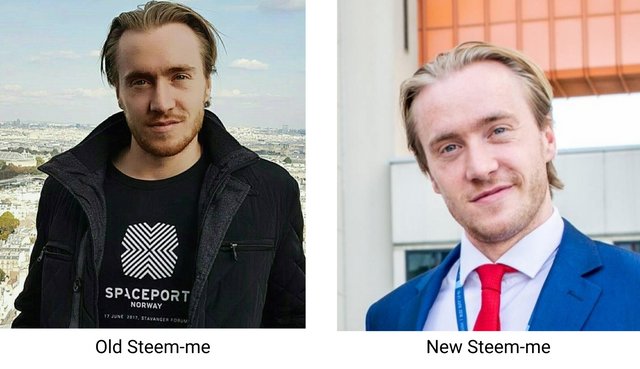 Oh, and powering up 34,000 more Steem Power in preparation for the fork also felt good :)
So tell me in the comments what you think of some of my resolutions, or what you would like to add ! Or dump me a DM with a link to your post if you would rather make one yourself.
In any case, happy new Steem!
Fredrik