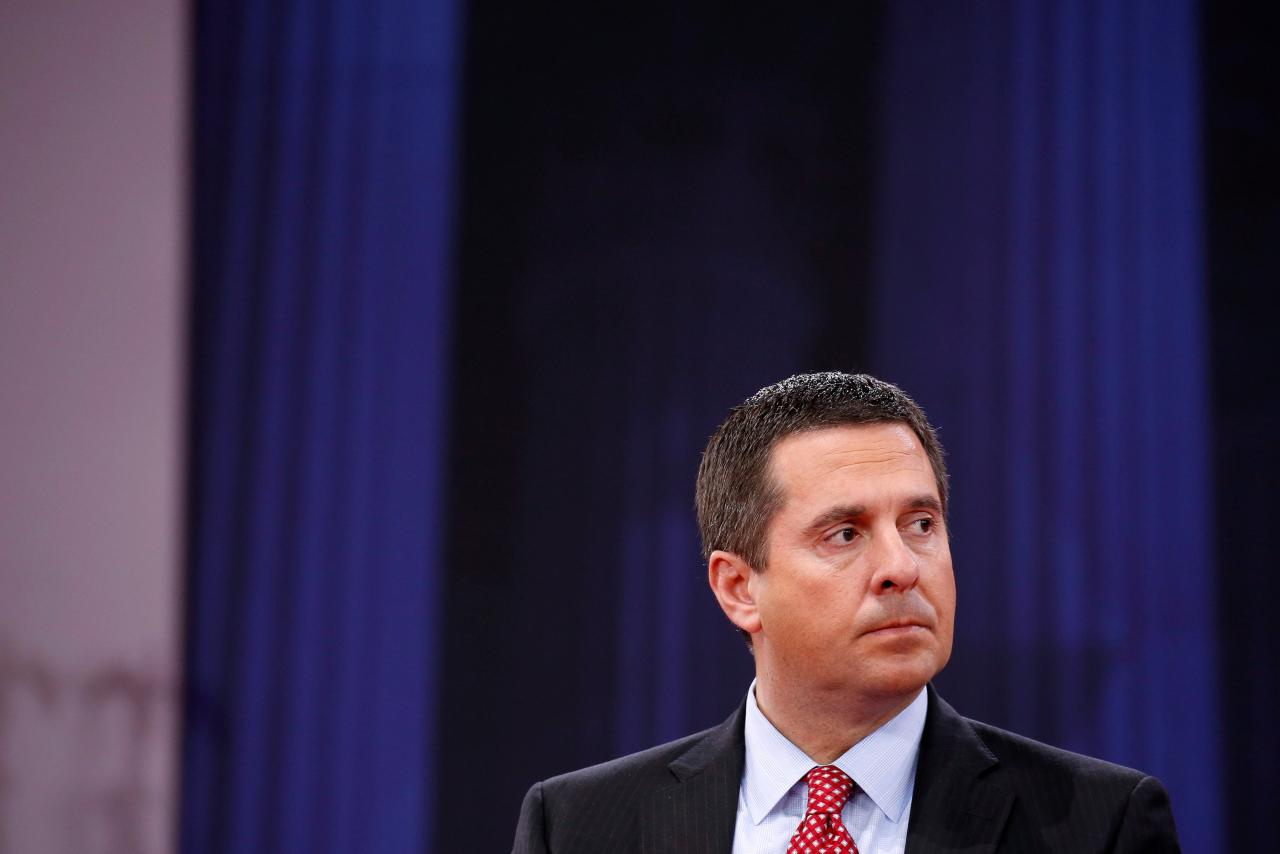 Nunes Confirms The FBI's Trump-Russia Collusion Probe Was Baseless
In a bombshell interview, Intelligence Chair Devin Nunes blows the whistle on "irregularities at the State Department".
BY ZACH HALLER | APRIL 22, 2018
In the midst of countless blockbuster developments following the release of early DOJ Inspector General reports into 2016 election malfeasance, Intelligence Chair Devin Nunes (R-CA) dropped a massive bombshell on an interview with Maria Bartiromo on "Sunday Morning Futures." Nunes confirmed what many Americans long suspected: the FBI's investigation into Trump-Russia collusion was not based on any official intelligence whatsoever.
Further, Nunes pointed to longtime Hillary Clinton co-conspirator Sidney Blumenthal as a potential actor working with the State Department to engage the FBI in a counterintelligence investigation into Trump without any legitimate evidence. Blumenthal, a long-time adviser to the Clintons and Hillary's unofficial intelligence gatherer, gained widespread infamy when leaked emails contained evidence Blumenthal — who had no security clearance — communicated with Clinton on her private email regarding war crimes committed on the part of NATO-backed rebels in Libya while Clinton was at State.
Watch:
Fox recaps the gravity of Nunes' report:
House Intelligence Committee Chairman Devin Nunes said review of FBI and Justice Department "electronic communication" documents shows no intelligence was used to begin the investigation into possible collusion between the Trump campaign and Russia during the 2016 election.
"We now know that there was no official intelligence that was used to start this investigation. We know that Sidney Blumenthal and others were pushing information into the State Department. So we're trying to piece all that together and that's why we continue to look at the State Department."
Nunes, R-Calif., cited the Five Eyes agreement as a way of knowing no intel was used. The U.S., along with Canada, the U.K., Australia and New Zealand, make up the "Five Eyes," or countries that share intelligence in a more-trusted fashion than other arrangements, like NATO, particularly due to years of trust and a common language.
"We are not supposed to spy on each other's citizens, and it's worked well," he said. "And it continues to work well. And we know it's working well because there was no intelligence that passed through the Five Eyes channels to our government. And that's why we had to see that original communication."
The California Republican said he is now investigating the State Department due to signs of "major irregularities," in an effort to figure out how information about former Trump campaign adviser George Papadopoulos — who reportedly met with a foreign policy expert and Cambridge professor with connections to the CIA and Britain's MI6 in London in 2016 — was obtained by the FBI.
However, he said it is known that two long-time Clinton associates — including Sidney Blumenthal — were "actively" giving information to the State Department, which "was somehow making its way to the FBI."
---
It's impossible to overstate the gravity of Nunes' remarks. The FBI's willingness to initiate a counterintelligence investigation into Trump without legitimate evidence exposes more of the dark roots of the Machiavellian scheme the Obama-Clinton regime constructed within the U.S. government to surveil and ultimately usurp Trump during his 2016 campaign and onward into his Presidency; to achieve this means an unfathomable amount of illegal misconduct took place, seeing as Clinton-Obama operatives made it to the top of both the FBI and DOJ and commandeered America's highest law enforcement agencies to be used as political weapons against Donald Trump, American citizens, and Clinton and Obama's political opposition.
Following Hillary Clinton's billion-dollar loss to Trump, Clinton's campaign concocted a false narrative that Russian hackers were to blame for her loss, and that Trump had been unlawfully colluding with Russia and Vladimir Putin to help secure his win. While this narrative has dominated the airwaves of Clinton's state-aligned media partners, alternative media has widely reported on Wikileaks emails and confessions by Clinton mook Robbie Mook that confirm Clinton's team fabricated the story, and leveraged corrupt co-conspirators within Barack Obama's administration to use this false intelligence to weaponize U.S. law enforcement agencies to destabilize and usurp Trump.
---
The Nunes bombshell comes on the tail of a blockbuster letter from Congressional representatives recommending criminal investigations into Clinton, top Obama FBI officials, and the others listed to the DOJ. Alongside former acting FBI Director Andrew McCabe, named in Congress's referral for possible violations of federal law are Hillary Clinton, former FBI Director James Comey; former Attorney General Loretta Lynch; FBI Agent Peter Strzok; FBI Counsel Lisa Page; former Acting Attorney General Sally Yates; former Acting Deputy Attorney General Dana Boente; and others involved in the Clinton-Obama network that have worked behind closed doors to sabotage Trump both before and after he became President.
Nunes' reporting is consistent with prior messaging announcing the House Intelligence Committee would examine other agencies, including State, as "phase two" of its investigation after the committee released a bombshell FISA memo in February alleging surveillance abuses by the FBI and DOJ.
---
The xenophobic and blatantly false "Russiagate" narrative engineered by Clinton's goons has long been seen by the public as a direct projection to distract from Clinton's extensive illicit dealings with Russia. Wikileaks' disclosures concerning the Clinton Foundation and its potentially unlawful international dealings — including the questionable liaisons between the Clinton campaign and Clinton Foundation and Russia and the Ukraine — have long been publicly available.
As Clinton's donor network — that includes warlord George Soros — forked out to protect Democratic Party interests under Trump, a leaked memo revealed the Clinton-Obama regime's intentions and strategies to discredit and ultimately impeach the President. That impeachment is not possible did not matter; given the gravity of their scandals, the Democrats would need to reinvent Correct the Record, the shady apparatus that protected Clinton during the election, as one of the few defenses they have left as Americans and Trump's administration unravel and examine the criminal elements of Clinton's campaign following her loss.
The public has also scorned the impropriety of Clinton's brokerage of the Uranium One deal following related Foundation donations (and Bill's $500k speech at a Moscow Bank), originally exposed when Jo Becker and Mike McIntire's 2015 bombshell expose Cash Flowed to Clinton Foundation Amid Russian Uranium Deal hit the New York Times. During Clinton's ill-fated presidential campaign in 2016, her co-conspirators within Obama's FBI worked quietly to stave off the three FBI investigations into Clinton's email malpractice, covert uranium deal, and shady family foundation.
READ MORE: The Real Collusion Story | National Review
---
The Clinton-Obama regime's initiation of an FBI investigation into Trump allowed Clinton to not be the only candidate running for President while under active FBI investigation in 2016, and served as an integral part of the Deep State shadow government's efforts to destabilize and remove Trump before he made good on his promise to lock Clinton up.
History will look back on Clinton's funding of the unverified Steele Dossier as the final Hail Mary to avoid being brought to justice for her crimes leading into the 2016 election. In light of the IG reports earnest conclusions and subsequent criminal referrals, America's government is finally addressing the unprecedented and unpardonable efforts Clinton and Obama employed to politicize and weaponize government agencies against their political opponents. While the politicized legacy media may continue to smear Clinton critics as partisan per the Pied Piper directive, the evidence of her corruption is as extensive as it is nonpartisan.
Those analyzing the severity of the Clinton-Obama crimes understand that while treason relates to crimes of war, sedition differs in that it does not involve overt acts of open violence or assistance to an enemy; the U.S. Supreme Court upheld the constitutionality of the Sedition Act of 1940 by interpreting the purpose of the act to apply to a political creed that has a tendency to produce imminent lawless action. Americans can rest assured the IG's report and ongoing investigations into the 2016 election will be the nail in Hillary Clinton's coffin, and that her pantsuit will be a prison jumpsuit soon enough. As investigations carry on, the Clinton-Obama swamp will drain, and the Clinton cancer that has crippled American government for decades will soon be fully eradicated.
In other words, goodness will prevail.
---
Zach Haller (Shirtless Pundit) is a writer, activist, and DIY journalist based in Seattle, Washington. Support Zach's work on Paypal or Patreon.