Is it an alien? Is it a human-extraterrestrial hybrid? Is it some sort of sub-human species or maybe just a non-sapien humanoid creature? Nobody is quite sure yet.
Archaeologists in Nazca, Peru have discovered the mummified remains of something they've never seen before - a humanoid creature with strange features including a large skull, odd facial features, and extremely long fingers and toes. No, this isn't a story from The National Enquirer. It's a legitimate finding that's being investigated and tested by independent scientists and researchers as we speak.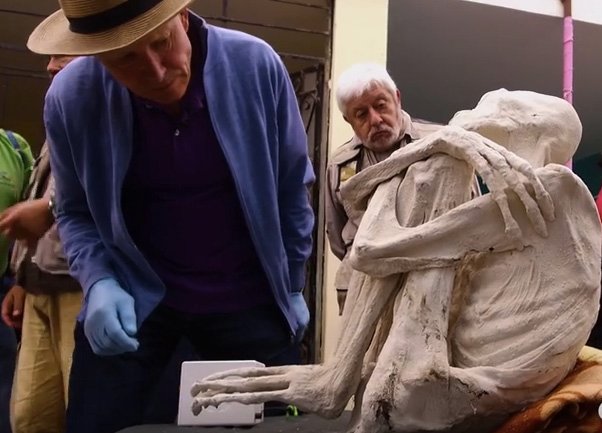 Nazca is known for it's mysteries, including its incredibly strange geo-glyphs known as the Nazca Lines, as well as ancient tales regarding non-human humanoids who once roamed the land there. 
While some have rushed to call it a fake, they were immediately quieted - researchers have already carbon-dated the remains to sometime around 240 AD. They have also shown recent X-Rays of the body, proving that indeed it has a very real skeleton. The investigation is being performed and covered in partnership with Gaia.com at this very moment, where more information can be found.
An initial DNA analysis has already began and while it will take some time to identify a species (or to identify it as an unknown species), findings have already shown it's lacking a Y chromosome (the chromosome present in male DNA), prompting researchers to name it Maria. Since it takes much longer to perform a full DNA sequencing, we will have to wait to see the actual outcome of the findings.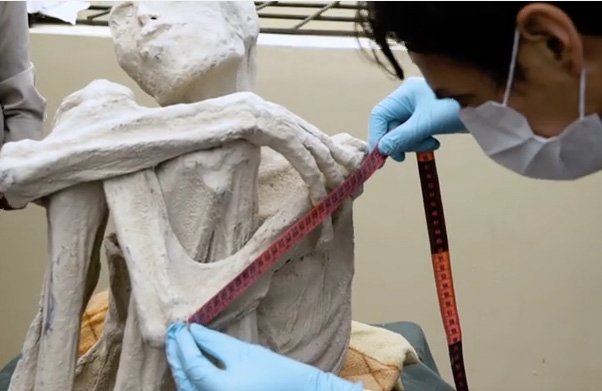 Is this what we've all been waiting for? Will this prove the existence of an unknown humanoid race here on earth? Will it be irrefutable evidence of extraterrestrial presence? Proof of an ancient hybrid-human species? The missing link? Only time will tell. What we do know is that this finding is very real. Check out the video below and see for yourself. It is a groundbreaking, and a VERY exciting discovery.
Watch the discovery in this video...
These are definitely exciting times, and it'll be highly interesting to see what this reveals.