Waiting for the bus ... and some general thoughs on silly planning
Bus passengers from Lødingen, Northern Norway are whining a bit those days. They used to have a heated waiting room with toilets and the bus stopping right outside. In order to save money now they have to visit a bus stop along the main road. At least they have a wind shelter while waiting ...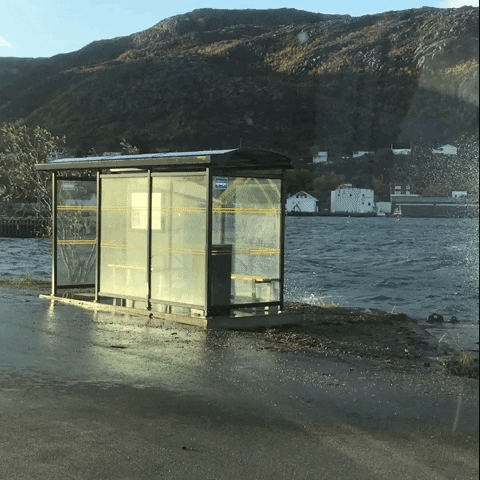 ... unfortunately, with gaps both between the ceiling and the wall, and between the wall and the floor, the shed isn't quite water tight, so whenever the wind is blowing a bit in the wrong direction (the weather wasn't particularly bad when the video was taken) people inside the shed will get wet due to breaking waves. Details, details ...
Sources:
This is an extreme example, but I think it's a general problem, I'm seeing similar (though less extreme things) every day - infrastructure is often planned and decided on only by consulting maps and without consulting the actual users. Stupidities are everywhere to be found. In this case locals were trying to protest as they knew the location was stupid, but I suppose it was already decided on and difficult to reverse the decision. I do believe things like this could be solved through some sort of "liquid democracy" where ordinary people could participate in deciding all details on public spending, either by delegating votes to someone else or by direct voting.
Some would of course say that this would be better solved by not spending public money at all. Of course, if a profit-driven bus company was in charge of the waiting facilities, they would most likely come up with something better than this.