Microsoft Rewards und ein nützlicher kleiner Helfer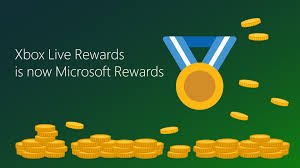 Hallo zusammen
Ich möchte euch heute mal das Microsoft Rewards System vorstellen und euch einen kleinen Helfer dafür vorstellen.
Zu aller erst benötigt ihr natürlich ein Microsoft Konto. Punkte sammeln könnt ihr durch verschieden Aktionen.Zum Einen wäre da die Suche auf Bing über Handy und PC. Für jede Suche erhaltet ihr Punkte.Dazu stelle ich euch später im Beitrag noch ein kleines Tool vor, mit dem ihr beide Suchen innerhalb von 5 min erledigt.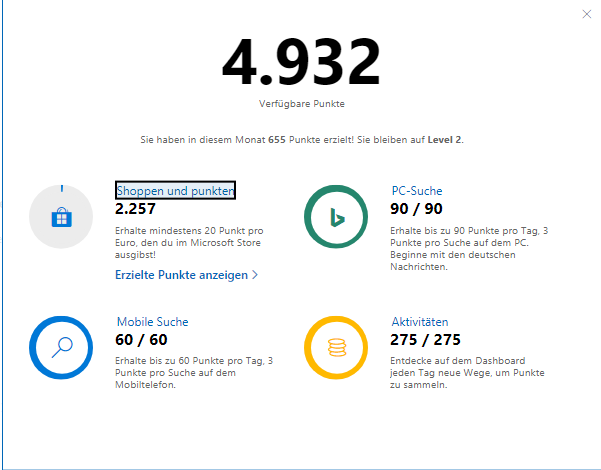 Durch Shoppen im Microsoft Store erhaltet ihr natürlich auch Punkte. Dann habt ihr jeden Tag die Möglichkeit ein paar Aufgaben zu erledigen.Dies geht ganz schnell und ist super einfach. Wenn ihr ein wenig mit Köpfchen dabei seid lernt ihr sogar noch ein wenig dazu.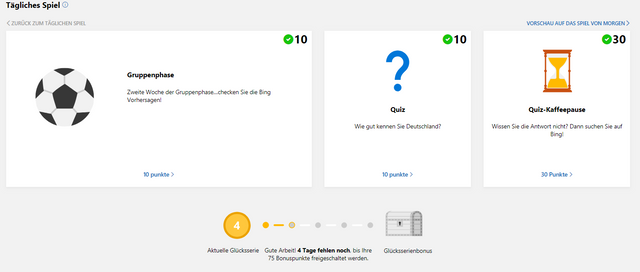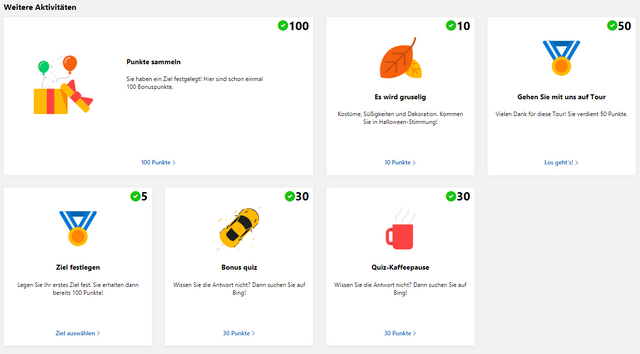 Kommen wir mal zu den Prämien, welche ihr euch durch die verdienten Punkte kaufen könnt.Da ist eigentlich auch für fast jeden was dabei.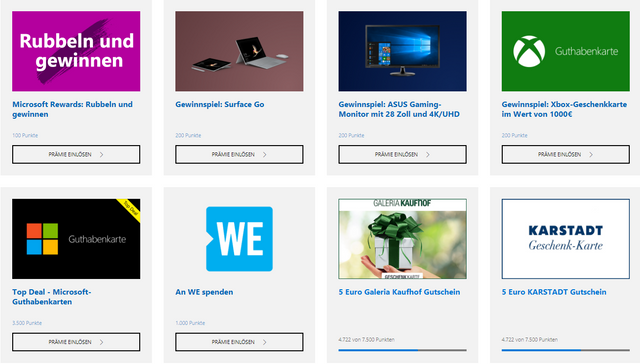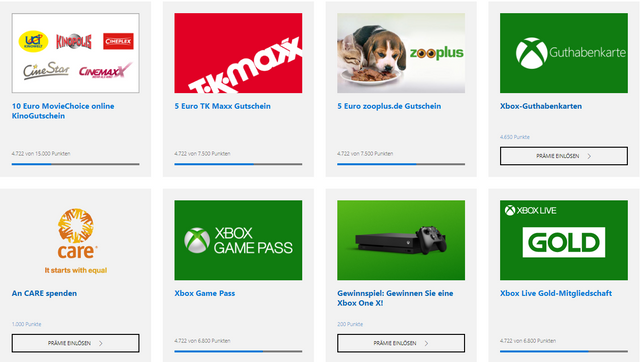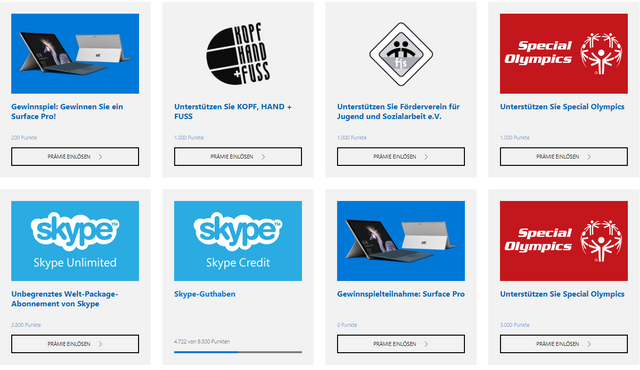 Die Guthaben Karten von Microsoft, Xbox, Karstadt oder auch Galeria Kaufhof sind mit Sicherheit am interessantesten.
Wie ihr seht könnt ihr so ganz nebenbei wunderbare Prämien erpunkten.Ihr müsst nur mitmachen.
Kommen wir jetzt noch zu dem kleinen Helfer von dem ich sprach.Jeden Tag 60 mobile Suchen und 90 PC Suchen durchzuführen könnte für manche ein wenig schwierig werden. Damit ihr diese Punkte aber dennoch erhaltet nutzt eine kleine Android App.
GPT-Helper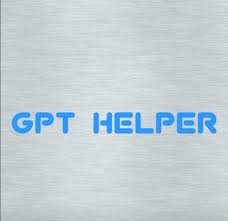 | Bild beinhaltet den Playstore Link zur App.
Öffnet einfach die App und klickt auf Bing. Nun müsst ihr euch natürlich noch bei Bing anmelden.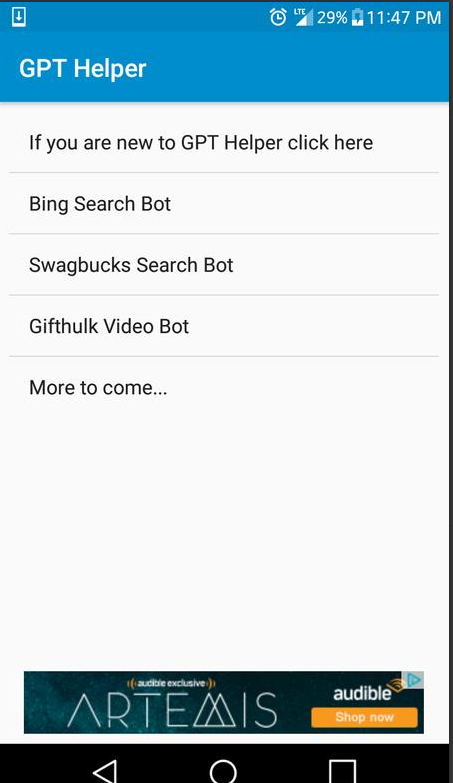 Nach eurer Anmeldung klickt ganz oben bei der Auswahl von Mobil, PC und All einfach auf All und 5min später habt ihr eure täglichen Suchen komplett abgeschlossen.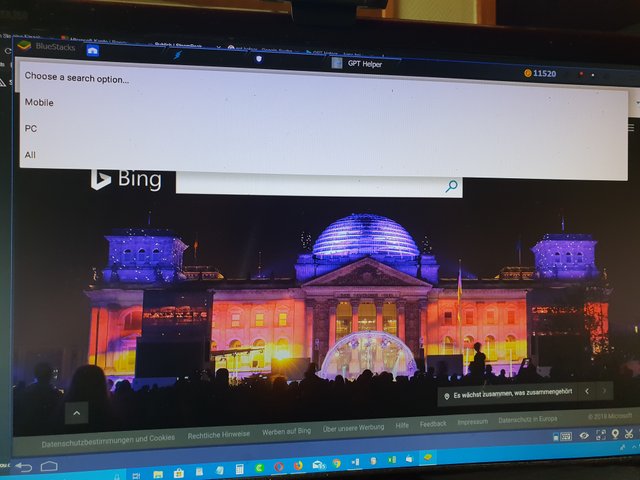 Und so ganz nebenbei beinhaltet das Tool auch Presearch Suchen und noch ein paar mehr.
Dann wünsche ich euch viel Pass beim Sammeln der Rewards.


English Translation
Microsoft Rewards and a useful little helper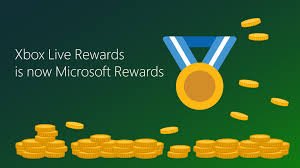 Hello together
Today I would like to introduce you to the Microsoft Rewards System and a little helper for it.
First of all you need a Microsoft account of course. You can collect points by different actions: On the one hand there would be the search on Bing over mobile phone and PC. For each search you get points. For this I will introduce you later in the article a small tool with which you can do both searches within 5 minutes.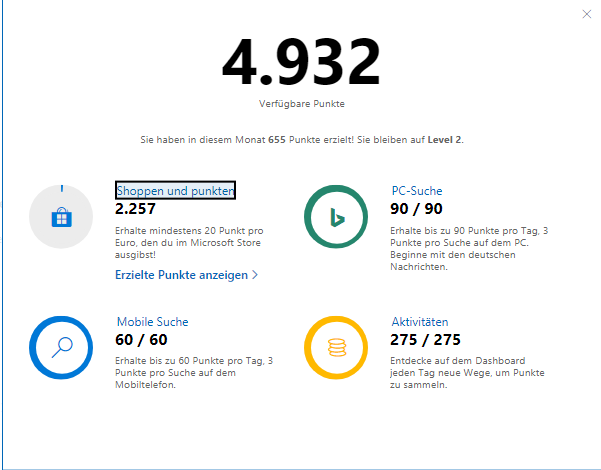 By shopping in the Microsoft Store you will of course also receive points. Then every day you will have the opportunity to complete a few tasks. This is very fast and super easy. If you're a bit smart you'll even learn a little more.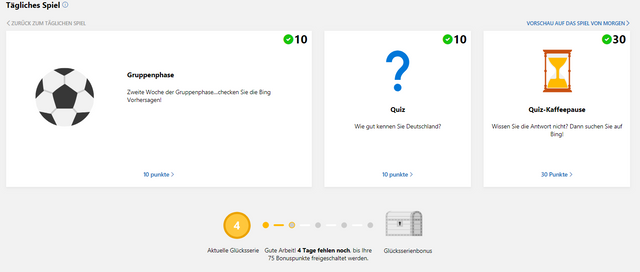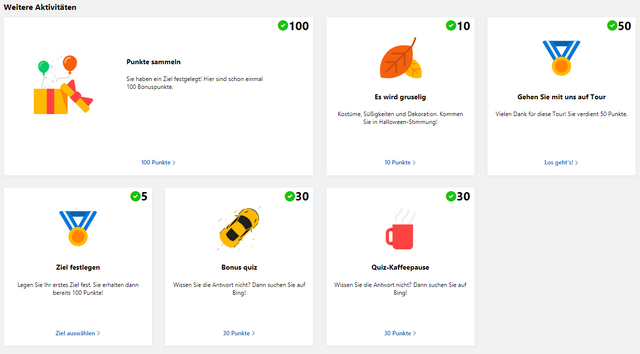 Let's get to the rewards that you can buy with the points you earn, and there's something for almost everyone.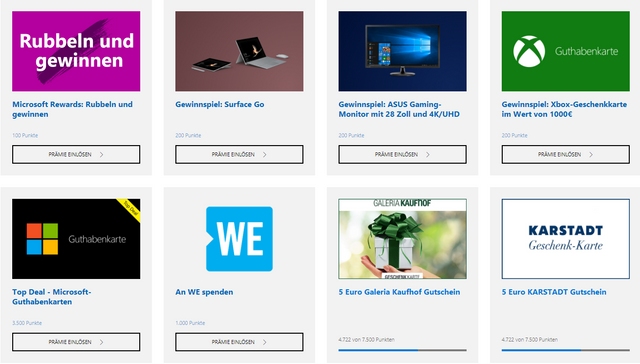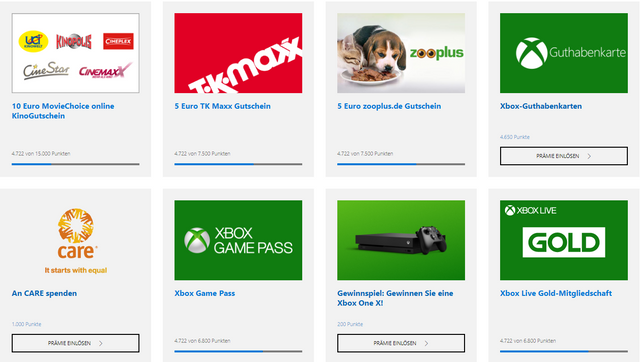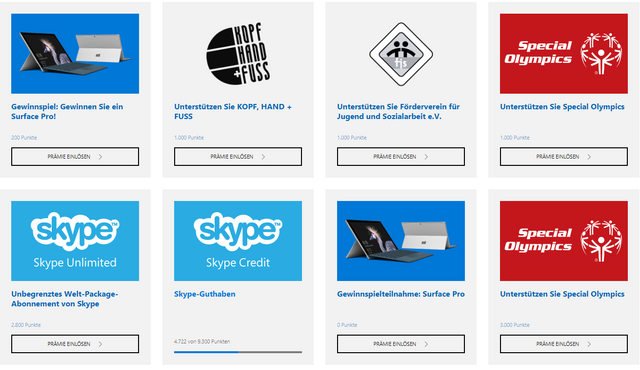 The credit cards from Microsoft, Xbox, Karstadt or Galeria Kaufhof are certainly the most interesting.
As you can see, you can score wonderful bonuses by the way, you just have to participate.
Now let's get to the little helper I was talking about. Per day 60 mobile searches and 90 PC searches could be a little difficult for some. To get these points but still use a small Android App.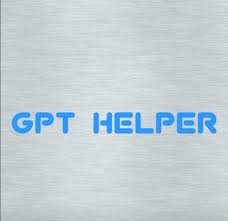 |Image includes the Google Playstore link
Just open the app and click on Bing. Now you have to register at Bing.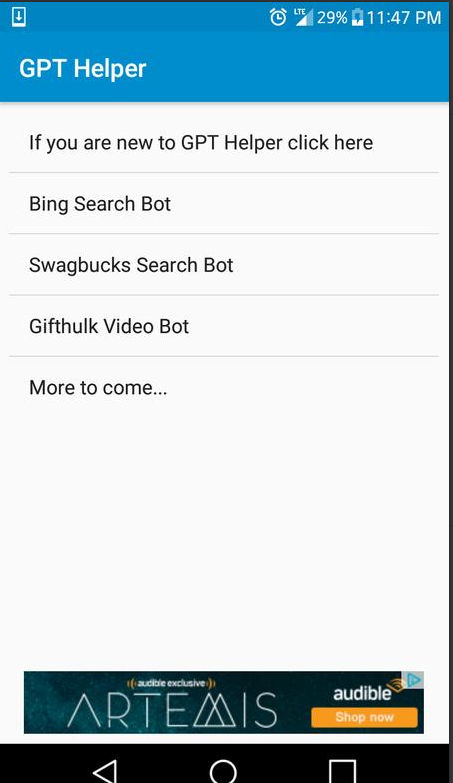 After your registration just click on All at the top of the selection of Mobile, PC and All and 5min later you have finished your daily searches.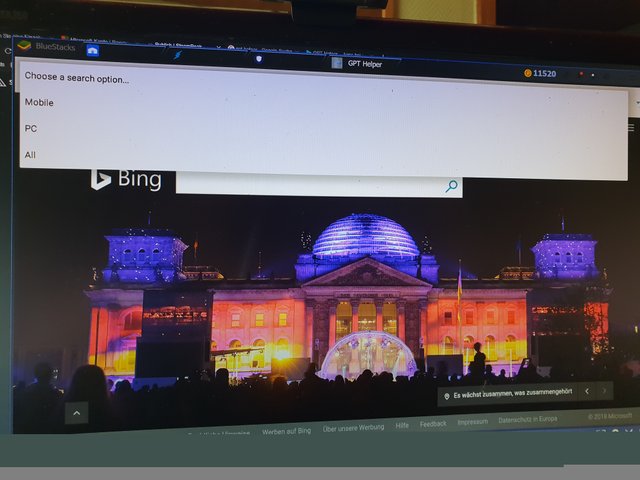 And by the way, the tool also includes Presearch searches and a few more.
Then I wish you a lot of pass while collecting the rewards.






https://www.presearch.org/signup?rid=284316




ACHTUNG, SEHR HOHES RISIKO (SCAMGEFAHR) ICH ERHALTE NOCH JEDEN TAG MEIN 1%, KANN ABER NICHT SAGEN WIELANGE!!!





http://www.changer.com/?refid=175013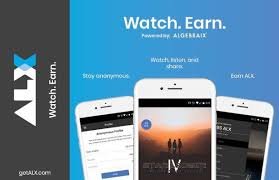 https://watch.getalx.com/login?referralCode=Q6YTPP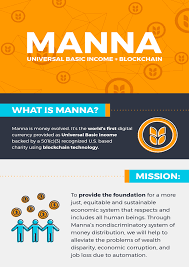 https://www.mannabase.com/?ref=ff0b7cfb52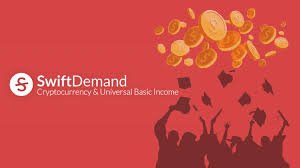 https://www.swiftdemand.com/?referred_by=sebescen81




http://www.autoclickbots.com?ref=373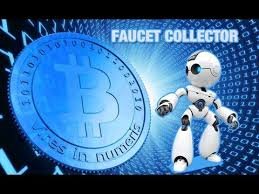 https://faucetcollector.com/?ref=93780