Box Got Crushed – Part 2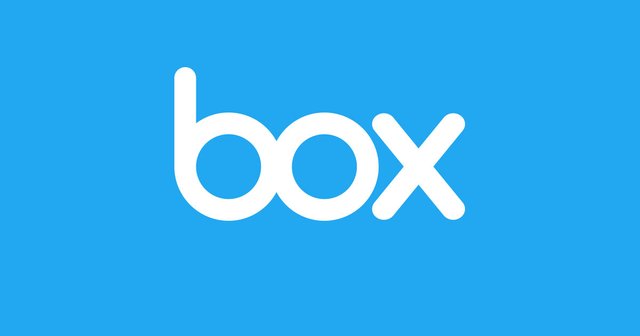 Three months ago, I wrote about Box's fourth quarter earnings.
One of the highlights of the earnings announcement was the dismal outlook Box reported. One of their biggest competitors is Microsoft Corp's OneDrive and SharePoint.  Thus, it will be difficult for Box to steal away SharePoint customers.  In addition, Microsoft is able to provide OneDrive and SharePoint to customers at a cheaper rate than Box.  Personally, I wasn't surprised by the forecast and the chart suggested price would fall to monthly demand at $14.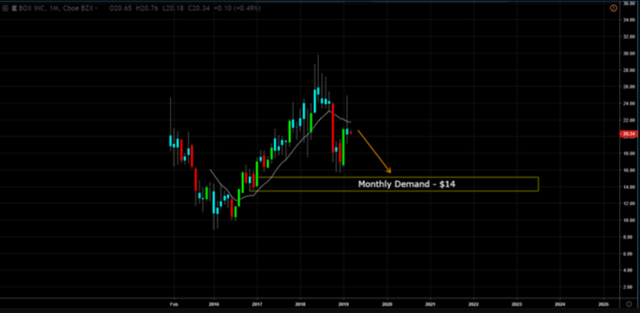 Yesterday, Box reported their first quarter earnings.  Box beat on earnings and revenue estimates, but reported another dismal outlook.
Box's revenue in the quarter increased 16% from a year earlier, as the company nabbed bigger customers for its collaboration and workflow software.

However, as Box lines up larger clients, it takes longer for the deals to close, the company said. Therefore, Box lowered its outlook for the year, leading to a sharp drop in the stock price. Box said it expects revenue for full year fiscal 2020 of between $688 million and $692 million, well short of the average analyst estimate of $702 million, according to Refinitiv.
This morning price hit the monthly demand at $14 and bounce, but overall, I think this stock is dead.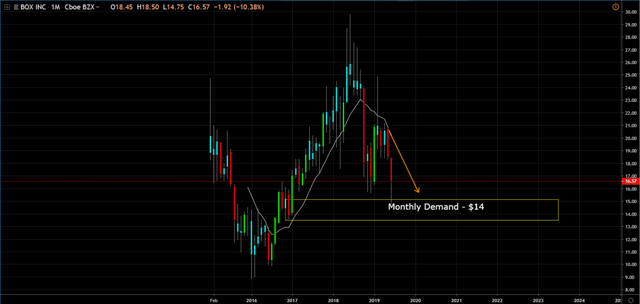 This post is my personal opinion. I'm not a financial advisor, this isn't financial advise. Do your own research before making investment decisions.

---
Published by Rolland Thomas
on

with SteemPress
https://mentormarket.io/news/rollandthomas/box-got-crushed-part-2/
---