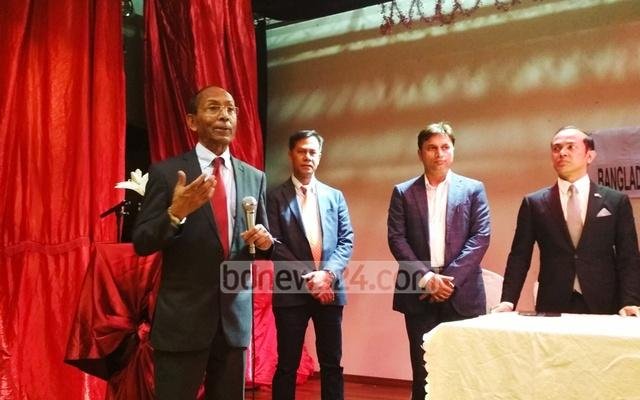 "The Bangladesh you left behind has changed. It's a different Bangladesh," Executive Chairman of the Bangladesh Investment Development Authority or BIDA Kazi M Aminul Islam said on Wednesday.
"We will help you in completing different types of formalities and processes [while investing in Bangladesh]. We will cooperate with you fully," he said in Tokyo before a Bangladeshi business group.
Aminul Islam is leading a Bangladesh delegation drawn from the government and private sector to Japan to promote the country before the investors in Osaka and Tokyo.
After Osaka meeting on Tuesday, he will speak with the Tokyo business leaders on Thursday.
On Wednesday night, the Bangladesh Chamber of Commerce and Industry in Japan hosted a dinner in his honour at a local hotel where he tried to allay fears of the NRBs.
They experience smooth business processes in countries like Japan but when the expats sometimes dare to invest back in Bangladesh, they face difficulties in getting approvals from government agencies.
The BIDA chief said he has opened a special cell for the NRBs where they can call anytime for support. "You can call and also email. We will respond immediately."
"If you don't get response, just leave your name and phone number. We will call you back.
"What used to take year after year would now happen at lightning speed. We have this situation now. We will help you," Aminul Islam assured them.
"You just think how you can be involved with Bangladesh in more ways. There will be a big change in Bangladesh's economy in future. You are businessmen, entrepreneurs. You think what you can take to Bangladesh from Japan. Anything you take from Japan would be part of Bangladesh's development process," he said.
"Japan took a hundred years to be developed. We will be developed in a quarter of a century," he said in reference to Prime Minister Sheikh Hasina's vision to be a developed country by 2041.
To encourage them, the BIDA boss cited example of Managing Director of Energypac Humayun Rashid who is also part of his delegation. Rashid returned from the United States and started business in Bangladesh in 1996.
Now his companies ranging from power generation to making clothes employ over 10,000 workers in Bangladesh.
Rashid, also a director of the Dhaka Chamber of Commerce and Industry or DCCI, told them there are huge opportunities in Bangladesh now. "You come to Bangladesh and if you face any problem, please come to DCCI. We'll try to help you."
The Bangladesh Chamber in Japan has over 250 members. Most of them have businesses related to automobile, halal food business, and IT.
President of the chamber Badal Chaklader said they can invest back in Bangladesh. "We have the ability. I am also thinking of making investments" he said and thanked BIDA for encouraging them.
Commercial Counsellor of the Bangladesh embassy in Japan Mohammad Hasan Arif asked the NRBs to show ways to the Japanese investors as well.
"It's your duty to show them the path. Japanese investors don't know the way. You can do better than us [government officials]," he said.
Petrobangla Chairman Abul Mansur Md Faizullah and Additional Secretary for Power Md Zakir Hossain who are part of the BIDA delegation also spoke at the dinner and encouraged them to invest back in Bangladesh.
BIDA was formed by merging the Board of Investment and Privatization Commission in October 2016. A set of reform initiatives related to ease of doing businesses are under way to lure the investors in Bangladesh.


@mrshahriar