INDONSIAN
Tgk H. Hasanoel Bashry H. Gadeng (Abu Mudi) dan Tgk H. Mustafa H. Ahmad (Abu Paloh Gadeng) dua ulama Aceh ini, mengisi kegiatan pelantikan pengurus pengajian Tasawuf, Tauhid dan Fiqih (TASTAFI) Kecamatan Dewantara di Masjid Besar Bujang Salim - Kruenggeukueh, 09/09/18.
Acara yang seharusnya dilaksanakan di halaman Masjid ini terpaksa dipindah kedalam Masjid, akibat hujan deras yang turun dari usai shalat fardhu maghrib, sebut Ardi Ilyas panitia pelaksana.
Namun jama'ah yang sudah tiba sejak sebelum shalat maghrib dan memenuhi masjid ini, terus mengikuti jalannya acara sampai dengan selesai.
Pelantikan pengurus Tastafi diawali dengan zikir yang dipimpin Tgk Bukhari A.Manaf sampai menjelang shalat fardhu isya.
Acara dilanjutkan dengan tausyiah yang disampaikan Abu Paloh Gadeng setelah shalat isya, dengan mengupas tentang pentingnya pengajian Tastafi dan memberi penekanan bahwa baik ada atau tiadanya nama beliau di kepengurusan Tastafi namun beliau adalah anggota Tastafi, yang disambut Allahu akbar oleh jama'ah.
Abu Paloh Gadeng juga memintan agar pengajian Tastafi dilaksanakan disetiap Meunasah, agar tiga bidang ilmu yang wajib dikuasai oleh umat Islam ini betul-betul dikuasai masyarakat demi menangkal berbagai pengaruh pendangkalan akidah ummat.
Prosesi pelantikan dilakukan oleh Katua Tastafi Aceh Utara, Tgk H. Sirajudin Hanafi sekaligus pembacaan naskah ikrar para pengurus Tastafi Kecamatan Dewantara yang diketua oleh Tgk Bukhari Abdul Manaf, Tgk Waliyunis Muhammad Nur, Wakil Ketua I dan Tgk. Jarjani Muhammad Syech sebagai wakil ketua II. Sementara Sekretaris dipercayakan kepada Tgk. Muhammad Rizal Al-Faqi M.Jamil dan Tgk Muhajir Husaini sebagai Anggota, diposisi Bendahara dipercayakan Tgk Umainizab Abdul Gani , lengkap dengan kepegurusan lainnya.
Dalam amanatnya Tgk Sirajuddin mengharapkan pengurus Tastafi Dewantara segera membentuk kepengurusan Tastafi di seluruh Gampong dalam Kecamatan Dewantara.
Acara yang sekaligus merupakan kegiatan menyambut Tahun baru 1 Muharram 1440 Hijriah ini diakhiri dengan tanya jawab tentang persoalan agama dalam kehidupan Masyarakat yang dipimpin Tgk H. Hasanoel Bashry H. Gadeng (Abu Mudi) yang juga adalah pendiri Tastafi Aceh
---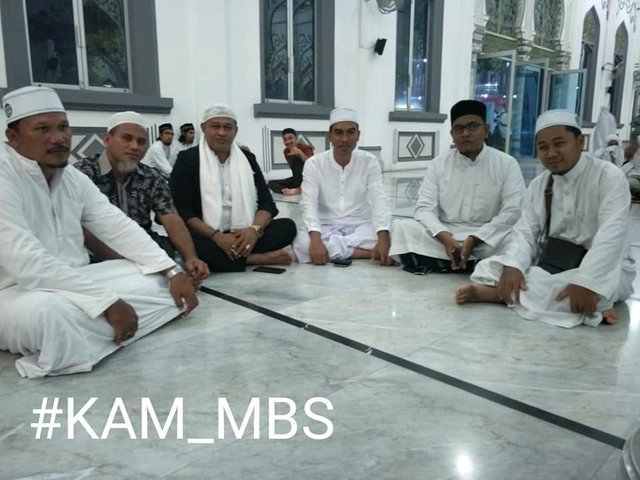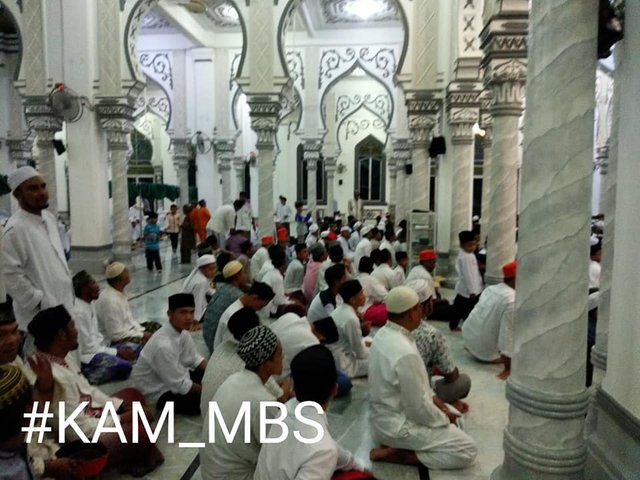 ---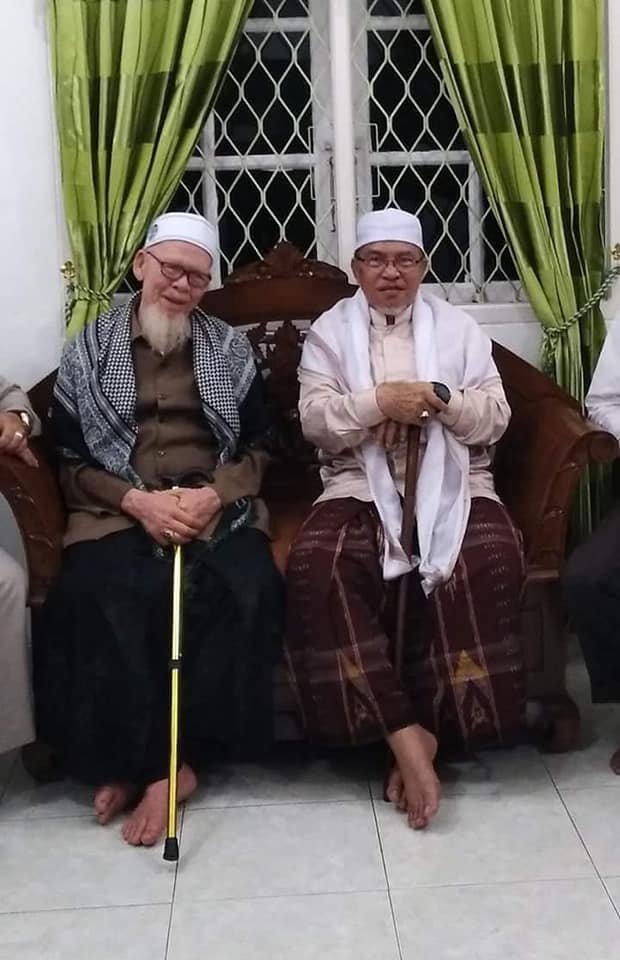 ---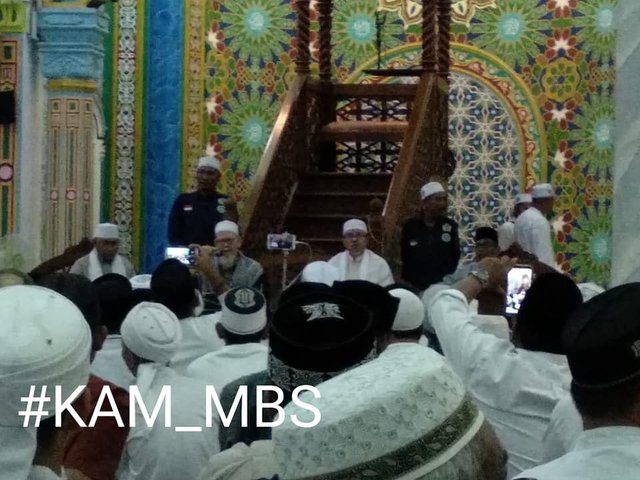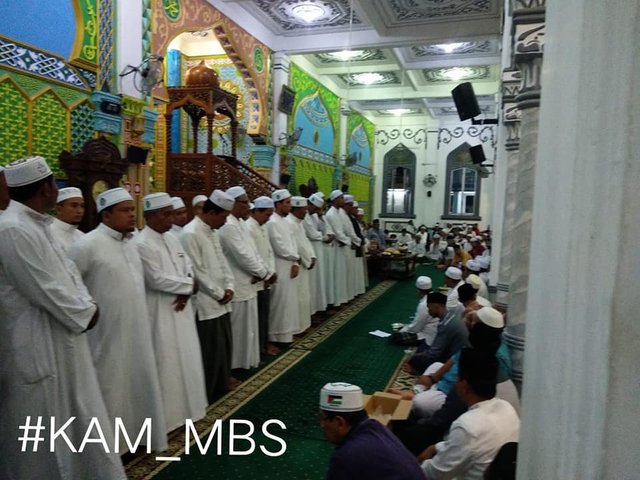 ---
ENGLISH
gk H. Hasanoel Bashry H. Gadeng (Abu Mudi) and Tgk H. Mustafa H. Ahmad (Abu Paloh Gadeng) these two Acehnese clerics filled in the inauguration of the Tasawuf, Tawheed and Fiqh (TASTAFI) recitation board of Dewantara Subdistrict in the Great Mosque of Bujang Salim - Kruenggeukueh, 09/09/18.
The program that should have been held in the courtyard of the mosque was forced to be moved into the mosque, due to heavy rain which fell from the end of the Fardhu Maghrib prayer, said the committee of the executive committee of Ardi Ilyas.
But the congregation that had arrived before the Maghrib prayer and filled the mosque, continued to follow the course until the end.
The inauguration of the Tastafi board began with remembrance led by Tgk Bukhari A. Manaf until the prayer of Fardhu Isya.
The program continued with the presentation delivered by Abu Paloh Gadeng after the evening prayer, by examining the importance of the Tastafi recitation and emphasizing that there is either the presence or absence of his name in the Tastafi management, but he is a member of the Tastafi, which is welcomed by Allahu by the congregation.
Abu Paloh Gadeng also requested that the Tafsafi study be carried out in every Meunasah, so that the three fields of knowledge that must be controlled by the Muslims are truly controlled by the community in order to counteract the effects of the silting of the ummah's creeds.
The inauguration procession was conducted by Katua Tastafi, North Aceh, Tgk H. Sirajudin Hanafi, as well as reading the text of the pledges of the Dewantara District Tastafi officials, which were chaired by Tgk Bukhari Abdul Manaf, Tgk Waliyunis Muhammad Nur, Deputy Chair I and Tgk. Jarjani Muhammad Syech as vice chairman II. While the Secretary was entrusted to Tgk. Muhammad Rizal Al-Faqi M.Jamil and Tgk Muhajir Husaini as Members, were positioned by the Treasurer entrusted by Tgk Umainizab Abdul Gani, complete with other departments.
In his mandate, Tgk Sirajuddin hoped that the Dewantara Tastafi management would immediately form a Tastafi management in all Gampongs within Dewantara District.
The event which was also an event to welcome the new Year 1 Muharram 1440 Hijri ended with a question and answer about religious issues in the life of the community led by Tgk H. Hasanoel Bashry H. Gadeng (Abu Mudi) who was also the founder of Aceh TastafI.