Rep. Jim Jordan drops truth bombs on The House Judiciary Committee! Democrats want to hold Bill Barr in contempt for refusing to release a fully unredacted version of Special Counsel Robert Mueller's report. Jordan says the Democrats don't want the truth coming out about political surveillance by the intelligence agencies!
Luke's tweet from September 22, 2017.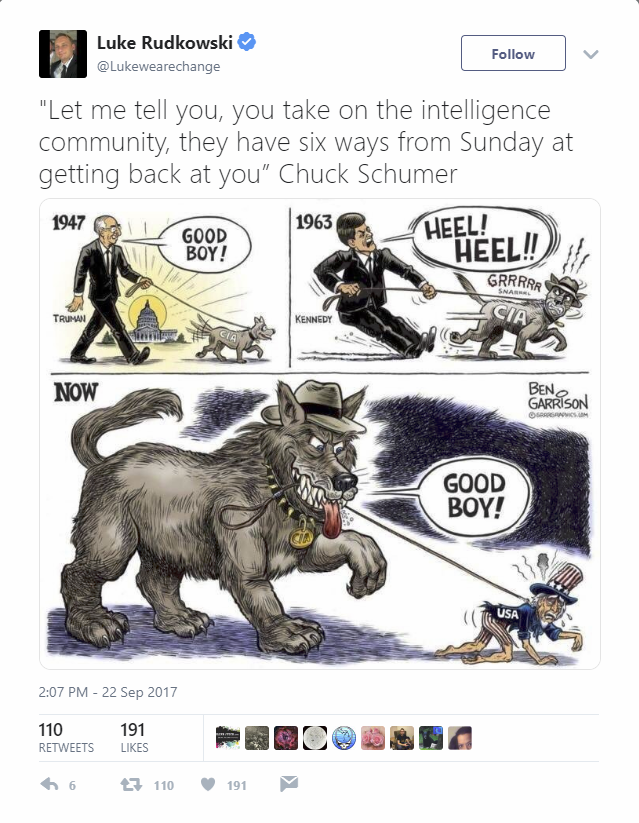 Chuck Schumer speaks the truth about what the intelligence agencies are capable of!

Don't Miss The Latest Breaking News!!
Watch On News 4 A Change ↓
→ VIDEO: PUBG IS GONE IN CHINA! A State Sanctioned Version Was More Profitable!
→ VIDEO: San Francisco Wants To Ban Facial Recognition! And We Should Let Them!
→ VIDEO: David Icke Divided We Fall
---
---
We gratefully accept donations! You keep us going! <3
-- Donate On WRC Main Site --
-- Patreon --
-- Bitcoin -- 143d3ec4GFe75zNEiUA2sbU9b6YP9L6c48
-- BCH -- qzhx3ajjpjxt27ts4q90tfem6qesm4dhv5e0ecyll4
-- Dash -- XiZebHViTKxjngJ8U8Gekbz34XDcMjKe29
-- ETH -- 0xe3fe145aa53fda2dbe4b65a8874f027b82d90811
-- Bittube -- bxdigY3LEr3hL2cScYqTJaiafeDxhpt9bK9FcxXbkuFeDyc9sZfF97iAmqSPR6NyfQ8wp34d7PeAU95gsZYQBpib1YEKz5aY4
-- Monero -- 466jSETYBr3R9qWJS15biBbxwZsZwE86wEMT9NogvfZS2tY7v8QsgZZ4ifPesVLr8xgaTCK32dcLoiMXi7DEM25V7t3o3z4
---

We'd love to hear what you think, please leave a comment, upvote and subscribe!