The Economic Truth about Solar Panels No One is Talking About
Here is the truth about the solar panel tariffs.
The one no one is talking about because most are frankly ignorant about it. The reason Chinese panels are cheaper than American made is NOT cheap Chinese labor. The factories are so automated that labor is a tiny component of them.
This factor will continue to grow with all goods, everywhere.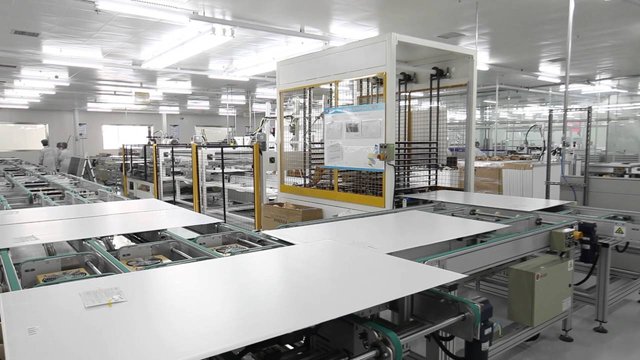 See that picture it is an actual Chinese solar factory in operation. Notice how few people are thereworking! The three people in the back are likely managers trying to figure out how to eliminate the last person actually working on the line.
No, the cheap cost is cheap Chinese EVERYTHING, specifically the lack of almost any regulations, environmental, safety, workers rights, almost NOTHING in the way of regulations. Translation: Those Chinese made solar panels you Green Weenies are suddenly so afraid will go up in price are DIRTY DIRTY FILTHY PANELS.
They represent abuse of the earth and abuse of people, something leftists claim to be concerned about.
Conversely, in the United States, our manufactures are burdened by *huge levels of regulation and associated huge costs. *
So in this case these tariffs are the federal government attempting to balance scales that are currently tipped in favor of China. Regulators have inflated the cost of US goods with excessive regulation and instead of removing the excessive regulations to compete with China, they are now increasing the cost of foreign goods with a tariff.
Oh, the same thing with washing machines but none of you seemed concerned about those.
So what will it mean to you in your personal life and what are you going to do about it?
ABSOLUTELY F*CKING NOTHING!
If you doubt me put it in your journal and get back to me in about 8 weeks.
Oh and what will China do? They will combine the panels with some components and call them kits of something like that. They will then spend a few billion with lobbyists and get congress to reclassify them as something other than panels. the few billion will save them hundreds of billions, so it is a good investment for them.
This is exactly what Japan did in the 80s-90s getting Congress to reclassify their trucks as cars during importation but then reclassify them back to trucks after they were though importation. Bet you never heard about that right?
Source: A Duck Farmer from Texas who you should follow more often!