BlockPay "S" v1.5.13 released!
BlockPay enables any merchant to accept one or more digital currencies at Zero Cost. No setup fees, no transaction fees, no recurring fees, no fees at all. Period.
.
This S-tandalone version of BlockPay allows you to choose up to 7 currencies in addition to market-pegged Smartcoins, to offer to your customers as a method of payment. Bitcoin, Dash, Dogecoin, Ethereum, Litecoin, Steem, Steem Dollars and so on...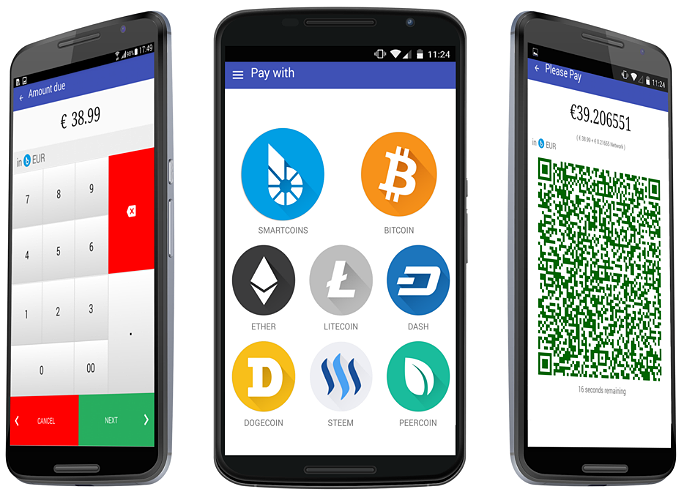 Your customers pay the tiny network fee (usually just a couple of cents, depending on market-liquidity), and can use their wallet of choice such as Smartcoins Wallet, Mycelium, Dash Wallet, Bitgo, Coinomi, Jaxx, etc.
BlockPay is in 44 languages, so it can be installed nearly anywhere in the world and be up and running in just a few minutes. Accounts are totally free and are encrypted by the Bitshares blockchain.
You can automatically send Loyalty Points to your best customers who can then use those points for discounts on their future visits. Loyalty Points can also be cashed out on the open market if the customer so chooses.
BlockPay also supports custom screen savers. So, when BlockPay is not being used, it can cycle through your custom image advertisements. Watch a Proof Of Concept video.
Does your customer want a receipt? No problem. BlockPay also sends eReceipts to the customers phone automatically as they pay for their goods or services. More and more wallet providers are supporting eReceipts every day along with the ability to read BlockPay QR codes and NFC signals.
Faster and safer than cash, it's another path to profits!
In this latest release (DOWNLOAD IT NOW), the server connectivity issues should be mostly solved since we have just about got the new server setup this week. Remember we had to freeze you-know-who's bank account which of course means that the server hosting bill did not get paid. Anyway, this new server (plus we are adding a second server for redundancy asap) picks up the slack and should help eliminate the rest of the network latency. We also added support for the Android Keystore for encrypted data storage, as well as migrated more of the user data to the new database in preparation for the v2.0 release of our Smartcoins Wallet, aka "Carbon".

FREE Technical Support!
If you need any help, or a demo, or would like a custom Integration with an existing Point Of Sale system, your local BlockPay Ambassador is just an email or phone call away. We currently have over 50 BlockPay Ambassadors in over 30 countries so far, and our team is still growing (yes, even after you-know-who's hostile takeover attempt), so feel free to connect with us on Telegram chat at any time:
http://t.me/BlockPay
Follow me here on Steemit for updates and my Weekly Reports, or if you have issues with the app or have ideas for future features, feel free to ping me on Telegram:
http://t.me/kenCode
I hope you like our work! :)
Peace, Love, and Agorism.
..ken
Roadmap:
v2.0+
Implement upgraded Bridge (for coin-shifting)
Add support for NFC (tap and pay, instead of having to scan a QR code)
Integrate with C-IPFS for decentralized hosting of app assets (images, class files, etc) and apk download (and no more app store "approval" needed!)
Integrate with Bitshares blockchain to secure user settings (so if you ever re-install, or setup additional devices at your business, settings can be pre-filled for you)
Add Settlement features (settling to fiat at your bank)
Add support for Stealth transactions so that merchants can keep their transactions a secret if they like
Upgrade BlockPay for Odoo, and begin more custom Integrations such as BlockPay for Tetra, BlockPay for SAP, BlockPay for RasPi, BlockPay for Vending, etc.
Add employee tracking and tipping features
I hope you like it so far, more to come! :)