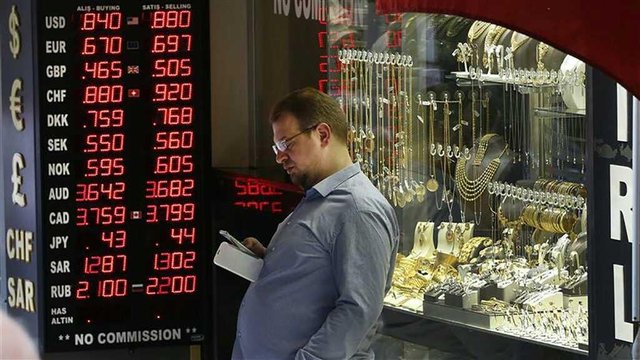 Ahead of Turkey's 2018 Presidential election on June 23, Turkey's economic conditions are still hit by a wave of crisis.
Since the beginning of the year, the lira, the Turkish currency, has plunged about 20 percent against the US dollar. Entering mid-June, the lira's exchange rate touched 4.73 per US dollar and resulted in a surge in inflation.
In fact, on May 23 last, the lira exchange rate moved close to a record low with 4.92. At that time monetary policy makers met and raised interest rates to stem the crisis.

Due to the decline in lira and triggered an emergency rate hike, inflation in Turkey climbed to 12.2 in May after the previous month's 10.9 percent.
From January to June 2018 ahead of election day, there are a number of notes that affect the lira's stagger and inflation by Turkey itself.
In the midst of unstable economic conditions, on May 14, Turkish President Recep Tayyip Erdogan issued a statement that he would take on more monetary policy control and cut interest rates after this year's election took place.
Also read: What Happens in Turkey Stay in Turkey
Erdogan's speech grew more cloudy. Investors are nervous about the frightening statement as it implies Turkey's economic uncertainty in the future. In fact, the weakening US dollar exchange rate triggered by a lot of investors from Turkey.
Since Erdogan's statement, Turkey's central bank has raised its benchmark interest rate to 17.75 percent in order to dampen the weak exchange rate of the lira. This is the highest record in any developing country class, as Ahval proclaimed.
Although steps to stabilize the value of the lira are welcomed by the market, but not among Turkish financial markets. Investors are still worried about Turkey's shaky economic policy especially after the upcoming elections.
Investors still make Erdogan's attitude and speech as a parameter of trust. In March, for example, Moody's, a New York-based rating agency and financial analysis, issued a rating of Turkish debt showing "junk" or unfit for investment.
Moody's reminds Erdogan of his political moves that would introduce a presidential government system after elections would erode trust and balance. Also economic policy becomes unpredictable.
Cemil Ertem, an economist at Erdogan, advised that high interest rates do not trigger inflation. Recently, Erdogan has accused Moody's of slandering and threatening to impose sanctions.
Erdogan also accused Moody's statement in March of a deliberate attempt to sabotage the Turkish economy.
Also read: When Russian Rage Affects Turkey's Economy
The row of reactive stance shown by the Turkish government is in fact making investors constantly in doubt with Turkey.
In fact, as reported by the Financial Times, the efforts of Turkish Deputy Prime Minister Mehmet Simsek and Turkish Central Bank Governor Murat Cetinkaya convinced global investors in London at the end of May that Turkey is still a good destination to invest their money, it's too late for some investors.
Some Turkish citizens also feel the impact of the economic crisis in Turkey. "In general I can feel the price is going up and it has a negative impact for us," said Yasemen Atan, a student to CNN.
Turkey has so far imported hundreds of billions of dollars worth of goods each year. Including cars, clothing, and refrigerators. These items are getting more expensive by the day.