Hello friends today I want to tell you what the Venezuelan lives today, some of us are lucky not to live in extreme poverty but there are many who are joining the list of people living in poverty, I have been lucky enough to have great friends who have supported me in this bad situation and I am very grateful to them.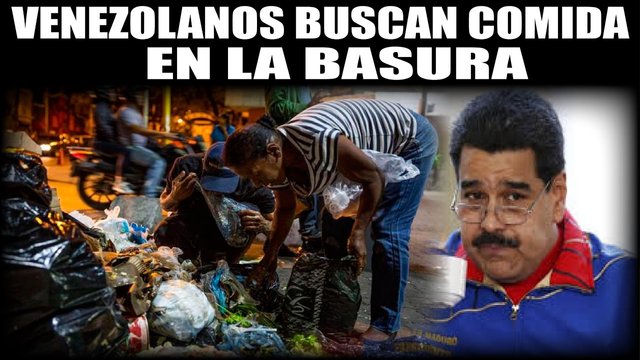 Venezuelans seek cominda in garbage
Venezuelans living in extreme poverty are walking down the street to see if they can get something to eat. It's a shame to see elderly people asking for money to eat as their children go through the same economic situation and they don't have how to help their fathers. Unemployment increases, wages are not enough to cover the needs of the people.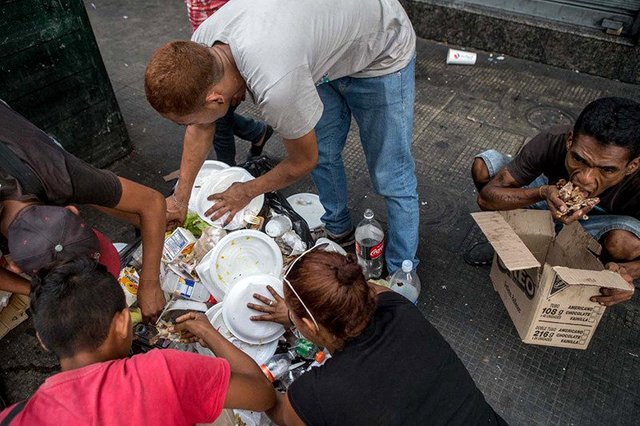 Image source
The country is in a state of humanitarian aid, but the socialist government of Venezuela refuses to accept it because it affirms that the country is fine, since they never lack a plate of food every day and they become blind to what Venezuelans live, this is sad but I hope this comes to an end soon, this is unbearable that a person comes to the need to eat garbage so as not to die of hunger, this is the drop that fills the glass.
We need an urgent change of government and Venezuelans are tired of the same story every day, go out to the street to see what is achieved and arrive with empty hands to the house these makes us feel impotent, failed, we had hope that the United States helped us with the end of the government of Nicolas Maduro but these in the end did nothing, only placed more economic blockade to the country so that we sink more into poverty while the government is powerful and rich.
At present, 10 out of every 100 Venezuelans live in extreme poverty, 30 are about to join this list, 30 have a regular life with the needs we live daily, 20 are middle class and 10 are part of the government.
Recently a journalist that I don't know his nationality but I know his name is Jorge Ramos showed this video in an interview with Nicolás Maduro and the president was upset and confiscated all the belongings up to his camera so that he wouldn't take that out of the public so he didn't realize that they were live and direct transmitting to a miami channel.
Courtesy of youtube
The video speaks for itself although I know you won't understand it because it's in Spanish, in the video the Venezuelan says:
"It's incleible that I'm going through this situation of eating garbage thanks to Maduro we want this president to come out we want a change."
All his words are of discontent towards the government so Maduro says Venezuela is improving. But what are we getting better at?
Good friends, it took me almost 2 hours to write this post since I am only using 1 hand because I am recently operated for epicondylitis, I hope to read your comments.
---
---

---
© All copyright