The imusi-why Series :: Community Q&A with imusify COO, Nate Strang, and Tom Chilli of @ChiLLiT
Entrepreneur, product designer, and musician..
Leader of multi-disciplinary creative collaborations throughout the media industry. Prior experience includes humanitarian efforts at the intersection of business, technology, and creativity.
This is Nate.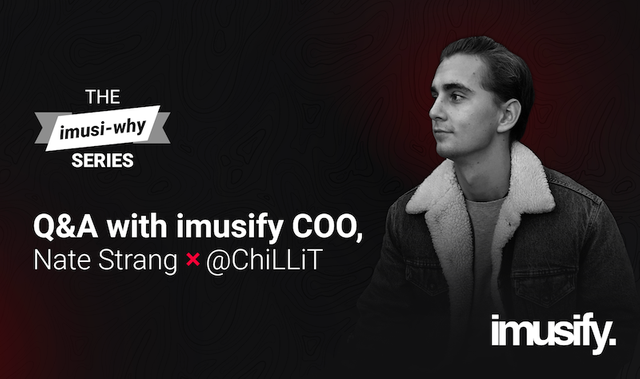 Hi Nate, thanks for your time answering some questions regarding imusify. I'm sure the wider NEO community is very interested in finding out more information about this project! I have gathered some questions from the community, and your time is very much appreciated.
Thanks Tom, it's great to have this chance to answer some questions from the community! I come from a musical and business background- performing, writing, producing, and everything in between. A few years ago, I shifted my area of focus towards the business side of music when I realized that I could create a better world for other musicians, rather than struggle to be one myself. I happened upon this realization at exactly the same time blockchain technology and cryptocurrencies were beginning to hit the mainstream in early 2017, and thus my commitment to decentralizing the music world began.
Our team comes from very diverse backgrounds- technical, legal, consulting, finance, and marketing to name a few. But we share one thing in common: a passion for music, and not just listening to it, but changing the way its experienced around the world, and supporting those who create it for us. We are dedicated to creating a 21st Century platform that will allow for the ultimate patronage of the arts. In each new country that we introduce imusify, we're continuously surprised by how many people share this desire with us on some level.
When did you first discover cryptocurrency and blockchain technology?
I discovered cryptocurrency first, then blockchain. I was sitting in a college class a few years back and saw someone sitting in front of me on what I thought was a digital stock exchange. Thinking it was pretty cool, I asked him about it. He informed me that he wasn't trading stocks, but crypto. "Crypto?" I asked, stupidly. "Cryptocurrency," he clarified. I went home after class and began researching and reading everything I could find, but what piqued my interest was blockchain, rather than just cryptocurrencies or trading.
From day one I was fascinated by the implications of blockchain more so than the hype of cryptocurrency. Unfortunately, the excitement and stigma that have arisen from trading cryptocurrency has in some way undermined the potential for the underlying technology to evolve towards widespread adoption. But I believe that this is changing for us right now.
Now I understand imusify is an up and coming ICO on the NEO Blockchain. Before we get into the details around the project, are you able to explain what features drew you to the NEO blockchain, out of all the others you could have chosen from?
I always tell people that the community is the most impressive component of NEO, especially City of Zion, NEO's open-source developer community. When developing a product in a new tech space, it's incredibly important for there to be strong technical support, and collaboration across projects. I don't know of any other protocols that have nearly as sophisticated, motivated, or as helpful of developer communities as NEO has with CoZ.
Your project, imusify, is poised to disrupt a massively cut-throat, multi-billion dollar industry. Are you able to give us a breakdown on the imusify project, and also explain the project's main goals?
Of course! You're exactly right- the music industry is a massive, consolidated, and ruthless industry; but it's also struggling in a big, big way. Jimmy Iovine, founder of Interscope Records and Beats Music, and former CEO of Apple Music had this to say about the state of the industry:
"There's just a problem here that needs some sort of solution, and I want to ­contribute to it. Goldman Sachs may think it's solved, but I don't. We're not even close."
So in short, we're with Jimmy- trying to fix the broken record. In a few more words, we're providing solutions to the industry that will allow:
Artists and fans (our users) to more trustfully engage using a unique identity-verification tool
Artists to maintain ownership of EVERYTHING they create
Seamless digital rights management for the consumption of artist content
Delivering the direct value to users of:
Immediate and transparent payments to artists on a per-stream basis, in their preferred currency
Enhanced opportunity to engage with your fans as an artist, and your favorite artists as a fan
Obviously, these are very high-level points. Our product designer, Marc Aniballi, delves into the core platform components that will deliver value in a little more detail in this article.
I can imagine it is not an easy feat trying to cut out the middle-man in the music industry. Over the past years I have seen a drastic increase in legal issues regarding music ownership and how artists get paid fairly. What benefits does blockchain offer to some of these widely known issues surrounding the music industry?
A large part of the reason these issues arise is because in the past fifteen years the technology that people use to consume music has advanced significantly, but the technology used to track how that music is consumed has not kept pace.
Blockchain is exactly the technology that the industry has been waiting for to solve these problems and to efficiently fuel the distribution side of the industry. It's exactly what is needed to keep up with the rapidly changing digital consumption. It's not rocket science to understand that the music industry is quickly being overtaken by the tech industry, but we want to begin to return to supporting the artists and the fans, first and foremost, by building a community — not just the underlying technology — it has to be a composite blend of both.
Often we read of new projects simply raising funds in an ICO, for a project that doesn't necessarily have a real-world use-case. I've always believed blockchain adoption will occur when people are able to use blockchain platforms easily, without even realizing. What utility will this token give, and what steps do you have in place to help fuel adoption from people who don't necessarily want to be involved in cryptocurrency?
We are in a great position to lead blockchain adoption as one of the consumer-facing dApps that doesn't necessarily have a blockchain-themed product. If what you're "selling" is about blockchain, chances are people who already know what blockchain is , are going to be your main customers. But if what you're selling is something universally loved and understood, people won't even know they're using a decentralized application, until they start earning. "Wait, that money went directly to my wallet… what kind of wallet is this?" and the education process begins.
New users who might even be consciously against blockchain can still enjoy the technology at a subconscious level by converting their earnings with seamless fiat conversion. The key is to get users excited about the enhanced experience and then reveal glimpses of how a decentralized system actually works. The important point here is though, that you don't have to learn anything new if you don't want to, and you'll still be helping artists.
Two things I always consider very important for any start-up ICO. The first is, who are your main competitors? Are any blockchain based?
We're operating at an intersection of an ancient industry and extremely new technology. Our industry competitors are the common names of Spotify and Apple Music. These giants are our competitors simply because of their size and reach, but that same size limits them in their flexibility to easily make the shift towards decentralization.
Our competitors in the blockchain space include Ujo Music and Choon. Both are impressive projects, and both have made excellent progress in spreading awareness about blockchain as a solution for music distribution and consumption. Without going into too much detail, projects such as these have major drawbacks to their platforms and their architecture that will create significant challenges if they ever do begin to scale. Our architectural framework puts us at an advantage, in regards to both technical scalability, and ability to be integrated into industry's pre-existing distribution systems.
The second question is in regards to partnerships. Have you formed any partnerships to help make Imusify a leading platform in the music industry?
We have several partnership agreements in place in different areas of the industry. We are also in the process of closing dozens of distribution deals with independent record labels around the world that will allow their artists to distribute their music on imusify, and give our users an impressive library of content to enjoy from Day 1 of our full product launch.
These partnerships are not being made public at this time, but they'll be announced in the near future. Stay tuned :)
Is there any MVP (minimum viable product) or demo's that we are able to share for our readers?
We have a working prototype up at https://imusify.io/signin. Several features (blind identity verification, fiat payment processing) require additional funds to implement, but the platform runs on the NEO blockchain and allows you to get rewarded as an artist and curator for engaging with content on-platform!
Are you able to break down the token metrics for your ICO? What is the total supply, what percentage will be sold at ICO, and what is the amount you are raising in USD/NEO?
I'd be happy to. The total supply of tokens is 1,000,000,000 IMU, with 65% being sold during the ICO. We are looking to raise $25M to support our development efforts and go-to-market strategy. Our in-depth token metrics can be found here.
Another question I often ask is what will you be using the raised money for? Do you have a plan or breakdown of where the funds will be allocated?
This information is displayed in our whitepaper, but I'm happy to break it down here too.
20% of funds raised go towards product development,
20% go towards sales and marketing,
20% towards supplier development,
20% for legal costs,
15% for business operations,
and 5% of funds raised will be reserved for imusify's charity program, which will involve supporting other global organizations that seek to educate and empower musicians and artists.
So I am aware this project is currently in a private sale period, are investors still able to whitelist for the pre-sale/public ICO? Are there any restrictions in regards to what countries are not allowed to contribute? Perhaps you could share a link for anyone interested in whitelisting for this initial coin offering?
Yes, private sale participants are also able to whitelist for later stages of the sale, if they so choose!
The countries prohibited from participating in imusify's ICO are: United States and Canada.
You can join the whitelist and participate in the ICO at https://tokensale.imusify.com/.
Are you able to list the start date and end date for the ICO?
Not yet but the dates will be announced soon.
For anyone wanting to find out more information on this project, have you got a website or any other groups you recommend them visiting?
Of course! You can visit our website at https://imusify.com/ And you can join our telegram at https://t.me/imusifycommunity
In rhythm,
Nate + The imusify team
Reposted from our Medium Channel.
---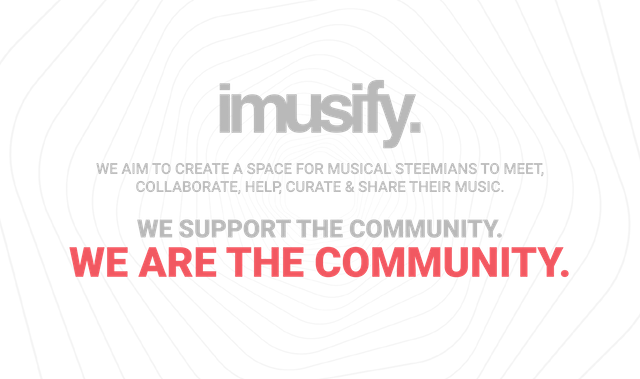 Did you know we have our own Discord Channel for Steemians? Join us!

imusify is an award-winning music platform that is reinventing the global music industry in order to liberate music makers, music fans, and music entrepreneurs. We have our own ϑ IMU tokens which are used as the engine to support imusify's multi-layered, decentralized music economy.
Website | Prototype | UX Mockup | Whitepaper| Artist Signup
Instagram | Twitter | Facebook | LinkedIn| Reddit | Discord