As we believe good news is not merely environmental or technological invention. We are now delivering weekly interview featuring steemian who has done good deeds for their society. In our first feature, we have an opportunity to interview an inspirational man coming from Bangladesh South Asia, with his " School for underpriviledge children". His project focuses on giving underpriviledge children the same opportunity as other children to acquire education. His work is completely selfless and all funds were coming from his own pocket whilst also earning from steemit.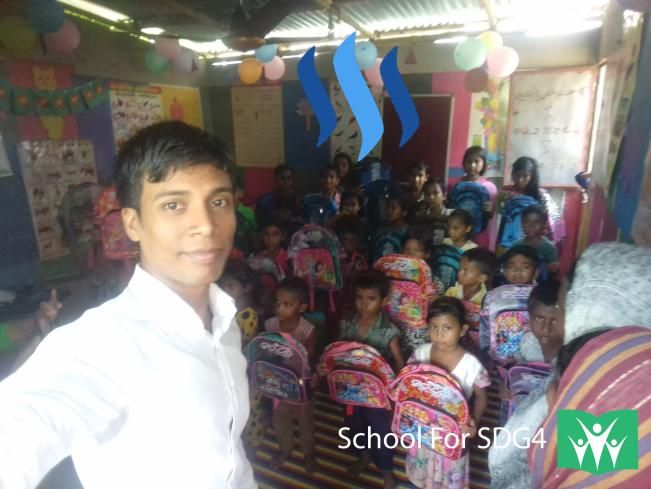 Without further ado, let's get to know more about him and his project
Our team : We have been seeing your project as a really innovative project in the society. We have read reports from your blog and thought that you fit our criteria,contributing good deeds in the society. It's truly inspiring for what you do in the project. So, tell us more about yourself and the reason behind this project?
Aziz: My name is Mohammed Abdul Aziz, I am 25 years old and completed BBA and MBA from Sylhet International University. We are 10 siblings lives with parents. During my childhood we faced poverty (may be because of big family ) had to study 4 years in a city slum school. But my father had wish to educate us and we didn't give up. Now we are established middle income family.
The reason I started this project was when I started teaching wealthy family kids at their home and earned to continue my university education. I was thinking of my childhood when I find many kids are out of school in my area. Many NGOs working here but not enough to facilitate thousands kids . So I invited my university friends and local youths to start something like small emergency school.
Our team :So,When it was first established? Did you get any help, were you working with a team?
Azis : The School first established On 20th April,2016. It was also the opening day of our school.The main project I actually focus is on "Road To 2030" roadto200.com(A project which aim is to develop Sister projects to achieve sustainable development goals by 2030). Along the way, I also received help from my university friends and local youths. Some friends donated books and I started to learn how UN deals with child education.
Our team : What is your personal motivation to start this project?
Aziz : I feel responsible to help my community as I was helped during my childhood. In every steps of my education, people helped me lot to continue . How is can forget and how I can let these kids at work if I see i have scope to work for them? I see many of my childhood friends are living as day labourer just because they couldn't continue education. So I couldn't avoid the responsibility. Also,I wish to be helpful always to humanity and leave a sign of myself in the world before I die. I think teaching is one of such profession that create best legacy. Additionally,Now I have three projects. School For SDG4 (A school for social and educational development of underprivileged children ), Women Empowerment (A initiative to give training for underprivileged women and development a social venture ),and Dirty Sylhet ( an awareness campaign on waste management ).
Our team : We are also curious, Since we've read your posts about the school on steemit, how does steemit has helped you with this project?
Aziz : I love steemit a lot just because it helped me to connect with many smart people. It connected with resources persons who can't be valued by calculator. I joined on steemit in 2016 but I left making one/two post. Later I watched @jerrybanfield promotional video on fb and started it again. I was promoting my social activities in all popular social media but I only got appreciation, likes and no support to actually need continue my school.Only steemit, yes steemit made possible. And within 3 months my school has earned about $500 from direct donation and post reward.
Our team : That's truly amazing. We also agree with you, that steemit has helped so many projects on and off site to come true. As of now, what are activities you do at the school?
Aziz : Now we are continuing fruits program for kids once in a week from steemit revenue and we use additional funds of steemit for different programs and kids education materials. We returned Al-amin the boy at school who was child labour. I also help his family from steemit revenue so he does not go market for work anymore.
Our team :So, moving on to the parents,How does the parents or even government respond to your initiative?
Aziz :We arrange monthly family meeting with mothers to get feedback and motivate them so they sent their kids at school. Some kids are doing great in academic subjects but some can't. We share daily or frequent update of our kids educational activities to get suggestions from steemit community and educators. Now many kids knows maths , make simple English dialogue, and read native language.
Local authorities do not show interest on private schools but provide books if I apply . We got free books this year and will also apply for next year. However, I do not have school registration but I can teach them upto class 8 here.
Our team : Coming to our final question, What are your wishes for the children? Or for the education system in your country in general?
Aziz : Our country education system is target oriented when world is open for learning. We are deciding the kids will be doctor before it is born. I wish to see them programmer, developer, doctor, artist, singer, athletes, teacher, social worker whatever they like. I wish to create learning environment so they can identify their best interest and find resources to develop their skills
Our Team :And finally, Thank you for giving us time to look at your personal interest on children education and your school project. We salute and respect your good deeds to the society.
Aziz : Well thank you for the interview, have a great day !
---
Read our latest article
If you'd like to be part of us, feel free to leave a comment below with your application stating your interest. We gladly receive any kind of help. Bilingual writers is also welcomed.
Special thanks to @Azizbd for his willingness to be interviewed
Further information about the project check this link below
---
About us: We are a growing news channel who aims to deliver daily good news to steemit environment. Our team consists of users from different part of the world and we strive to deliver the best and latest good news throughout the world. Our focus is mainly environmental and technological invention but that does not limit our interest, as we find more writers along the way.

---
For more daily good news follow our page @gnc