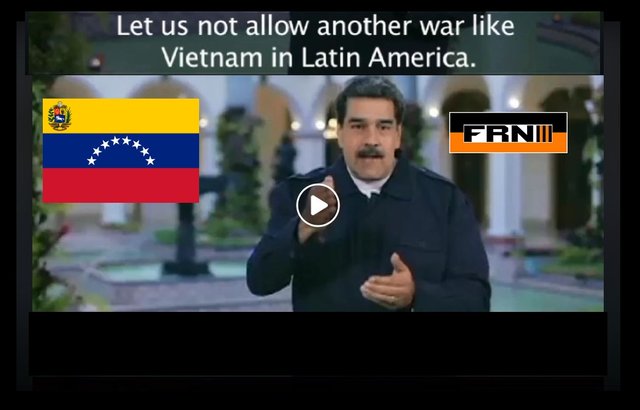 This Daily FRN News Brief is a summary of 7 articles about Color-Revolution, Headline-News, Latin-America, Opinions, Politics, Propaganda, Venezuela, Donbass, Donetsk, Eurasia, Nato, Russia, Ukraine, Anglo-5, China, United-States, Iraq, Isis, Mena, Qatar.
Tags in this brief: Coup, Democracy, Economics, Interventionism, Latin America, Maduro, Socialism, Sovereignty, Venezuela, MH17, Propaganda, Ron West, Russia, Snafu, Ukraine, China, US, Putin, Iraq, ISIS, Qatar, Nuclear, Nuke.
Let us know in the comments if there is anything you miss coverage on!
---
Table of Contents
---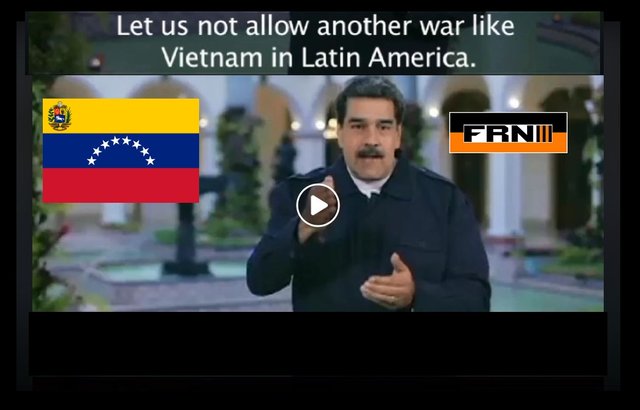 Published
2019-01-30 22:59:09
by
Joaquin Flores
in
Color-Revolution, Headline-News, Latin-America, Opinions, Politics, Propaganda, Venezuela
CARACAS, Venezuela - The authorities in Caracas have produced an unusual but nevertheless 'must see' propaganda piece, featuring a direct plea by the legitimate and duly elected president of Venezuela, Maduro, speaking directly to U.S audiences about the situation in Venezuela, and why Americans must not support any interventionist policy on Venezuela. The clip, produced over the last view days, has gone viral across social media networks, those controlled by the U.S and its Deep State itself. As the 'Color Revolution' tactic becomes less and less useful, as governments struggling to hold onto their people's popular and national sovereignty have... Continue ->
Tags: Coup, Democracy, Economics, Interventionism, Latin America, Maduro, Socialism, Sovereignty, Venezuela
---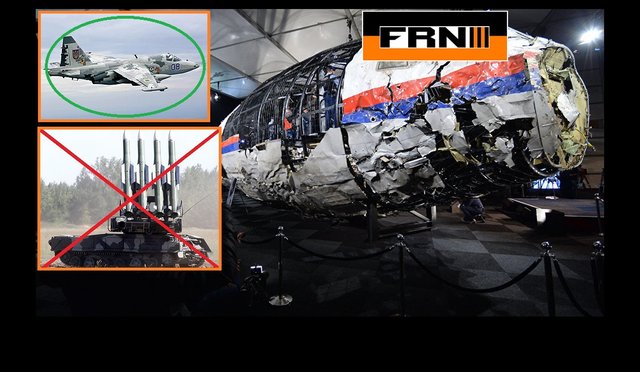 Published
2019-01-30 21:49:29
by
Ronald Thomas West
in
Donbass, Donetsk, Eurasia, Headline-News, Nato, Opinions, Propaganda, Russia, Ukraine
Is it a case of I don't understand Russian propaganda or is it Russian propagandists don't fully understand the Western mentality or is it a case of the Russians are handling the madmen of NATO with 'kid gloves' ? To begin, understanding the NATO nations' intelligence agencies are corrupt to the core is as simple as reading up on GLADIO, where false-flag terrorism had been employed to shape the thinking of the Western democracies' populations; including the bombings and machine-gunning innocents across Western Europe. Should it be a surprise the Russians do not point to this established history in relation... Continue ->
Tags: MH17, Propaganda, Ron West, Russia, Snafu, Ukraine
---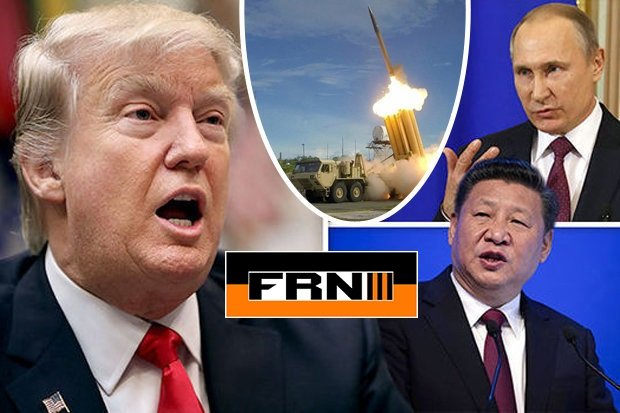 Published
2019-01-30 19:28:23
by
Paul Antonopoulos
in
Anglo-5, China, Eurasia, Headline-News, Russia, United-States
BEIJING, China - The Chinese government defended relations with Russia and stressed that they do not target third countries. "[China and Russia] stick to a new kind of interstate relations... that are not directed against third countries," said Chinese Foreign Ministry spokesman Gen Shuang. Beijing's official statement comes a day after US intelligence director Daniel Coats claimed that China and Russia are collaborating to confront Washington's policy. Geng stressed that Sino-Russian relations are at their best in their history. "We leave behind the obsolete idea of ​​the zero-sum game that assumes that the great powers can only be allies or... Continue ->
Tags: China, Russia, US
---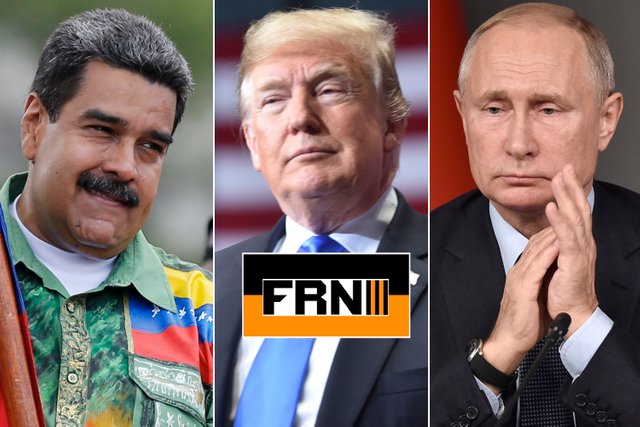 Published
2019-01-30 18:49:36
by
Paul Antonopoulos
in
Anglo-5, Eurasia, Headline-News, Latin-America, Russia, United-States, Venezuela
CARACAS, Venezuela - Venezuelan President Nicolás Maduro said on Monday that Venezuela and Russia's oil and gas business are armored and do not run any risk within the framework of sanctions imposed by Washington against United States-based state oil company Petroleos de Venezuela (PDVSA). "The business between Russia and Venezuela in the oil and gas field is armored," said the Venezuelan president. Maduro assured that Russia does not run "any risk" because of Washington's sanctions against Venezuela, "because Russia is an independent and sovereign country, Russian companies are very powerful, have their own financial engineering, logistics and PDVSA is a... Continue ->
Tags: Maduro, Putin, Russia, US, Venezuela
---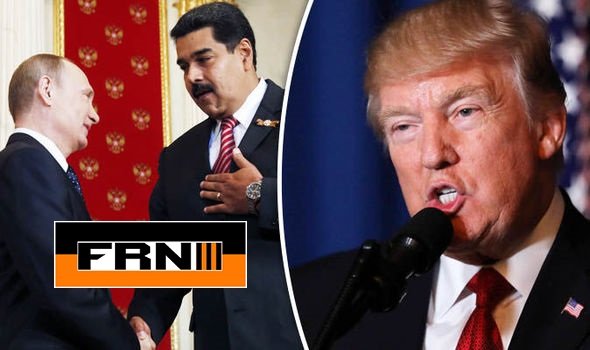 Published
2019-01-30 17:38:58
by
Paul Antonopoulos
in
Eurasia, Headline-News, Latin-America, Russia, Venezuela
CARACAS, Venezuela - Venezuela's re-elected President Nicolás Maduro said his country receives military equipment from Russia on a regular basis, saying that he has paid all the loans on time. Asked about the veracity of requests for aid from Russia, Maduro said that he has always received Russian support in all sectors and that there is indeed cooperation. "President Vladimir Putin has always provided us with Russia's assistance in every way, and we welcome it with gratitude. What I asked of President Putin was for us to keep in constant contact, to have all the UN diplomatic and political support... Continue ->
Tags: Maduro, Putin, Russia, Venezuela
---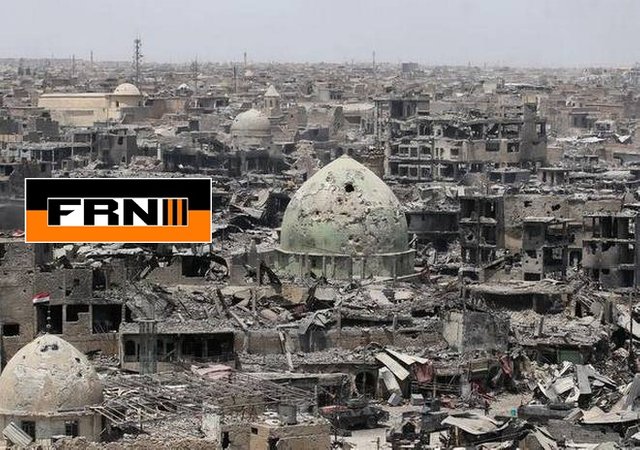 Published
2019-01-30 14:14:32
by
Paul Antonopoulos
in
Eurasia, Headline-News, Iraq, Isis, Mena, Qatar, Russia
MOSCOW, Russia - The situation in Iraq has normalized significantly after the defeat of ISIS, said Russian Foreign Minister Sergey Lavrov. "We note with satisfaction the significant normalization of the situation in Iraq after the bulk of the Islamic State was destroyed," Lavrov said before meeting with his Iraqi counterpart, Mohamed Ali Hakim, in Moscow. Russia is ready to "actively help" to end the terrorist presence that still persists in some Iraqi areas, he added. Iraq proclaimed its victory over ISIS in December 2017. The spokesman of the Iraqi Ministry of Defense, Tahsin Jafayi, said that Iraq did not need... Continue ->
Tags: Iraq, ISIS, Qatar, Russia
---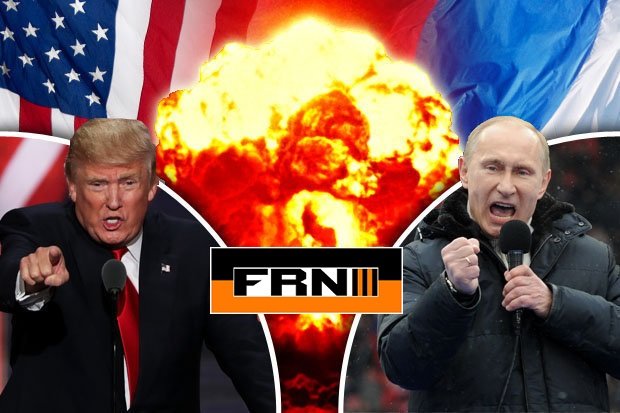 Published
2019-01-30 13:02:30
by
Paul Antonopoulos
in
Eurasia, Headline-News, Russia
MOSCOW, Russia - Representatives of countries possessing nuclear weapons, or the "nuclear club" - the United States, the United Kingdom, Russia, France and China - met on Wednesday in Beijing. Russia's Deputy Foreign Minister Sergei Ryabkov has stated that the level of potential for world conflict has reached a dangerous mark. "The situation in the international security sphere has not stabilized and even continues to worsen. The level of potential conflict has reached a dangerous mark," Ryabkov said. According to him, Russia witnesses the decline of strategic stability in the world caused by attempts by several countries to "shake the... Continue ->
Tags: Nuclear, Nuke, Russia
---
Thank you for following our news coverage!

/ The Fort Russ News Team
---
This post is brought to you using SteemPress and Dailybrief.
This is the Verified Steem Account of FRN
---