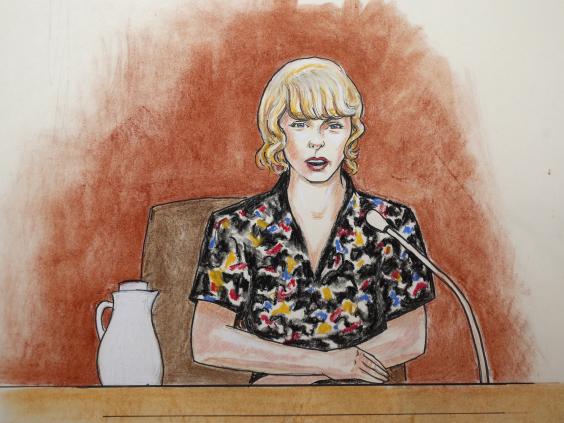 Pop star Taylor Swift has won her trial over a years-old groping incident, claiming $1 and sending a message about the consequences of harassment.
Ms Swift prevailed over former DJ David Mueller, who had sued Ms Swift for costing him his job after she accused him of grabbing her during a meet-and-greet. Instead of the monetary damages he sought, Mr Mueller received a jury verdict that he was guilty of assault and battery.
In seeking a symbolic $1 in damages, Ms Swift sought to make a public point that women should not have to endure unwanted physical contact, her attorney said.
"It means 'no means no' and it tells every woman they will decide what will be tolerated with their body," Ms Swift's attorney Douglas Baldridge said in his closing remarks, according to Reuters.
During the trial, Ms Swift and Mr Mueller offered duelling counts of what transpired during a meet-and-greet event four years ago. While Mr Mueller denied any inappropriate touching, Ms Swift recounted a "definite grab" that was "horrifying and shocking."
"He stayed attached to my bare ass-cheek as I lurched away from him," Ms Swift reportedly testified.
Late last week Judge William Martinez threw out Mr Mueller's lawsuit against Ms Swift for lack of evidence that the 27-year-old music icon had intentionally sought to get the then-DJ fired.
The singer-songwriter said in her countersuit that she wanted a symbolic $1 and the chance to stand up for other women.
Testimony showed that Swift reported the incident to her mother and others on her team, but that she never sought any specific action regarding Mueller.
From the start, Swift's side portrayed the encounter as a clear case of sexual assault, even though they never reported it to police. Her mother tearfully testified that she asked Bell to reach out to Mueller's employers at country station KYGO-FM instead because they wanted to handle the matter quietly and avoid exposing the singer-songwriter to publicity.
Bell contacted a station vice president and asked for an investigation of Mueller's conduct. He also sent the station executive a photo taken of Swift, Mueller and Mueller's then-girlfriend at the meet-and-greet.
Mueller emphatically denied reaching under the pop star's skirt or otherwise touching her inappropriately, insisting he touched only her ribs and may have brushed the outside of her skirt as they awkwardly posed for the picture.
That photo was virtually the evidence besides the testimony. In the image shown to jurors during opening statements but not publicly released, Mueller's hand is behind Swift, just below her waist. Both are smiling. Mueller's then-girlfriend is standing on the other side of Swift.
Source: http://www.independent.co.uk/arts-entertainment/music/news/taylor-swift-groping-trial-verdict-wins-dj-sexual-assault-david-mueller-damages-latest-statement-a7893551.html