White Helmets Exposed: Latest Clarity of Signal Posts on White Helmets Terrorist Psy Ops Being Conducted in Syria - January 23, 2018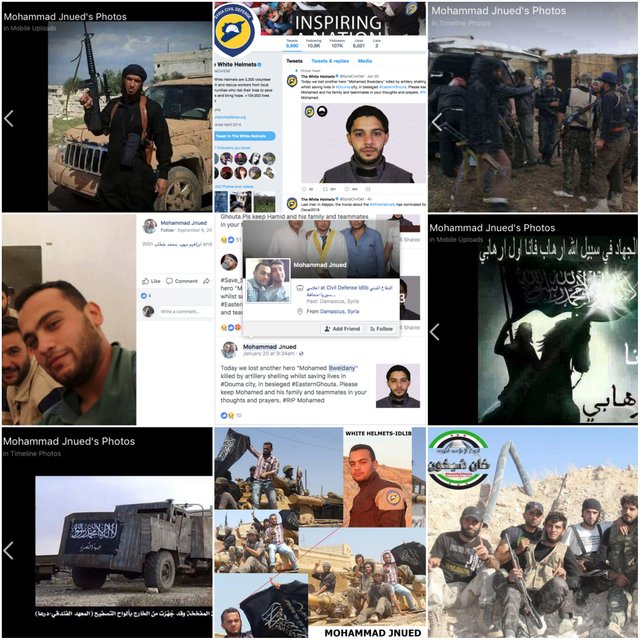 The "White Helmets Exposed" Twitter account was set up by myself, Clarity of Signal, in early 2017, in order to acts as a distribution hub for the material I research and place online through my Clarity of Signal Wordpress site. Lately there has been quite a lot of interest from a number of Middle East experts and concerned citizens in regards to what is actually occurring with the White Helmets. Today I will be sharing some of those important posts on the subject and will, in the future, provide consequential updates on the White Helmets actions and information coming out regarding such, specifically for the Steemit community in order to reach a wider audience and help expose the terrorist psyop that is The White Helmets.
Today there are a number of very important Tweets up on the page, including news info from the White Helmet terrorists own twitter page that Hollywood has nominated them for another Oscar Academy Award.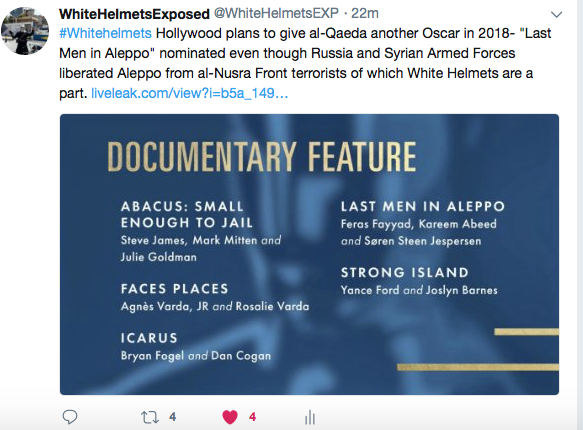 https://twitter.com/WhiteHelmetsEXP/status/955866520072216576
On the official White Helmets Twitter page the terrorists are paying respect and giving a send off to one of their own. There is no censorship from Twitter for these terrorists. Instead they get promoted. The censorship only seems to be conducted towards people that expose the truth about corruption of the global elite and their wars for profit and control.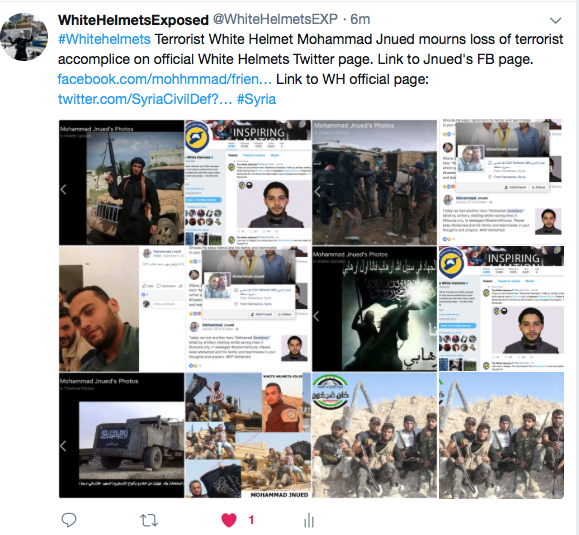 https://twitter.com/SyriaCivilDef?lang=en
The Duran covers the White Helmets latest false flag attempt.....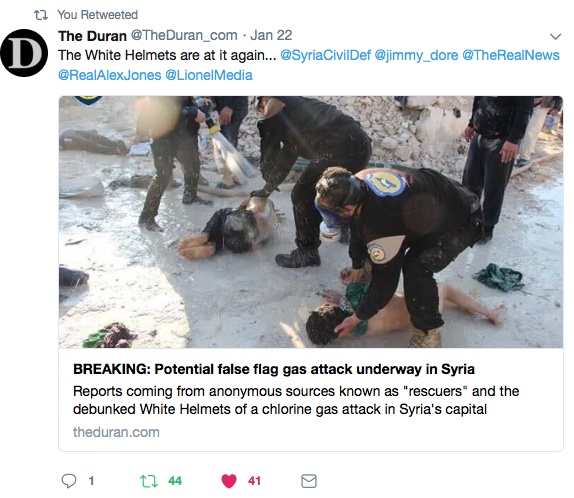 https://twitter.com/TheDuran_com/status/955454140259491840
A new photo cache has come online that feature over 65 White Helmets Facebook accounts proving they are terrorists.

http://syrianwar1.blogspot.com/2017/11/white-helmets-exposed-as-extremists-65.html
A newly posted Vimeo video reveals that the British Jo Cox Foundation and British government affiliated "Syria Campaign" are not what they profess to be and are interlinked with a number of organizations that aid in the perpetuation of the White Helmets terrorist ruse.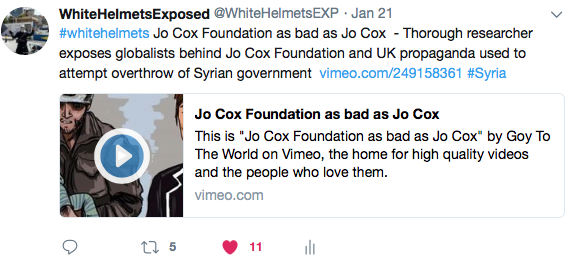 https://twitter.com/WhiteHelmetsEXP/status/955242746557714432
Additional information proving the White Helmets are al-Nusra Front (al-Qaeda in Syria) terrorists is available at the White Helmets Exposed Twitter page.
Massive White Helmets Photo Cache Proves Hollywood Gave Oscar to Terrorist Group
https://clarityofsignal.com/2017/02/27/massive-white-helmets-photo-cache-proves-hollywood-gave-oscar-to-terrorist-group/
Direct Terrorist Collusion: Over One Dozen Additional Videos Capture White Helmets Working Side-By-Side With Terrorist Groups in Syria
https://clarityofsignal.com/2017/05/08/direct-jihadist-collusion-over-one-dozen-videos-capture-white-helmets-working-side-by-side-with-terrorist-groups/
https://clarityofsignal.com/2017/07/18/numerous-us-government-officials-caught-on-camera-meeting-with-white-helmets-and-fsa-terrorists/
The extensive proof that the White Helmets are terrorists is here:
https://steemit.com/news/@clarityofsignal/white-helmets-fully-exposed-as-hollywoods-favorite-terrorists-over-200-revealing-facebook-images-in-5-massive-files
https://steemit.com/news/@clarityofsignal/5d1htq-tapestry-of-terror-highly-graphic-white-helmets-exposed-as-fsa-terrorists-linked-with-isis
The story of 8 year old exploited child Bana Alabed is here:
https://steemit.com/news/@clarityofsignal/metoo-a-course-in-deductive-reasoning-separating-fact-from-fiction-through-the-child-exploitation-of-8-year-old-bana-alabed
Intertwined – The White Helmets and FSA Terrorist Groups – Evidence of Collusion -Part 1
https://clarityofsignal.com/2017/08/13/intertwined-the-white-helmets-and-fsa-terrorist-groups-evidence-of-collusion-part-1/
"Now You See Me" – Over 100 White Helmet Self-Posted Facebook Images Expose Fake Humanitarian Group as FSA Terrorists Linked with Al-Qaeda
https://clarityofsignal.com/2017/05/01/now-you-see-me-over-100-white-helmet-self-posted-facebook-images-expose-fake-humanitarian-group-as-fsa-terrorists-in-bed-with-al-qaeda/
https://steemit.com/video/@clarityofsignal/now-playing-on-dtube-intentional-lies-and-taking-lives-u-s-state-department-greatest-hits-on-syria-highly-graphic-n-s-f-w
The full story on Hadi Abadallah the White Helmets propaganda disseminator, and his relationship with Abdullah al-Muhaysini the leader of al-Nusra Front (al-Qaeda in Syria), is here:
https://clarityofsignal.com/2017/04/10/false-flagger-al-nusra-front-terrorist-reporter-hadi-abdallah-first-responder-to-chemical-massacre-in-idlib-syria-on-april-4th-2017/
Extensive additional evidence clearly showing all the western and Gulf State backed terrorist ruses in Syria is located at the official Clarity of Signal Wordpress site above.