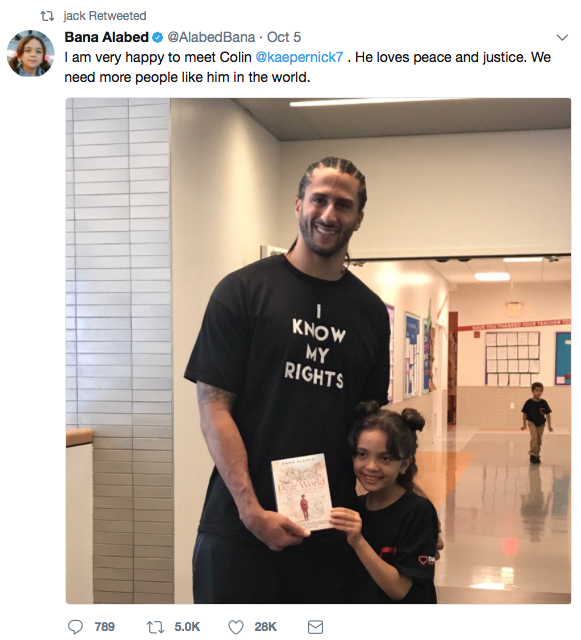 In early October 2017, 8 year old Bana Alabed arrived in New York City to huge media fanfare. She was promoted as the little girl from Syria who Tweeted out to the world about the devastating warcrimes of Syrian President Bashar Assad and Vladimir Putin's Russia, yet something was always amiss with the young girls story. Simply put, like East Aleppo, Syria where she was from, her story was full of holes. According to media reports, the young girl was only seven when she started tweeting and she barely spoke english. So how was it that this little Syrian girl was tweeting in english from a devastated war zone without any electricity or internet services while barely speaking english? Obviously, she had adult help. To make matters even more interesting, Bana became a favorite cause of UK based Harry Potter writer J.K.Rowling and began receiving support from her publishing company, Simon and Schuster. Continuing her ascent to superstardom, one of the first persons little Bana met upon her arrival in the United States was none other than Colin Kaepernick, the NFL star who has become famous due to protesting against standing for the US national anthem during NFL games. His cause was tied into the Black Lives Matter movement that was funded by global financier George Soros and implemented in 2015.
'Coincidentally', at the same time Bana met with Colin Kaepernick she was also promoted by Twitter founder Jack Dorsey in a personal Tweet on October 5, 2017 directly prior to his posting about Twitters new censorship guidelines. (Jack refers to these guidelines as something different, but make no mistake, like Facebook, You Tube, Mozilla and Google's newly rolled out 'acceptable post' guidelines, they are simply forms of censorship under the false premise of eliminating 'Russian trolls'. Rather, they are a way to control the US population that has become wary of government and mainstream media false narratives, primarily due to having access to uncensored social media and first person video that negates 'official' government narratives.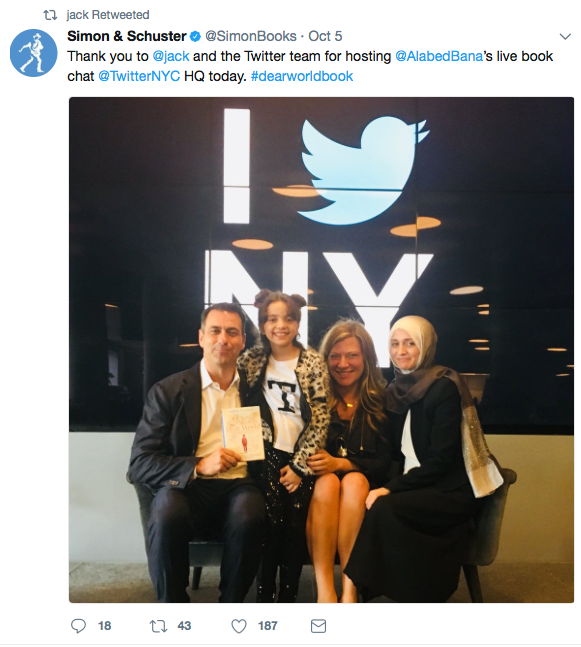 This is what Jack Dorsey now states will be the actions of Twitter going forward. The language is quite similar to that of Mark Zuckerberg of Facebook before he implemented the 2017 Facebook censorship guidelines. Note that Jack portrays the situation as seeing voices being 'silenced' by trolls and harassers. In actuality, no one is being silenced except for those that Jack is implementing "measures to silence". As with Facebooks Zuckerberg, what we are seeing here is Orwellian doublespeak used against the citizenry to silence the free speech and the truth.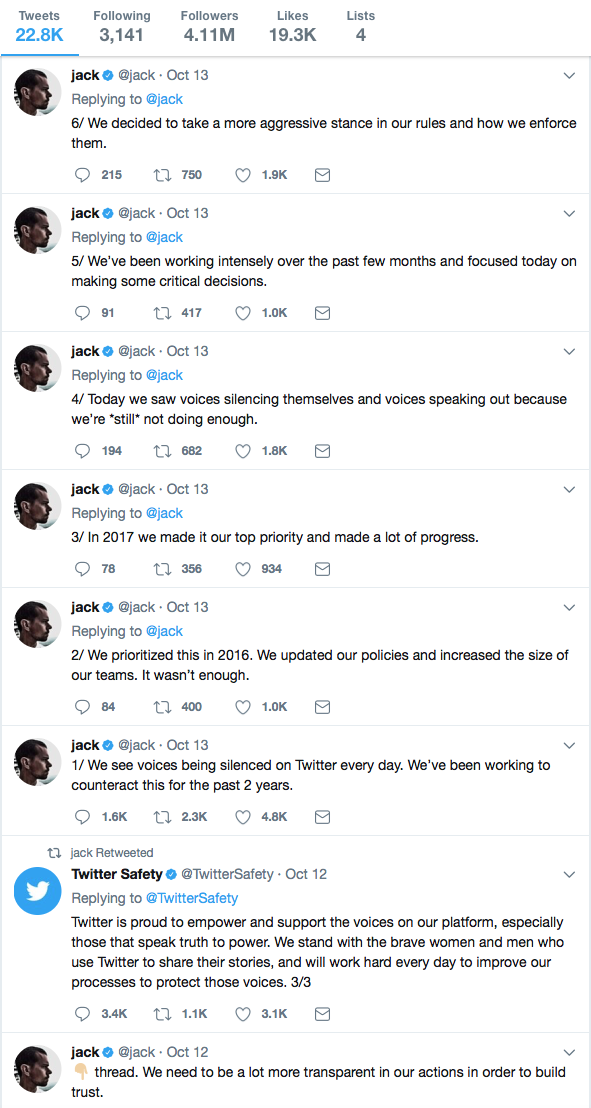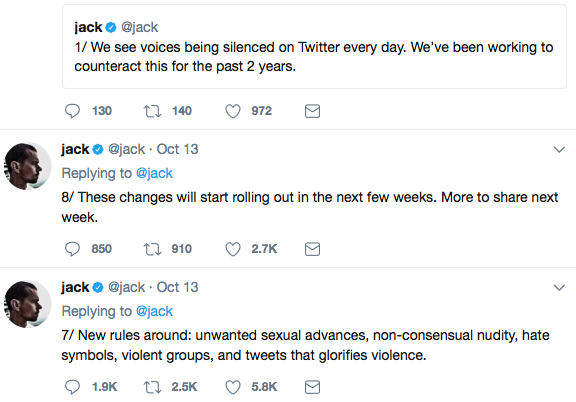 What we are also seeing here with all of the above is a convergence of Deep State subversion initiatives all rolled into one streamlined false perception of reality and propaganda indoctrination. It is a culmination of the U.S. Deep State's war in Syria, their divisive orchestrated US political agenda and their social media giant Internet censorship agenda. All orchestrated in order to implement control over the worlds people and a New World Order. In a sense, it is a trifecta. The Deep State has brought the false flags of Syria right into the living rooms of the American people by bringing together the exploited little Syrian girl Bana Alabed and protesting NFL star Colin Kaepernick. The most controversial football star is, whether knowingly or not, arm in arm with the exploitation of little 8 year old Bana Alabad, a girl who is surrounded by terrorists every day of her life (as will be shown clearly below), yet has been made into the innocent victim of Russian and Syrian 'aggression' by the corrupt US media working in collusion with the government and Deep State. This is all smoke and mirrors, a blatant subversive agenda that aims to intentionally distort the reality and perceptions of the unaware American and global citizenry. One must recognize it for what it is. It is blatant, pure evil. It is manipulation and exploitation at its worst. Let me show you who Bana has been surrounded by since she was a baby girl.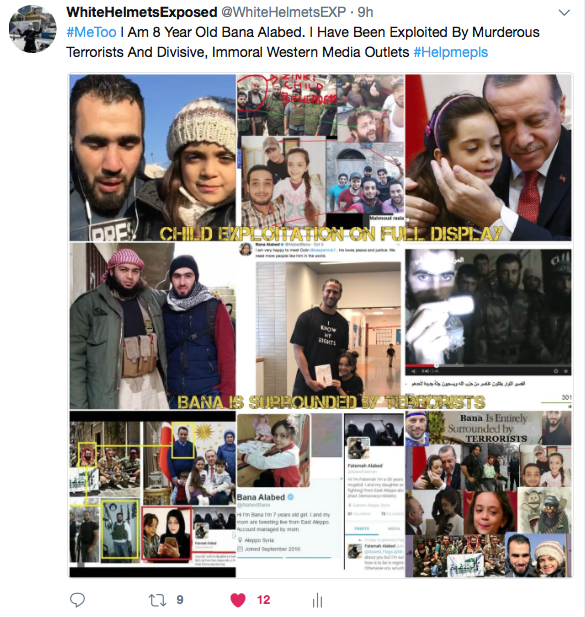 The image in the top left corner is Bana with Hadi Abadallah who is a member of the al-Nusra Front and White Helmets who acts as their press liaison with western governments and media outlets. Below that image is Hadi Abadallah with the leader of al-Nusra Front (al-Qaeda in Syria) Abdullah al-Muhaysini. Hadi is also in the picture to the right of Colin Kaepernick showing a dog tag of a captured Syrian soldier while hanging out with ISIS terrorists. In the image in the center top are friends of Bana's family who were caught on camera posing with Nour al-Zinki terrorists that beheaded 12 year old Abdullah Issa in the back of a truck in July 2016. To the top right is Turkish President Recyep Erdogan who was caught financing the ISIS oil trade through Syria until Russia put a stop to it through a bombing campaign in November 2015. That action culminated in NATO shooting down a Russian bomber and terrorists killing the pilots and rescue crew. In the bottom images we see pics of Bana's mother Fatima and her father Hassan al-Abed. Her father is a well known member of the FSA which is comprised of numerous terrorist groups, as proven via many other posts here at the Clarity of Signal website.
To help people more fully understand this "Tapestry of Terror", in March 2017, I put together a highly revealing one hour long documentary showing all the connections to these nefarious groups, including to western media outlets and global organizations. At the end of that video I placed a single image to help people more clearly understand that what you are watching and experiencing via the corrupt government, media and global elite, is an elaborate smoke and mirrors show meant to play on your emotions and political proclivities. Be aware…….there are many, many layers to the deception that has been taking place.
The link to the video and the continuation of this extensive important post is at my site Clarity of Signal. I tried to post it all at Steemit previously today and for some reason the entire post was lost. Thus, I just wanted to get this important info up and running for others to see at this point. Please share it widely and help wake others up to what is really going on.
The full post is here:
https://clarityofsignal.com/2017/10/19/metoo-a-course-in-deductive-reasoning-separating-fact-from-fiction-through-the-child-exploitation-of-8-year-old-bana-alabed/