Right Sector and Svoboda in Ukraine Hold Massive Torchlight March in Honor of WW2 Nazi Collaborator Stephan Bandera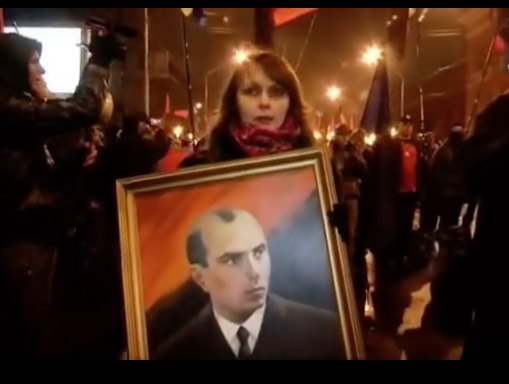 ---
Posted for Posterity. (Historical Record)
Rarely seen in US : January 2015 video - EuroNews tells the truth (for a change) - Far-right Ukrainians mark anniversary of Ukrainian nationalist hero Stepan Bandera who collaborated with Hitler's army during WW2 and led the OUN who massacred over 100,000 Poles and Jews.
Massacres of Poles in Volhynia and Eastern Galicia
https://en.wikipedia.org/wiki/Massacres_of_Poles_in_Volhynia_and_Eastern_Galicia
From Wikipedia, the free encyclopedia
Volhynian massacre
Location Volhynia
Eastern Galicia
Date March 1943–44
Target Poles
Attack type
Ethnic Cleansing, Genocide
Deaths 35,000–60,000 in Volhynia, 25,000 or 30,000-40,000 in Eastern Galicia
Perpetrators Organization of Ukrainian Nationalists, Ukrainian Insurgent Army, Stepan Bandera
The massacres of Poles in Volhynia and Eastern Galicia (Polish: rzeź wołyńska, literally: Volhynian slaughter; Ukrainian: Волинська трагедія, Volyn tragedy), were part of an ethnic cleansing operation carried out in Nazi German-occupied Poland by the Ukrainian Insurgent Army (UPA)'s North Command in the regions of Volhynia (Reichskommissariat Ukraine) and their South Command in Eastern Galicia (General Government) beginning in March 1943 and lasting until the end of 1944. The peak of the genocide took place in July and August 1943. Most of the victims were women and children.[4] UPA's methods were particularly savage, and resulted in 35,000–60,000 Polish deaths in Volhynia and 25,000–40,000 in Eastern Galicia, for the total of between 76,000 and 106,000 casualties.
The killings were directly linked with the policies of the Bandera faction of the Organization of Ukrainian Nationalists (OUN-B) and its military arm, the Ukrainian Insurgent Army, whose goal as specified at the Second Conference of the OUN-B on 17–23 February 1943 (or March 1943 according to other sources) was to purge all non-Ukrainians from the future Ukrainian state.[10] Not limiting their activities to the purging of Polish civilians, UPA also wanted to erase all traces of the Polish presence in the area. The violence was endorsed by a significant number of the Ukrainian Orthodox clergy who supported UPA's nationalist cause. The massacres led to a civil conflict between Polish and Ukrainian forces in the German-occupied territories, with the Polish Home Army in Volhynia responding to the Ukrainian attacks.
In 2008, the massacres committed by the Ukrainian nationalists against ethnic Poles in Volhynia and Galicia were described by Poland's Institute of National Remembrance as bearing the distinct characteristics of a genocide, and on 22 July 2016, the Parliament of Poland passed a resolution recognizing the massacres as genocide.
On June 22, 1941 the territories of eastern Poland occupied by the Soviet Union were attacked by German, Slovak, and Hungarian forces. The Red Army in Volhynia was able to resist only for a couple of days. On June 30, 1941 the Soviets withdrew eastward and Volhynia was overrun by the Nazis, with support from Ukrainian nationalists carrying out acts of sabotage. The OUN organized the Ukrainian People's Militia, which staged pogroms and assisted the Germans with roundups and executions of Poles, Jews, and those deemed as communist or Soviet activists, most notably in the city of Lwów, Stanisławów, Korosten and Sokal among other locations.
Videos from Fallen US Soldiers You Tube channels delves deeply into the subject of Nazism in West Ukraine, collaboration with Hitler's army, and the role that Zionism plays in the recruitment of young neo-Nazis today.
The UK government repatriated 7,100 members of the Ukrainian Waffen SS in 1947.
Links here: http://www.nationalarchives.gov.uk/releases/2005/highlights_aug/aug3/
Excerpt: Copied from British National Archive linked page.
Ukrainian SS 'Galicia' Division allowed to settle in Britain
August 2005
Recent releases at The National Archives
Home office papers reveal how 7,100 Ukrainian men from the 14th Waffen SS 'Galicia' Division were allowed to settle in Britain in order to protect them from persecution in Stalinist controlled Ukraine. The documents follow the case of the Ukrainian soldiers, from their capture in Italy by British forces to Britain's reaction to an Italian treaty with the Soviet Union to repatriate the men. Catalogue reference: HO 213/1851, Ukrainian prisoners of war in Italy: possible transportation to UK for 'screening'.
Page has now been removed.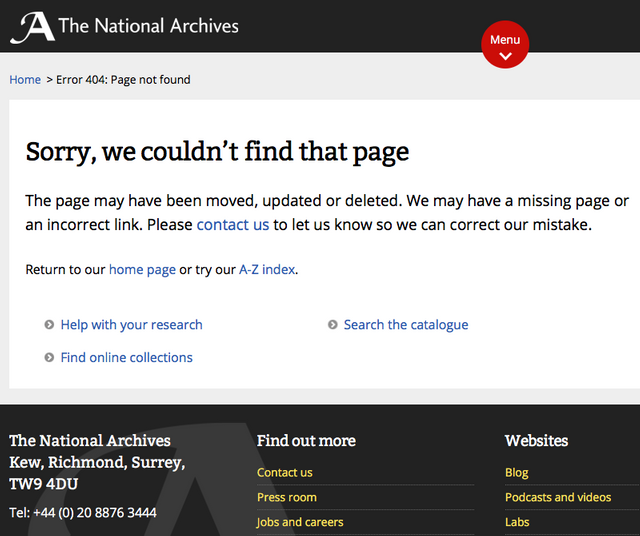 Some pages are still accessible at the following link:
http://discovery.nationalarchives.gov.uk/details/r/C1232500
Screenshot in case it is also removed :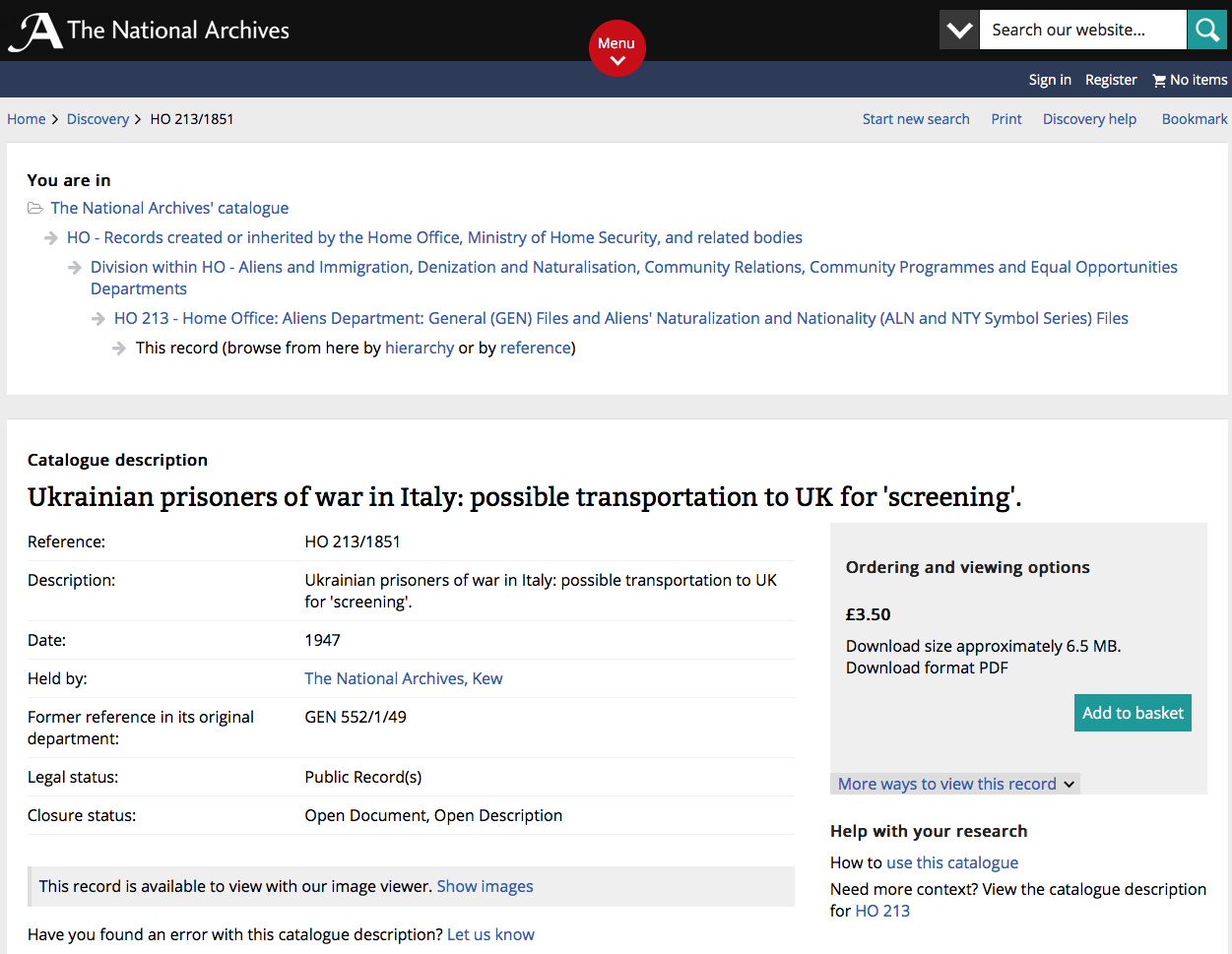 Screenshot of image viewer available at the link that provides original documents in scrambled form requiring payment to access: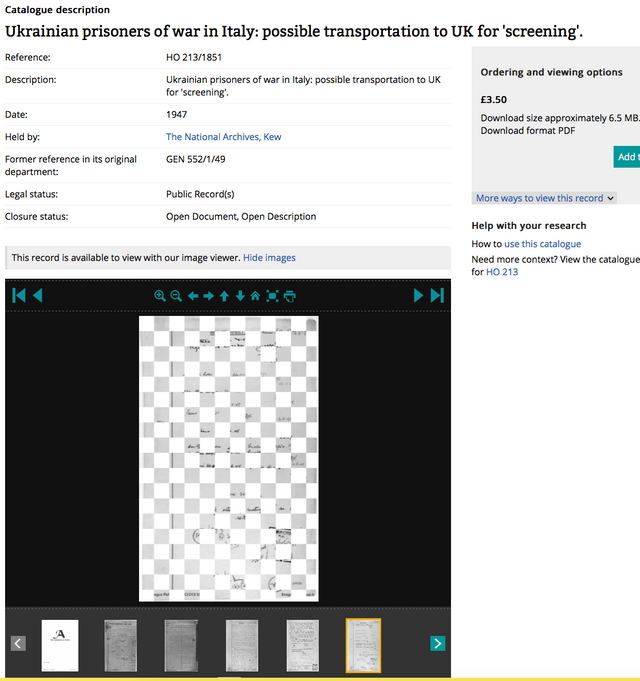 Further evidence of the killing of Poles and Jews at Volhnyia and Galicia:
SS in Ukraine video explains Britain's record on war criminals and the repatriation of the Ukrainian SS division to the UK in 1947:
"SS in Ukraine Part 1 of 4"
Svoboda (Freedom) seen marching in the video up top (alongside the Right Sector) is also an extreme right-wing political party that has morphed into other prominent parties in the Ukrainian parliament, but has been dubbed by its critics as a neo-Nazi organization. Britain's Channel 4 News reported in 2014 that Svoboda has assumed a "leading role" in the violent street protests in Kiev, with affiliated paramilitary groups prominently involved in the extreme violence including use of weapons and flaming molotov cocktails being thrown onto police. Svoboda flags and banners were prominently featured in the demonstrations at Kiev's Independence Square in 2103-2014.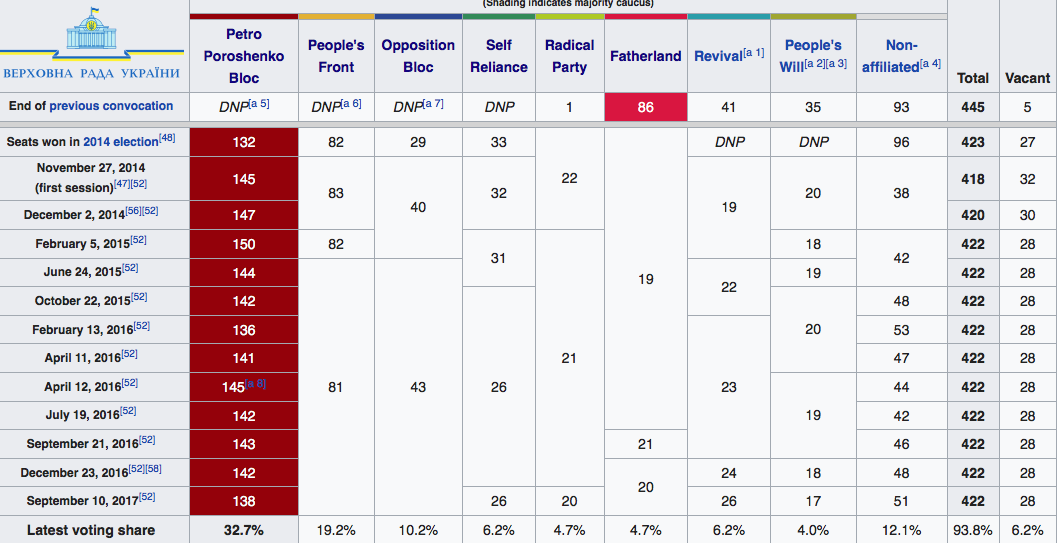 Svoboda has now morphed into The Peoples Front which holds 82 seats of the Ukrainian Rada's 450 seats, and The Self Reliance Party which holds 33 seats, and the Radical Party led by the well known violent fascist Oleg Lyashko, which holds 22 seats.
Further, Svoboda is linked to other far-right groups across Europe through its membership in the Alliance of European National Movements, which includes the British National Party (BNP) of the United Kingdom and Jobbik, the neo-fascist, anti-Semitic and anti-Roma party of Hungary. The leader of Svoboda, Oleh Tyahnybok, who has appeared at the 2013-2014 Kiev protests, has a long history of making inflammatory anti-Semitic statements. Another top Svoboda member, Yuriy Mykhalchyshyn, a deputy in parliament, often quotes Nazi Propaganda Minister Joseph Goebbels, as well as other Third Reich luminaries like Ernst Rohm and Gregor Strasser.
The US ambassador in Kiev, Geoffrey Pyatt, said in 2014 that he had been "positively impressed" by Svoboda's evolution in opposition and by its behavior in parliament. "They have demonstrated their democratic bona fides," the ambassador asserted. Igor Kolomoisky, the President of the United Jewish Community of Ukraine, stated in 2010 that the party has clearly shifted from the far-right to the center.
Note that Igor Kolomoisky, the billionaire oligarch owner of Privat Bank is involved in providing direct support to the Right Sector Azov and Aidar battalions that continue to conduct war crimes against the innocent civilian population in the breakaway regions of east Ukraine.
Link to extensive Clarity of Signal post covers Ukrainian oligarch Kolomoisky -
https://clarityofsignal.com/2017/01/21/msm-mia-the-ukrainian-oligarch-right-sector-nazis-mh-17-and-joe-bidens-son/
https://www.yahoo.com/news/ukraine-soldiers-government-were-coming-next-155843129.html?ref=gs
– GUNS AND MONEY –
Dnipro-1's headquarters are on the ground floor of the Dnipropetrovsk administration building. Upstairs sits the regional governor, Igor Kolomoisky. The arrangement is no accident: Kolomoisky, one of Ukraine's most controversial billionaires, funds the paramilitary, which returns the favour in these troubled times by boosting the banking and industrial tycoon's personal security and political clout.
All the signs are of a flourishing military enterprise. Young men with Kalashnikovs and pistols and several well dressed women working on laptops fill the anteroom to Bereza's office.
Dnipro-1 has 700 men — "officially," Bereza says with an enigmatic smile.
"Unofficially, it's 7,000."
– DARK SIDE –
Questions over the far right leanings of some volunteer groups and allegations of involvement in the murder of civilians cast a long shadow. One of the most controversial is the Azov Battalion, which uses the Wolfsangel insignia — an ancient design that was resurrected in Hitler's Germany. The Azov has been linked to Oleg Lyashko, a politician accused of neo-Nazi sympathies.
Right Sector, an ultra-nationalist party, also has its own battalion of several hundred men on the frontlines, even if the government refuses to register or pay them. Dasha Slutskovska, a 29-year-old volunteer from the battalion in Dnipropetrovsk, conceded that Right Sector has an image problem — they are relentlessly portrayed in Russia's state-controlled media as fascists.
Assortment of images from 2014 of leader of extreme right-wing Svoboda Party with US Senator John McCain and other US representatives: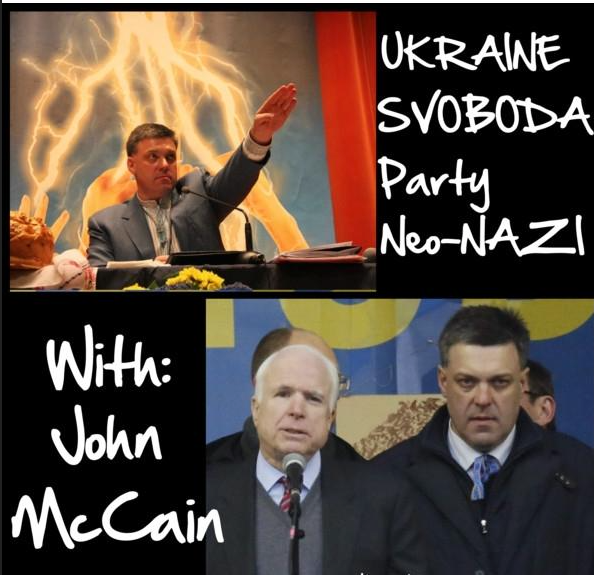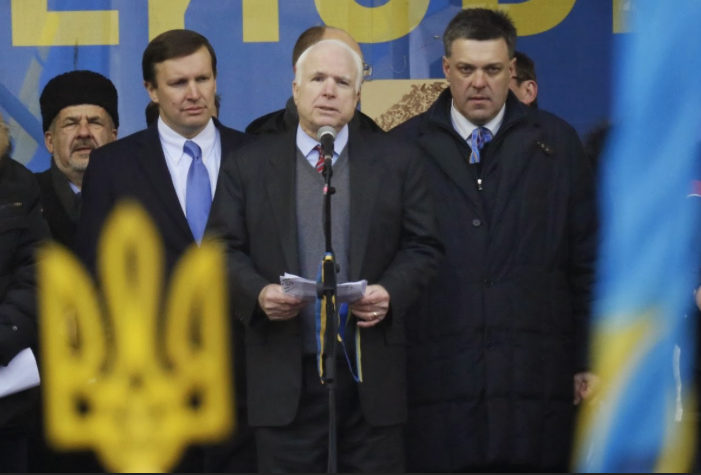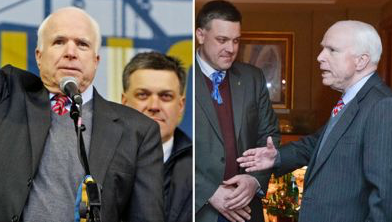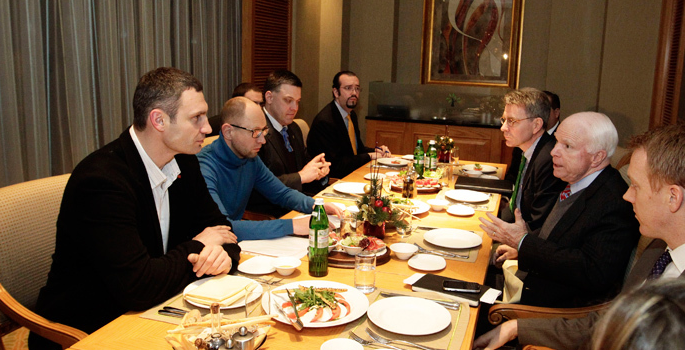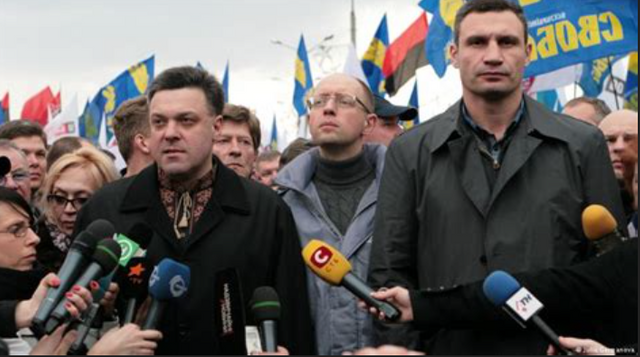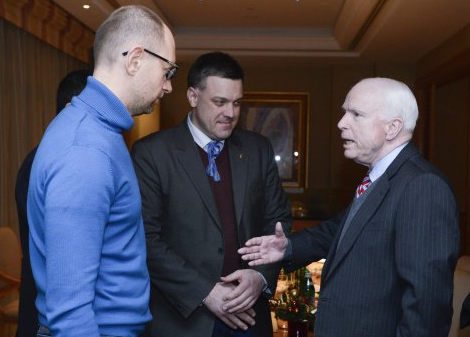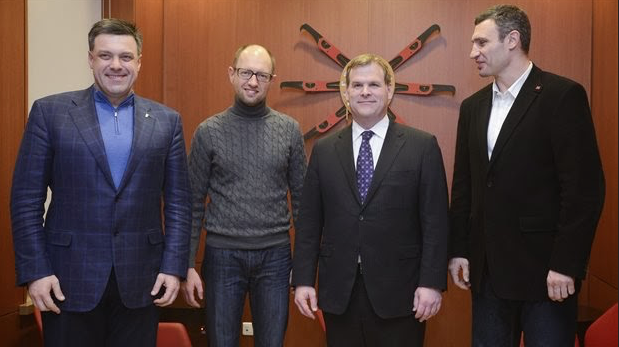 Stephan Bandera center in image below: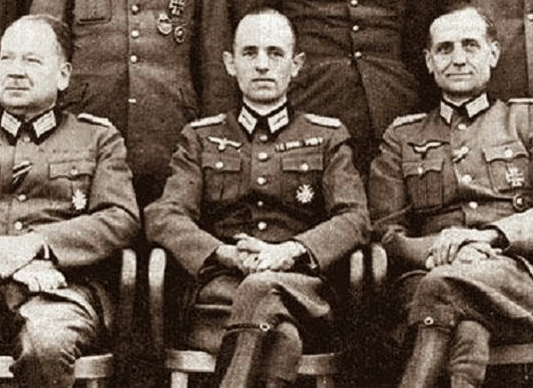 ---
▶️ DTube
▶️ IPFS