Stephen Paddock, 64, discharged hundreds of bullets using semi automatic weapons modified with bump stock attachments into a festival of people killing 59 individuals and wounding 500+ others, in the U.S.'s most massive shooting in history, before turning the gun on himself. At least that's the official narrative but there are more questions than answers being thrown around since Monday morning's bizarre shooting leaving many readers' confused.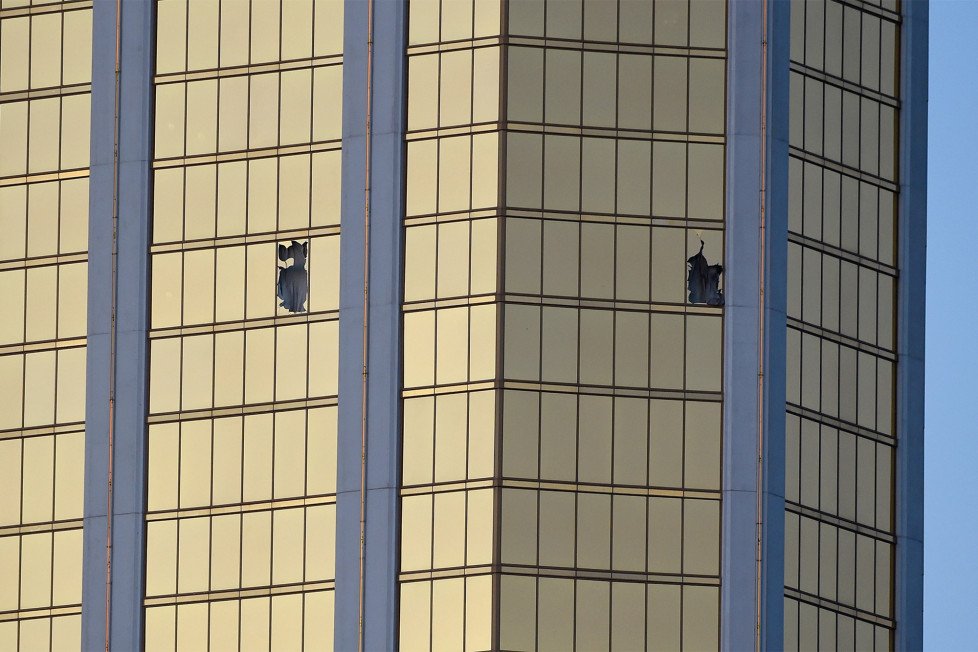 The horror all unfolded at the Route 91 Harvest Festival, a three-day country music event.
Starting out let's ask the question how the hell did this man smuggle 23 firearms into his hotel room past hotel security to the 32nd floor and where is the security camera footage?
If 23 weapons were found then why are multiple shooters seemingly being ruled out of the equation so fast? One man can not utilize 23 weapons especially since 20 were rifles at once and rather than there be ridicule there should be further investigation that there might be a shooter or shooters still on the loose.
Third, where in the hell did he get all the weapons? Even Stephen Paddock's own brother Eric Paddock is seeking that answer.
"He wasn't a big gun guy at all, the fact that he had those types of weapons is where the hell did he get automatic weapons," Eric said.
According to Christopher  Sullivan, general manager of Guns & Guitars, a gun shop in  Mesquite, Nevada, Paddock bought three guns at his  shop — a handgun and two rifles — within the last year. All the purchases were legal and cleared routine federal screening, Sullivan said."The man does not have a criminal history." New York Times reported.
Even so fully automatic rifles are almost impossible for "civilians" to acquire. Although, some pre-1986 full auto weapons are available for sale, they require extensive ATF documentation, background checks and extremely long wait  times approaching one year. Plus, they tend to cost $25,000 or more,  and they're extremely rare.
While the suspect undoubtedly had enough money to purchase one purchasing 20 different firearms would be a very expensive venture.
There are also multiple witnesses that state a still unidentified woman pushed her way to the front of the crowd and warned/threatened the crowd that they "were going to die tonight." Although, according to one eye witness this was after getting into a fight so this might have been just heat of anger never the less this should still be investigated since there are now 59 people who did die that night at the time of this report.
This woman described as Hispanic and her accompanying boyfriend were allegedly escorted out by security so the next question is why the hell security didn't shut the festival down immediately after a threat like that unless they didn't know but I find that hard to believe given they kicked her out according to a female witness.
Finally, there are the conflicting reports which could be due to the effect known as "fog of war," but regardless I feel it's important to highlight the information that contradicts each other which was presented as facts.
Was the shooter killed or did he kill himself? Reports indicate that the shooter was killed according to Las Vegas Sheriff Joseph Lombardo who stated Paddock was neutralized in a hotel room on the 32nd floor of the Mandalay Bay Hotel. Police later said that 23 guns had been found in the hotel room including some with scopes, while another 19 guns and explosives were found at the man's house in Nevada 80 miles away, The Independent reported.
However, other reports stated that the shooter had killed himself and was found dead by police.
The local news channel NBC Las Vegas's Nathan O'Neal stated witnesses were convinced there was "multiple shooters", based on the sound of the gunfire and the fact "hundreds" of bullets were shot, Huffington Post reported.
This seems to be plausible since additionally to add on to the sound of gun fire and the amount of ammo sprayed into the crowd, two windows of the hotel were broken out and there was more than enough weaponry for one single man.
Are these broken windows from the same hotel room or are they from two adjacent rooms? If the latter it suggests the likelihood of more than one shooter. It's since been confirmed that the shooter purchased two 2 room suite.
Taxi video (BELOW IN A TWEET) and police audio also corroborates that there may have been at least one other shooter. The video shows a taxi driver driving by looking for the shooter when she looks up at what appears to be muzzle flashes from another floor that are in sync with the sound heard firing from the gun. 
Although, this might be a flickering light inside the building as some have suggested still the police audio suggest another suspect may have been involved in the mass shooting.
An officer in another scanner audio also indicates a strobe light is flashing from Mandalay (at 14:20). "I haven't seen any flashes from Mandalay but if it is coming from  Mandalay there is a strobe light coming from one of the windows on the  east side," the officer is heard saying. 
"There may be another suspect on the 4th floor a white male with a grey backpack firing at multiple hotels," the audio stated. Although, again this might be due to the strobe light.
https://twitter.com/An0nKn0wledge/status/915121493801086976
Additionally, earlier reports by police alluded to there being multiple gunmen as well there was several false reports made of other shootings.
"According to police scanners, one suspect in Mandalay Bay has been  subdued and taken into custody. Reports of multiple gunmen at Tropicana,  New York New York, and Aria have all been confirmed false. Bellagio and  Caesar's was still being investigated," Youredm.com wrote at the time.
https://twitter.com/LVCabChronicles/status/914722893665247232
However, authorities now deny that information and have stated that Paddock was a "lone gunman." Despite that none of this adds up and would make more sense if at least one other individual was factored into the narrative. Since the shooter had more than enough weaponry for multiple people.
Often when there are so many questions left unanswered and confusing things being pushed leaving holes that don't add up it rings off alarm bells as a potential falseflag operation for a political aim/agenda.
While no official motive has been given by authorities the underlying hidden key fact is this shooting happened right before passing of "The Sportsmen Heritage & Recreational Enhancement Act" which would have legalized the sale of silencers.
Then there is the claim by ISIS that the shooter converted to Islam  was "a Soldier of the Islamic State," but the group failed to provide any evidence for its claim and as the NYTimes points out has falsely claimed responsibility before during previous tragedies.  The claim has also been denied by the FBI who said there was no immediate evidence of a connection. It is however worth noting that ISIS threatened Las Vegas in May, The Washington Times reported.
So the shooting in my opinion is either A) a deepstate CIA/MOSSAD falseflag styled Gladio operation or B) an ISIS attack being covered up under the pretense of National Security to not incite panic. I can't see this being a lone gunman, there is way too much going on here.
And I don't believe we are even being given enough information at the current time to determine which one it is yet.
The shooting reportedly lasted five to fifteen minutes, though estimates vary according to the Washington Post.
In conclusion nothing is adding up, these questions are not crazy to ask in fact any rational reporter should be asking them to understand what happened but journalism is dead in this country, because if you ask the right questions you'll end up dead journalism is a dangerous job that has been cooped by a paycheck.
However, it's a needed profession because without real investigative reporting we are at a loss. These questions need to be answered and the way to answer majority of them is to add "multiple shooters" into the narrative. Therefore lack there of makes the story have more holes in it than Swiss cheese. 
On a side note people actually died these bull shit quick to jump the gun accusations that every shooting is a "crisis actor staged event" harms the fact that crisis actors could be used to stage a massive fake event broadcast as real that was actually a drill, as was demonstrated in London last year for the largest crisis drill in history. 
As well as it is completely disrespectful to families who lost someone being told their family member didn't die and the funeral didn't exist.
Also, consider that "crisis actors" or paid actors could be implanted into after tragedy press events to push a political agenda through propaganda.
One thing is emphatically clear every time an event like this happens Americans' compassion comes out so whether this was a deepstate falseflag event or terrorism organized by ISIS or simply a lone gunman we are stronger and we will prevail.
My heart and prayers go out to all those killed or injured in the Las Vegas shooting rest in peace to those who lost their lives simply because they wanted to enjoy what became the last moments of their life at a concert.
Paddock was an avid big time gambler and worked from 1985 to 1988, at a predecessor company of Lockheed Martin as an "internal auditor," he also worked in real estate public records showed, NBC reported.
Police are now looking for Paddock's girl friend Marilou Danley since he just wired $100,000 to the Philippines days before his massacre, the Telegraph reported. 
 "We anticipate some information from her shortly," Clark County Sheriff Joe Lombardo said. "She is currently a person of interest." 
While the brother of the shooter has stated that he believes the money was to take care of Danley.
"One hundred thousand dollars isn't that huge amount of money," he said. "Condemn Steve for gambling. Steve took care of the people he loved. He made me and my family wealthy." 
Its not currently known whether the money was intended as a gift to her, or if  he thought hed be able to flee there, or if the cash transferred was to someone else. 
--------------------------------------------------------------------------------------
If you want to support my work and make a difference to journalism/investigation, you can subscribe to my Patreon or make a one time payment in Cryptocurrency below:
Steemit (leave a memo with your name and message then i'll give you a shout out on Steemit, Resteem your work and post some of your Steemit work on my Twitter account depending on the content as a thank you.)
Patreon: https://www.patreon.com/AKswriting
BTC: 1237PnfRsNXV2Ks16mHSZ1G7buwfyva331
ETH: 0xd7E20e359Da35E8f71110eE67a7ddbD912f6b98e