Finally, we have added news monitoring for the blockchain, so the updates across Steemit blogs can be tracked in the same way we were tracking content on the web sites before. Actually, personal analytics and reputation analysis for the Steemit blockchain have been working for a long time, and now we just have plugged-in the "classic" news monitoring - the same that was done from the very beginning for the web sites and messengers such as Telegram and Slack.
Now, you can use track developments of your favourite topics daily - right in the news feed on Aigents Demo Web Site: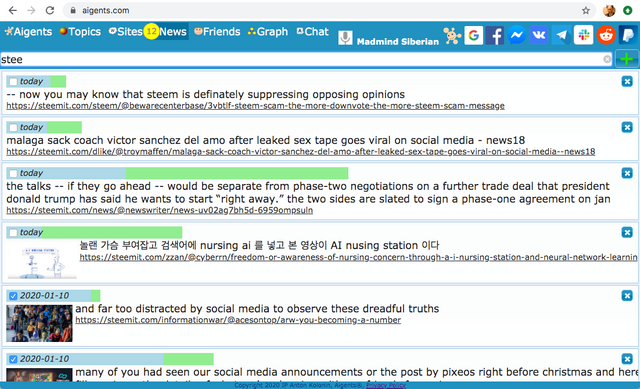 In order to use this new stuff, you just need to register with or login to Aigents via email or via Facebook, Google, Reddit or PayPal and have your Steemit account (or any other account) specified in the Settings. Why doesn't it matter which account to specify? That is because we did not have Steemit OAuth (if it exists at all) integrated yet, and because all the data in the blockchain is public, you can specify either yourself, or your grandmother, or even someone else's grandfather.
Also, it is advisable to set your "search templates" in the Topics section - see instructions for setting them up.
After all, day after day, you will be finding news updates from the specified topics, and you will be able to view them in the Aigents News feed or collect them as RSS feed (if you configure the RSS) as well as you will be able to get the news as notifications in instant messengers (if you enable them).
The following video gives you idea how it works:

So far, the story was about "how it rocks." Now the story about "how it sucks" begins.
Firstly, the automatic "profile builder" is still very dumb, so garbage in the profile (weird "patters" in Topics) will appear periodically, and you will have to either fix them or delete them manually.
Secondly, the reputation of the content authors during the automatic formation of the news feed from the blockchain logs is not yet taken into account, so irrelevant content from low-ranked "bots" may be appearing in the feed (again, you can manually remove it from the feed).
Thirdly, cleaning the news feed from the junk does not occur during the synchronization with the chain, but it happens periodically during the day. As a result, low-relevant content in the news feed will be cleaned up periodically, but
notifications in messengers
(or in the mail, if specified) may be bothering you so you may need to put them on mute.
So - there is still lots of work for us to do - write suggestions and complaints to
https://steemit.com/@aigents
,
https://www.reddit.com/r/aigents/
,
https://www.facebook.com/aigents
,
https://medium.com/@aigents/
,
https://www.youtube.com/aigents
and follow us there for the news!
Well - and if you want to help - help financially! ;-)