Spotcoin's Crypto Priest at NEO, part 2
Episode 2 of our Spotcoin loves NEO series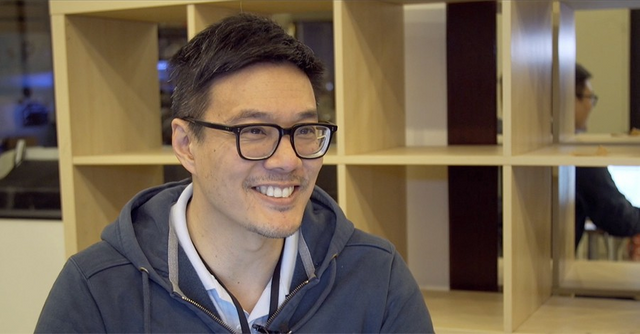 Joshua Chen, Spotcoin's Community Development Manager
Last month, we interviewed Spotcoin's "Crypto Priest," Joshua Chen. Josh is a youth minister in Taiwan and our Community Development Manager. Last month, Josh talked about his work with the City of Zion on the NEO Sharp Project, improving some of the core code. We'll get into more technical details in the next and final article about Josh.
I'm trying to build-up some of these developers who may be intimidated or have no idea what blockchain is.
First, we want to highlight Josh's outreach services to the community. His ultimate goal is to recruit and mentor talented, young developers and support their education as they learn about blockchain technologies. Though based in Taiwan, Josh's work transcends borders.
Spotcoin has a regional focus on the Black Sea region, where they are launching the Black Sea Blockchain Institute. The Institute will be a top fintech academic center, focused on Education, Research and Innovation in blockchain. The institute and accelerator will advance and incorporate blockchain technology use cases covering digitizing assets, smart contracts, and digital identities.
Spotcoin recognizes the worldwide NEO community. The internet has created a smaller world, with individuals globally connected in pursuit of a shared goal. The community is key to the successful implementation of public ledger technologies and the blockchain. And it also has the power to grow and sustain relationships beyond borders.
Josh's role is to do just that. Though centered in the blockchain community in Taiwan, he creates bonds and incubates developers worldwide through relationships and shared experience. Continuing with our interview, Josh shares about community development and advice for future developers.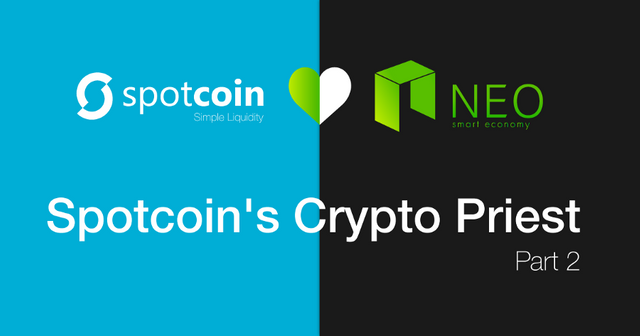 SC: What is included as Community Development Manager?
JC: One of the things I'm also doing, and tying it back into my ministry, is going to universities and talking to professors. We want to provide opportunities for students. I'm recruiting, asking them to come work on the NEO Blockchain, come and work on these projects. It can be NEO python, NEO whatever.
I'm trying to build-up some of these developers who may be intimidated or have no idea what blockchain is. They may think: "I don't know blockchain. I don't know the language. It's all English and my English is not good." (I am based out of Taiwan, where the predominant language is Mandarin)
And, I want to go and say hey, come on board! I want to be a "help you." I want to help you earn some valuable skills and give them an opportunity to do these modern jobs. If you become a blockchain developer, there is very high demand. I want to help them find talents that are suitable to developing software or technology. I'm telling them they just need to know C#. If they know C# I can help them, get them set up, and mentor through the process. Helping them channel their youthful energy and innovation into this and incubate talent so they can see they can do it.
SC: In Taiwan?
JC: Yeah. I'm connected to Taiwan with the blockchain community here. I'm connected to a blockchain accelerator here and we're looking at how we can create opportunities, internships. There are tons of companies here in Taiwan looking for blockchain developers and what I'm hearing over and over again is: "We can't find people. We can't find anyone to do it. We want to pay." I'm seeing this, and I see the developers here and I'm trying to connect them and train them up so that they can start contributing.
SC: Spotcoin has a current regional mission in the Black Sea Region. Do you get a chance to work across borders?
JC: As I have a number of ministry responsibilities here in Taiwan, I haven't gotten the chance to work across borders quite yet, but I would welcome the opportunity!
SC: There's always the question from young people. "How do I get involved? What can I do?" What is your advice to those looking for opportunity?
JC: Join the community! I know that it can be intimidating and it's hard to find the first step. But I find that if you just take the plunge and try, you may find that it isn't as bad as you think. Alex, the maintainer of NEO-sharp often quotes Richard Branson, "If somebody offers you an amazing opportunity but you are not sure you can do it, say yes — then learn how to do it later!" You may not know everything, you may not know most things, but you know some things and you definitely don't know nothing. Try it and learn. Everyone starts off in the same boat and if you are willing to try, you can really learn a lot. Just ask for help.
SC: What are the opportunities to get interns and recruit?
JC: If you are local in Taiwan and in particular Tainan, and have some technical expertise in Python or C# and want to learn how to do this with others, contact me at [email protected] . I would love to talk with you!
SC: Do you currently hire? Do you know what future staff screening may look like?
JC: Right now, I do hire locally for part time work. In the future, we will look to expand this out further. We are evaluating what kind of staff we are looking for in the future.
SC: What about people who may not be developers. Are there other ways to get involved with the blockchain community?
JC: Yes! Documentation is always a good starting place. Reading through and asking the questions can really help in writing documentation. You may think you know nothing and can't help. But in reality, you are in the best position. You are learning and the questions and thoughts you have are going to be typical of anyone involved in the beginning of the project. So your perspective is going to be invaluable. Most of those who are involved already have a different perspective and things that are intuitive to them aren't intuitive to those who are just starting out.
In conclusion: the blockchain community is open to all.
And people like our own Josh Chen make it work for anyone. There will be one more article with Josh coming up, in which he goes into more depth about the technical side of the NEO Sharp Project. So if you're a developer or just interested in NEO, watch this space!
---
Interested in more Spotcoin?
Join our Telegram community: Spotcoin Team, Spotcoin News, and Spotcoin Bounty.
Take a look at our complete ICO offering here.
Read our Whitepaper here, for more details.
Visit spotcoin.com, where we make digital currencies work for everyone.
Residents and citizens of the United States and US territories are prohibited from taking part in the SPOT Airdrop and the SPOT public sales. Residents and citizens of the following countries are prohibited from taking part in the SPOT public sales: Bosnia and Herzegovina, China, Ethiopia, Iran, Iraq, North Korea, South Korea, Sudan, Sri Lanka, Syria, Trinidad and Tobago, Tunisia, Serbia, Vanuatu, Yemen
However, certified accredited U.S. investors can take part in the SPOT private sale. Chinese and South Korean investors can participate in the private sale when paying with digital currencies, after signing the SAFT form and completing the KYC /AML process. Any investment in digital currencies comes at a risk. No one should invest money that he or she can not afford to lose.
Forward-looking statements are provided to allow potential investors the opportunity to understand management's beliefs and opinions in respect of the future so that they may use such beliefs and opinions as one factor in evaluating an investment. These statements are not guarantees of future performance and undue reliance should not be placed on them. Such forward-looking statements necessarily involve known and unknown risks and uncertainties, which may cause actual performance and financial results in future periods to differ materially from any projections of future performance or result expressed or implied by such forward-looking statements.
Although forward-looking statements contained in this email are based upon what management of the Company believes are reasonable assumptions, there can be no assurance that forward-looking statements will prove to be accurate, as actual results and future events could differ materially from those anticipated in such statements. The Company undertakes no obligation to update forward-looking statements if circumstances or management's estimates or opinions should change. The reader is cautioned not to place undue reliance on forward-looking statements.