Blockchain for Good
Part 3 of our Spotcoin X Government series
This is the third part of our series about Spotcoin and government, where we look at the public sector and government issues that we are either directly involved with, or find interesting. Last week we explored government use cases for blockchain technology. This week we explore blockchain opportunities for vulnerable communities and left-behind populations; the people without government security.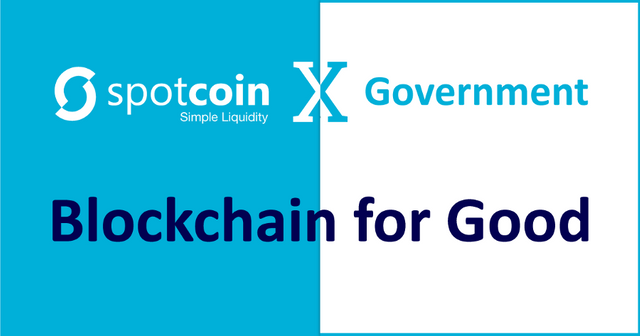 From Day 1, Spotcoin has demonstrated commitment to making digital currencies work for everyone. We often focus our attention on the Black Sea region, where providing liquidity is a key aspect of bringing this part of the world into the smart economy. We make certain that our fees are very competitively priced, and that we are completely transparent in the process. This gives us a greater opportunity to connect with clients who need every penny to improve their own family situation. It also lets us give some relief to small business clients and new entrepreneurs looking to reduce or eliminate international trading fees.
And on a global scale, issues related to micro financing, economic inclusion, and even proof of identification are of significant importance to many governments and international agencies. Spearheading these efforts are global organizations including the United Nations and the World Bank.
The Left Behind
The UN High Commission on Refugees estimates there are 68.5 million forcibly-displaced people worldwide. Two-thirds are internally displaced while the rest are refugees and asylum seekers beyond their country's borders.
According to the World Bank, 1 in 10 people in the world live under $1.90 a day, a benchmark for extreme poverty. The refugees, displaced, and poor face nearly insurmountable odds to pull themselves out of poverty and participate in the global economy. The insecurity heaped on vulnerable populations is perpetuated by constrained access to financial capital, banking services, and economic entry points. Spotcoin is excited by the potential of blockchain technology to help eliminate these restrictions and give opportunities to the poorest seeking access and inclusion.
Inclusive Identification
Technology permeates our daily lives, reaching further and further into the world. It is also the bridge of the digital divide. The access divide has declined as technology has become cheaper, more efficient, and accessible. Spotcoin is keen to watch as more and more populations enter a technology-based world through cheaper mobile phones and internet access, and the opportunities it affords. One way is through identification verification.
According to the World Bank, more than a billion people have no way to officially prove their identity. Who are these unverified? They dovetail with our left-behind. Refugees, trafficked people, homeless, the extremely poor and members of failed states. In our world, the lack of institutional affiliation and state-sponsored verification hinder the ability for movement, growth, and financial access.
Blockchain technology can provide solutions. The World Bank recognizes the sheer scale of the potential and they have launched ID4D-Identification for Development program. Teaming up with the industry, the World Bank is exploring the potential of blockchain technologies that are not dependent on central government authorities or paper documentation. The transactions create a trusted, secure record accessible worldwide. With the ID4D potential, refugees can prove their citizenship, maintain secure bank accounts, record birth and marriage records, track academics and licensures, and verify identity in multiple ways. Lost records will no longer mean lost identity and lost lives.
A Refugee Case Study
It is not just identification verification that excites us here at Spotcoin. It's the access to financial markets for those who have traditionally been left behind. The United Nations World Food Programme (WFP) established the Building Blocks Project with the express goal of "harnessing blockchain technology to enhance our ability to provide effective, efficient assistance to the people we serve — and save millions of dollars."
Building Blocks provided Syrian refugees living at the Azraq Refugee Camp in Jordan vouchers to shop at the grocery store. They shop locally, providing the basic dignity of choice and agency to the refugees. Their identity is verified through IrisGuard, biometric authentication technology that verifies identification. At the store, they receive their food, just like every other paying customer.
Behind the scenes, the Building Blocks Project reconciles the data and inscribes the information directly onto the blockchain, ensuring security, privacy, and cost savings. It is estimated that the WFP will save as much as $150,000 each month in bank fees in Jordan alone. That money will provide more food to hungry people.
With the success of the Building Blocks Project, the WFP expects to expand the project to 500,000 refugees in Jordan. The potential is astounding. Beyond cost savings and beneficiary support, the blockchain project will ensure assistance operations are rapidly deployed in the wake of emergencies. They will also be far more transparent with less opportunities for large scale corruption. The aid can be followed clearly to make sure it reaches the refugees it was meant for.
At Spotcoin, we watch the unfolding potential with anticipation. Opening the smart economy to those who've been traditionally been left out ensures a better world for all. We want to make digital currencies work for everyone. Key to that is being inclusive, providing access to all people, regardless of citizenship or bank account balance.
---
Interested in more Spotcoin?
Join our Telegram community: Spotcoin Team, Spotcoin News, and Spotcoin Bounty.
Take a look at our complete ICO offering here.
Read our Whitepaper here, for more details.
Visit spotcoin.com, where we make digital currencies work for everyone.
Residents and citizens of the United States and US territories are prohibited from taking part in the SPOT Airdrop and the SPOT public sales. Residents and citizens of the following countries are prohibited from taking part in the SPOT public sales: Bosnia and Herzegovina, China, Ethiopia, Iran, Iraq, North Korea, South Korea, Sudan, Sri Lanka, Syria, Trinidad and Tobago, Tunisia, Serbia, Vanuatu, Yemen
However, certified accredited U.S. investors can take part in the SPOT private sale. Chinese and South Korean investors can participate in the private sale when paying with digital currencies, after signing the SAFT form and completing the KYC /AML process. Any investment in digital currencies comes at a risk. No one should invest money that he or she can not afford to lose.
Forward-looking statements are provided to allow potential investors the opportunity to understand management's beliefs and opinions in respect of the future so that they may use such beliefs and opinions as one factor in evaluating an investment. These statements are not guarantees of future performance and undue reliance should not be placed on them. Such forward-looking statements necessarily involve known and unknown risks and uncertainties, which may cause actual performance and financial results in future periods to differ materially from any projections of future performance or result expressed or implied by such forward-looking statements.
Although forward-looking statements contained in this email are based upon what management of the Company believes are reasonable assumptions, there can be no assurance that forward-looking statements will prove to be accurate, as actual results and future events could differ materially from those anticipated in such statements. The Company undertakes no obligation to update forward-looking statements if circumstances or management's estimates or opinions should change. The reader is cautioned not to place undue reliance on forward-looking statements.