Hi hi everyone!
A happy week to all and happy #NeedleworkMonday! 😎🌻
One of the things I enjoy doing is to sew or crochet or knit, following video tutorials.
One of the main reasons is because I get to pause, rewind, play, fast forward, pause, rewind, play the video any time I wanted to. And it helps a lot when you missed a step or if you need to make sure you followed the step correctly.
So, thank you @crosheille for sharing your crochet tutorials, they really help when we are learning to crochet 🙃.
One project that I would like to recommend for you to try to sew is this pleated pouch with zipper. I sewed this as a gift for my mom (the purple tissue wrapping was at the bottom of the pouch):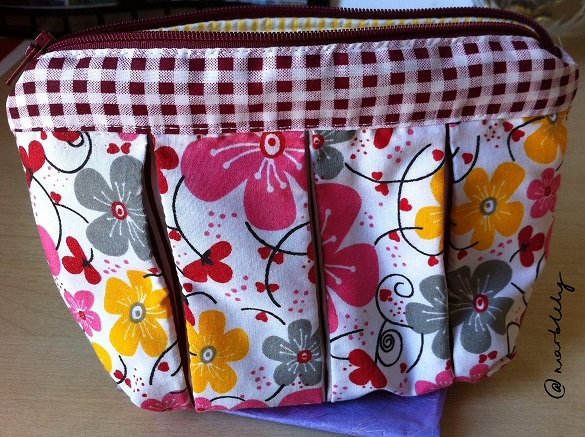 I followed a zippered pouch sewing video tutorial by pattydoo which I discovered through one of my hours of browsing through Youtube's "potential-projects-to-sew". The pouch may look daunting at first, but when you follow the video step-by-step, you will realize, it is actually quite simple to sew. She also included a free pattern at her website here.
Although I do not understand what she was saying, pattydoo's Deutsch video included a clear English subtitle which was easy to follow and her video was clear too. The thing that attracted me most to her video was her cute fabric choices, her language (I love listening to different languages) and the sound of her sewing machine 😁.
Sorry, I did not take any process photos for this project because at that time, I was too focused on following the video and too excited to complete the project. Plus, the video is a much, much better choice to follow if you would like to try sewing this pouch 😊.

Thank you again to @crosheille and @crystalize for bringing us together into this amazing community!