The NBA-Holes Column: The Warriors Long-Term Pursuit…Anthony Davis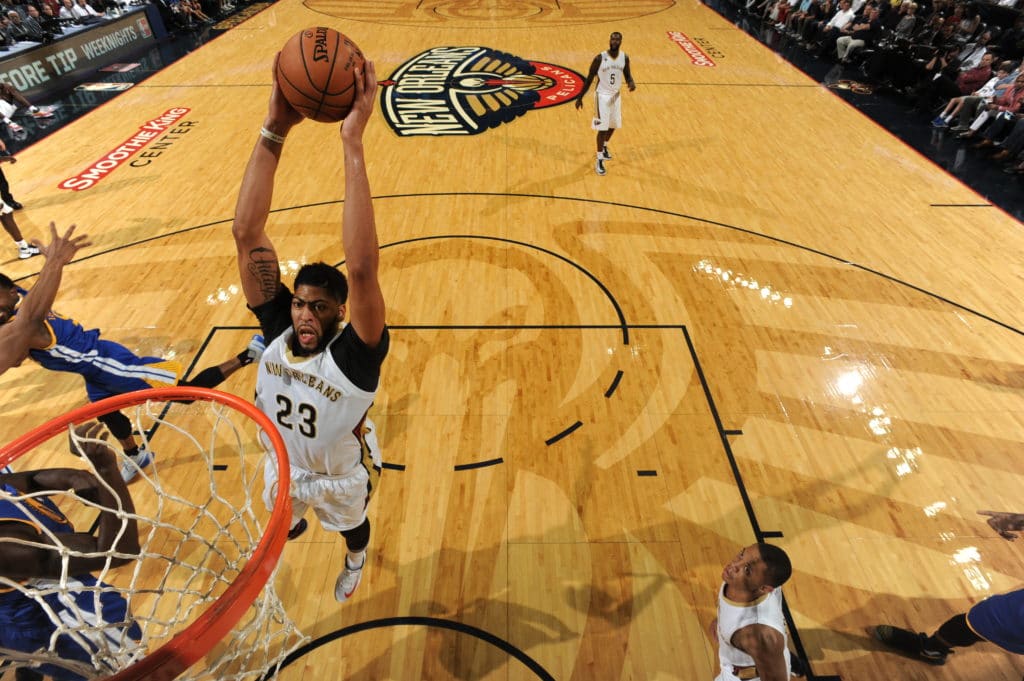 Tim Kawakami of The Athletic released an article Sunday afternoon chronically the "next great long-term warriors acquisition". The Athletic is a subscription website but luckily for our readers we are here to dissect this tantalizing article.
---
It has been a not so subtle sub-plot of the past 2 season (possibly more) that the New Orleans Pelicans could be in trouble when it comes to Anthony Davis. Even though he has been in the league for an astonishing 6 years, Davis is only 24 years old. He is probably a Top-2 under 25 player in the league. Giannis Antetokounmpo and Davis are 1a and 1b in most NBA circles. This season Davis is averaging 25.6 ppg, 10.3 Reb, on a 55.3 FG%. He also has the 5th highest PER of the season at 28.0, among rotation players. Ahead of him are Steph Curry, James Hardes, Lebron James, and Giannis Antetokounmpo. However, after 6 seasons in the league the New Orleans Pelicans have made the playoffs once, only to get beat-down by the Warriors in the first round in 2015. The same year the Warriors won their first championship of the Curry-Klay-Draymond era.
People around the league, and those wired to NBA twitter/ reddit have all been echoing the same mantra; you cannot waste the brilliance of someone like Davis. He is without a doubt a #1 guy on a championship team (There are fewer than you think). Yet, he has been in the playoffs once in 6 years, as an 8th seed. The Pelicans, themselves, are quite aware of the timeline they have with Davis, who can opt out in 2020. That is why they traded for Boogie Cousins right before the trade deadline last season.
The idea was to roll the dice on a disgruntled all-star big man and see what happens. Cousins is immensely talented and was clearly unhappy in Sacramento. It was a risk, a big risk. But that shows you the mindset the Pelicans front office. They made a high risk trade in 2017 in order to appease someone who is signed until 2020. Three and a half years before Davis' free agency. One year later, the results are a mixed bag. Individually, Davis and Demarcus Cousins are having outstanding years. They should both be All-Start starters. Cousins is averaging 25.9 ppg, 12.6Reb, on a 54.2 eFG%. Almost an exactly foil to Davis. Outside of the big 2, there is very little else to be positive about. The Pelicans are currenly 19–19 and 8th in the Western Conference. The pure talent of these two big men are willing the Pelicans to the playoffs, but with very little help otherwise. As a team New Orleans averages 110.7 PPG, Davis and Cousins average 52 points a game. When almost half of your points come from 2 guys there is a problem.
There is not much to look forward to either. The Pelicans have unfortunately mis-managed the team's salary cap and are locked into the currently roster. For those who are not accountants the Pelicans have 4 players who account for 65% of the salary cap. In addition they are locked into long terms deals that are hard to move. The Pelicans are financially locked into the current roster, which is currently .500. It is hard to imagine a scenario where Davis is happy with perpetually being the 8th seed, only to lose to the Warriors in 5 games.
---
One can start to see the cracking of the Davis-New Orleans relationship. But the ideas of a Warriors trade, or signing Davis, is an eye-catching, click-able, piece of news. Via Tim Kawakami:
That's how Warriors management lives, thinks and operates — it doesn't matter how well the team is going now, how many titles the Warriors have won, how many superstars they've got on the roster or, really, how many different layers and salary-cap complications they'd have to decipher on their way to this.
The Joe Lacob/Bob Myers Warriors always have a mega target in mind, loosely timed to a future date, projected onto their whiteboards and roster imaginings. They don't bet everything on getting that player; they don't presume anything about the process; Lacob, Myers and their basketball operations just believe in circling somebody (or two somebodies) off in the distance and then working towards that goal just to see if they can get it done, eventually.
For at least two years before they landed Kevin Durant in July 2016, he was the dream target. They didn't know if they'd get him, but the Warriors worked every realistic angle they could to make sure that they'd present the best case to him when he became a free agent. It worked out OK.
Before that, Myers and Lacob targeted DeAndre Jordan (signed him to a restricted free-agent offer sheet only to see the Clippers match it), Dwight Howard (missed out, but then switched quickly to a succesfsul pursuit of Andre Iguodala) and — a little more quietly — Chris Paul. Among others.
Further along Kawakami adds:
The timetable for this? That one is up in the air, because Davis, still only 24, is signed through July 2021 but can opt-out a year earlier. There is some thought that New Orleans' prolonged inability to climb into the Western Conference elite might get Davis thinking about life elsewhere … and might trigger the Pelicans to think about trading him before risking him walking away as a free agent for nothing in 2020.
How would the Warriors try to leverage this? Davis would have to want out, and then the Warriors would have to meet New Orleans' trade price — and that would almost certainly have to include either Klay Thompson or Draymond Green or potentially both.
Which is a lot. I'm pretty sure there is no definitive Warriors decision about whether they could or should offer either or both in a Davis deal or any deal. Maybe it's unrealistic. But to get into the Anthony Davis market, you have to think big.
To think the Warriors starting working on The Kevin Durant Project 2 years before the deal was done, and notice that Anthony Davis' free agency is only 2.5 years away at this point, the idea starts to seems less impossible, just improbable. The Warriors pulled off a heist of this magnitude once, why not twice? Although, the article does lay out another alternative.
If you have a chance to trade for Davis early, what would that take? Right off the top, it would take either Klay Thompson or Draymond Green or potentially both as well as a pay cut from Durant. Based upon the salary situation it means long time Warriors such as Andre Iguodala and Shaun Livingston. GONE. Or as best the Veteran's minimum. So hypothetically, if all the cards go right, and New Orleans decides to part ways with Davis, the Warriors could roll out a Curry-Durant-Anthony Davis "BIG 3". Would that be a better team than Curry-Durant-Draymond-Klay? In 2020 Klay Thompson and Draymond Green would be 30, while Davis would still be just 27. Davis can defend multiple positions like Draymond and can shoot the 3 ball better. While he is no Klay Thompson, he could be a middle ground between the two. There is a scenario where Davis fills both rolls at a 70–80% rate of both Klay and Draymond while contributing in ways neither current player can.
Could this be just a forward thinking pipe dream? Or are the Warriors indeed "light-years" ahead of the rest of the league.
Steemit: https://steemit.com/@nba-ryder
Follow me on twitter: https://twitter.com/JasonGiles_NBA