NBA Awards - My Picks for Sixth Man, Most Improved, and Most Valuable Player
NBA Awards - My Picks for Sixth Man, Most Improved, and Most Valuable Player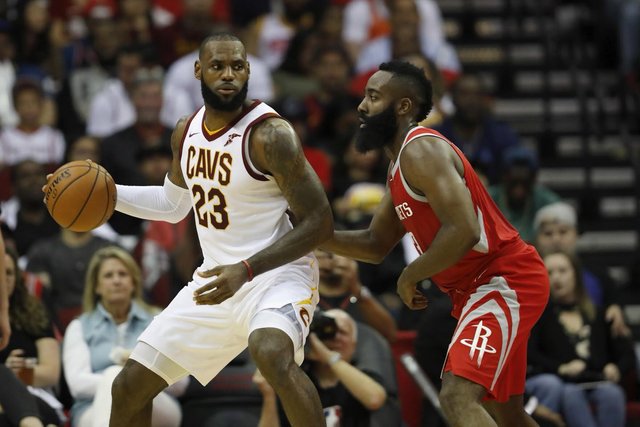 In yesterday's article, I went over my picks for the Coach of the Year, Defensive Player of the Year, and Rookie of the Year in the NBA, which you can read here if you missed it. Today, I'm going to go over the other three major awards in the NBA with my picks for Sixth Man of the Year, Most Improved Player, and the Most Valuable Player. Let's get right into it.
Sixth Man of the Year: Fred VanVleet - Toronto Raptors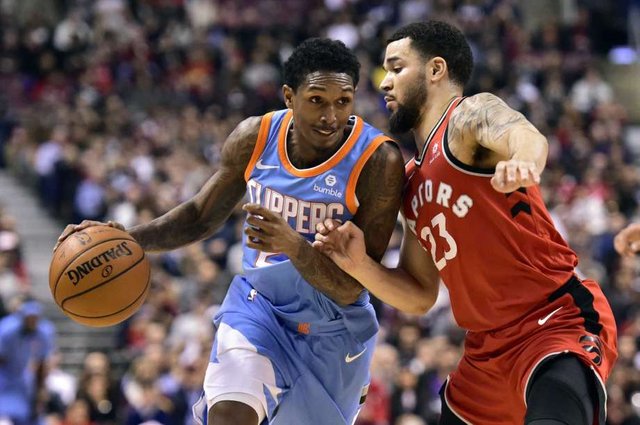 I'll preface this pick by saying that I think Lou Williams will win this award, but I believe Fred VanVleet is more deserving. Lou Williams plays 12 more minutes per game than Fred VanVleet (32.8 for Williams and 20.0 for VanVleet), so right off the bat I have to disregard any per game statistics as the numbers are skewed toward Williams. Let's take a look at their per 36 minutes stats and make a case based on those:
Williams per 36 minutes: 24.8 Points, 5.8 Assists, 2.8 Rebounds, 1.2 Steals, 3.3 Turnovers, 18.6 Field Goals Attempted
VanVleet per 36 minutes: 15.6 Points, 5.8 Assists, 4.4 Rebounds, 1.6 Steals, 1.7 Turnovers, 12.9 Field Goals Attempted
While Williams is clearly the more proficient scorer, he also is attempting about six more shots per 36, which means that if we were to up VanVleet's shot attempts per 36 minutes, he would score approximately 20 or so points per 36 based on his current scoring numbers. So yes, Williams is still the better scorer, even if we even out their field goals attempted, but the per 36 minutes numbers don't tell the entire story.
If we take a look at the offensive and defensive ratings per 100 possessions stats for these two:
Williams: ORTG: 112 - DRTG: 113
VanVleet: ORTG: 116 - DRTG: 106
What do these numbers actually mean though? Offensive rating is the number of points that the team scores when that player is on the floor and defensive rating is the number of points allowed with that player on the floor (all per 100 possessions). As we can see from the numbers, The Clippers are actually outscored by about 1 point per 100 possessions with Williams on the floor, while the Raptors are about 10 points better than their opponents with VanVleet on the floor.
This year could be a turning point for the Sixth Man of the Year award if VanVleet actually wins. The reason being that Lou Williams basically plays starters minutes, while VanVleet truly is a sixth man for the Raptors. The award was created to showcase players that wouldn't otherwise be recognized, but has devolved into simply giving the guy that scores the most after not starting a game the award. VanVleet is more deserving of the award, but unfortunately I think Williams will win it.
Most Improved Player: Victor Oladipo - Indiana Pacers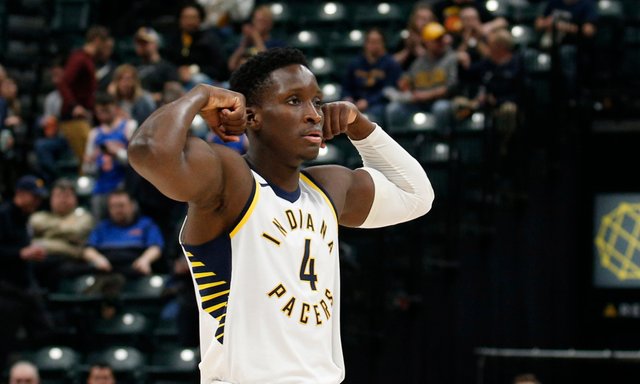 This is another award race that has laundry list of deserved winners. I could see the award going to Spencer Dinwiddie, Clint Capela, Giannis Antetokounmpo, DeMar DeRozan, or Andre Drummond, and none of them would surprise me. But what Oladipo has done is nothing short of remarkable. After what looks to have been a down year with Oklahoma City last year, Oladipo has exploded with the Pacers after being traded for Paul George. Oladipo is averaging career highs in points per game at 23.1, assists at 4.3, and rebounds at 5.2, while also leading the league with 2.4 steals per game.
One would imagine that Oladipo's numbers improved simply from an increased workload, but he is playing only 0.8 minutes more per game than last season, while shooting his highest field goal percentage of his career.
After being drafted by the Orlando Magic with the second pick in the 2013 draft, many believed that Oladipo would be a bust when the Magic shipped him off to Oklahoma City after three disappointing years with Orlando. Oladipo earned his first All-Star appearance this season and has the Pacers poised to make a run in the playoffs. Many believed that the Thunder swindled the Pacers in the Paul George trade, but Oladipo has taken it upon himself to prove all of his doubters wrong.
Most Valuable Player: James Harden - Houston Rockets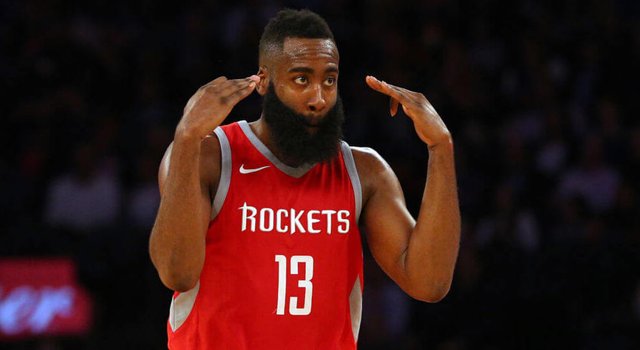 Unfortunately, the most prestigious of awards will likely be the one with the least intrigue and competition. While LeBron James has certainly made a push for the award late in the season and Anthony Davis turning on the jets since the DeMarcus Cousins injury, James Harden has had an historic season. Let's take a look at his season numbers:
Harden Per Game: 30.6 Points (League Leader), 8.7 Assists (Third), 5.4 Rebounds, 54.1% Effective FG, 10.2 FT Attempts, 10.1 3pt Attempts (The first player to average more than 10 FT and 3pt Attempts per game)
It's one of the greatest offensive seasons in history just based on those numbers, but let's dig even deeper. Harden is scoring a staggering 1.24 points per isolation play, which is the highest ever recorded which is over .25 more points than the average player who logged more than 500 isolation plays in a season (including LeBron James and Kobe Bryant by the way). But that's not all, Harden has also score more total isolation points than any other team in the league this year!
But that's not all either! Harden has 34 more made step-back threes than the next closest team (Portland with 45). Sure, you might think that he's heaving desperation threes, but Harden is hitting them at a 44.9% clip which would be good for second in the NBA in 3pt percentage, and that's just on step-back threes!
Harden is by far the best player on the best team in the league. Sure there's an argument to be made that if you take Harden and LeBron off of their respective teams that the Rockets would fare better, but that's a weak argument and one that cannot be proved with any certainty. We are quick to forget that the Cavaliers are tied for the fourth worst defense in the league and had an awful stretch of games around the All-Star break. Harden has been consistently amazing throughout the entire season and for that I give him the nod.
---
And there you have it folks, my picks for Sixth Man of the Year, Most Improved Player, and Most Valuable Player. I'd love to hear your thoughts on these awards as well as Defensive Player of the Year, Coach of the Year, and Rookie of the Year from my previous article. Don't forget to follow @brandonp, upvote, and resteem this post if you enjoyed it.
Lastly, please consider purchasing a Swish Weekly T-shirt at one of the links below to support the great basketball content. It would really help me out and you get a terrific shirt that will be the envy of all!