NBA Awards - My Picks for All-NBA First Team
NBA Awards - My Picks for All-NBA First Team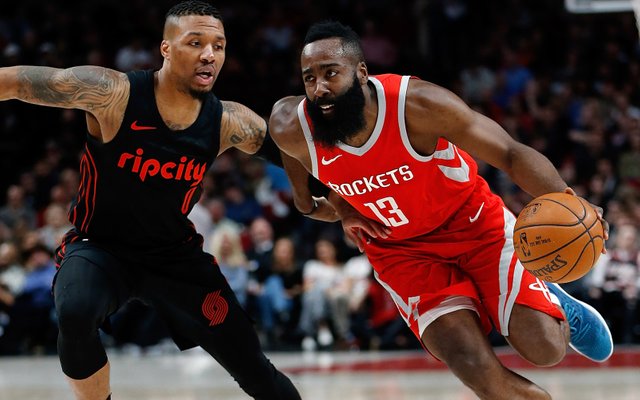 The NBA regular season wraps up tonight and there are still things riding on these games. I don't remember the last time there was so much potential movement on the final day of the regular season, but all I can say is that I'm excited for how things shake out. If you haven't gotten a chance to read my previous posts with my picks for Coach, Defensive Player, and Rookie of the Year as well as my picks for Sixth Man, Most Improved, and Most Valuable Player, I highly recommend reading those as well.
Here, I'll break down my picks for All-NBA First Team so let's get right into it.
Guard: James Harden - Houston Rockets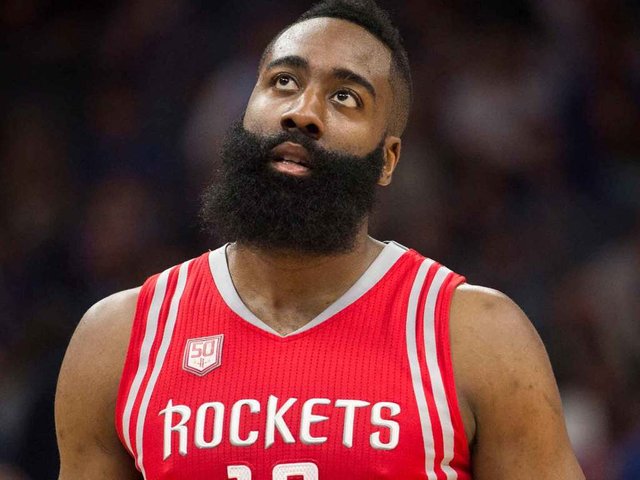 The Houston Rockets have been the best team in the league wire to wire and the biggest reason for that is the play of James Harden. He's also my pick for MVP which you can read about in my previous article, but he's well deserving of one of the guard spots on the All-NBA First Team.
Harden has averaged an absurd 30.4 points per game to go along with 8.8 assists and 5.4 rebounds on 44.9% shooting. Where Harden has truly excelled though is in isolation plays, which I dive into deeper in my MVP article, but to make a long story short, Harden is having the greatest isolation scoring season in the modern era.
The only true knock against Harden is that he has missed ten games this season, but despite his missing games, he is still well deserving of a spot on the First Team and there isn't another guard in the league that could knock him off this spot, let alone two in order to bump him to the Second Team.
Guard: Damian Lillard - Portland Trailblazers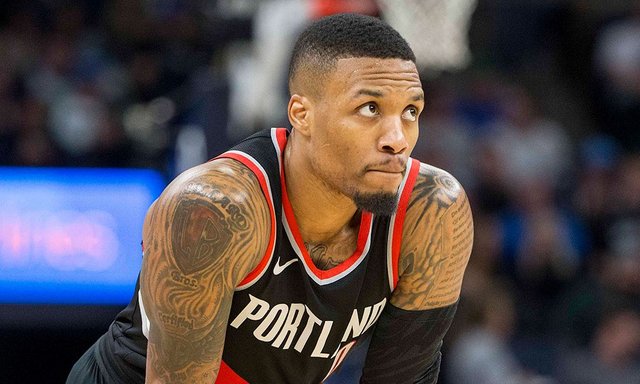 I'm not one to try to bury my incorrect predictions so I will own up to the fact that early on in the season, I said that I thought CJ McCollum was more important to the Blazers than Damian Lillard. I realize the error of my ways and since that time, Lillard has gone on to lead a Blazers team that many thought would be in the race for a lottery spot to home court advantage in the first round of the playoffs. (I take full credit for Lillard's resurgence by the way).
Lillard is averaging 26.8 points, 4.5 rebounds, and 6.5 assists per game on the season with a player efficiency rating of 24.9, which is good for ninth in the league. Lillard is also having his best season in terms of box plus/minus, win shares, and value over replacement player.
There are a couple other guards that could challenge Lillard for the second guard spot on the All-NBA First Team including Russell Westbrook and Stephen Curry, but I believe that Lillard has done more for his team than either of those two players, plus Curry has missed over a third of the season due to injury. Lillard and Westbrook are very close, but I give the edge to Lillard.
Forward: LeBron James - Cleveland Cavaliers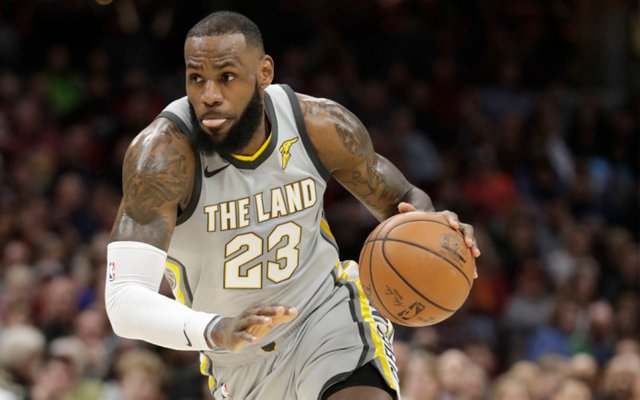 LeBron James has had one of the most spectacular seasons of his career in his 15th year in the league. Someone being so effective this late in their career is unprecedented and were it not for James Harden's historic offensive season, LeBron James would be walking away with his fifth MVP trophy. Regardless of whether he wins MVP or not, LeBron is a lock to make his 12th straight All-NBA First Team.
James is averaging 27.7 points, 9.2 assists, and 8.7 rebounds per game, while also leading the league in minutes played. It's unbelievable that a player at this stage in his career is having such an impact on the league and hasn't shown any signs of slowing down. By the numbers, this might be LeBron's best all-around season in his fifteen year career.
He's led a Cavaliers team that early in the season looked like it might struggle to win 45 games to a 50 win season, while basically being the only constant on this Cleveland team. LeBron is well deserving of another All-NBA First Team selection.
Forward: Kevin Durant - Golden State Warriors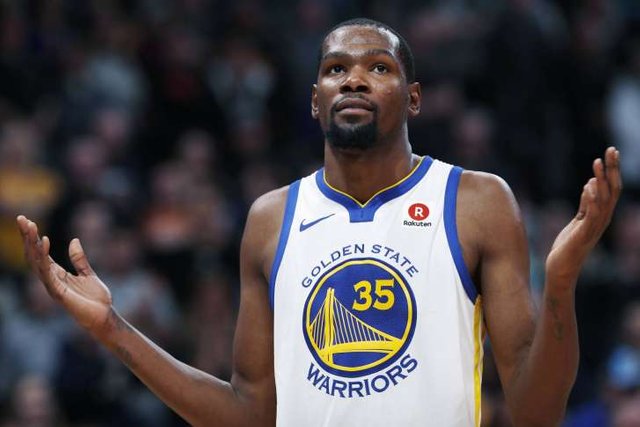 Kevin Durant is one of the guys that I feel is the least guaranteed to make the All-NBA First Team, but much of that is due to the fact that we have simply gotten so used to Durant's performance that even in a year that would be considered great for the vast majority of players, we see it as a "quiet" year for the Warriors forward. It's probably also due to the fact that the Warriors didn't simply crush the rest of the NBA as they have done in recent years. With Steph Curry, Draymond Green, Klay Thompson, and Durant all missing time due to injury, many seem to have forgotten how great this team has been in the past.
Durant though, is averaging 26.4 points, 6.8 rebounds, and 5.4 assists per game to go along with his career high 1.8 blocks. He's narrowly short of adding another 50/40/90 season to his resume (just 1.1% free throw shooting short) and is shooting his highest percentage from three point range at 41.9% since his second season in the league. These are numbers that we've grown accustomed to from Durant, but he is still having a phenomenal season and is well deserving of an All-NBA First Team slot.
Center: Anthony Davis - New Orleans Pelicans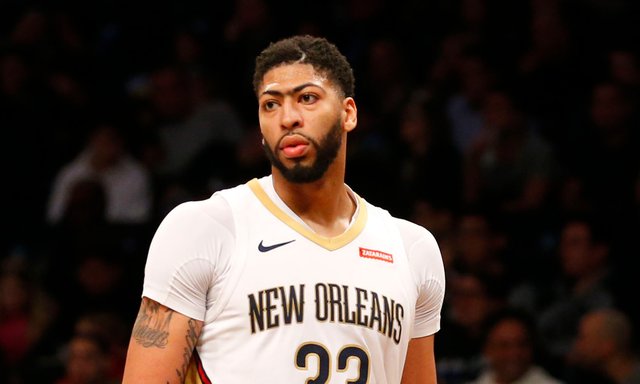 There are very few teams that get better when their second-best player goes down with a season ending injury, but that is certainly the case with the Pelicans. Things looked hopeless for the Pelicans after DeMarcus Cousins went down with a season ending achilles tear right before the All-Star break, but Anthony Davis put the team on his back and has led them to a playoff berth for the first time since 2015.
Davis has been one of the most dominant players in the league since the All-Star break and is averaging 28.2 points, 11.0 rebounds, and 2.3 assists per game to go along with his league-leading 2.6 blocks. Davis is second in the league, behind only James Harden, in points per game as well as Player Efficiency Rating. He's also fourth in total win shares, all while playing the second half of the season without his best teammate.
Anthony Davis is a shoe-in to make his third straight All-NBA First Team and deservedly so. When Cousins went down, many thought that would be the end of the Pelicans' season, but Davis righted the ship and led his team to the playoffs with one of the worst supporting casts of any playoff team. If that doesn't earn him a spot on the First Team, then I don't know what could.
---
There you have it, my picks for the All-NBA First Team. There are many deserving candidates, but unfortunately I could only pick five. I'd love to hear in the comments section who you think deserves a spot on the All-NBA First Team and which of my picks you think is the least spot-on. Don't forget to follow @brandonp, upvote, and resteem this post if you enjoyed it.
Lastly, please consider purchasing a Swish Weekly T-shirt at one of the links below to support the great basketball content. It would really help me out and you get a terrific shirt that will be the envy of all!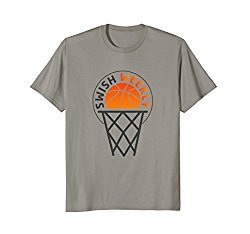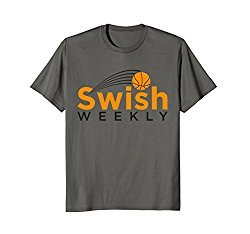 Disclaimer: Links to T-Shirts are Affiliate Links