Russula is a genus of mushroom with lots of different edible mushrooms. They are usually pretty large, and many of them have bright colors, so they are usually very easy to spot when you are in the forest. Among the species there are some extremely delicious ones such as Russula vesca which tastes like nuts.
In this post, I want to teach you guys a little bit about the Russula mushrooms, how to identify them from other mushrooms, and how to identify edible species.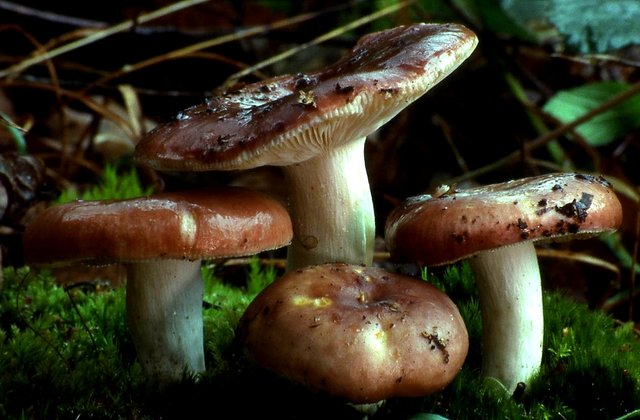 Above is the Russula vesca mushroom. Be sure to harvest this one, it's superb!
Why learn to identify Russula mushrooms?
I recommend learning to identify the Russula mushrooms because they are very easy to find in the forest, does not really look like any dangerous mushrooms, and most are either edible or non-edible but not dangerous. It's a great beginner mushroom genus, and can provide you with a decent amount of good ingredients for adding taste to soups or dishes.
There are not any dangerous Russula species in Europe or the US, but in Asia you can find Russula subnigricans, which can be deadly in a worst case scenario. So if you live in China, Japan or Taiwan you should be a lot more careful when picking Russula.
Some people claim that you can find the Russula subnigricans in the southeast US, but this has not yet been confirmed by any mycologists.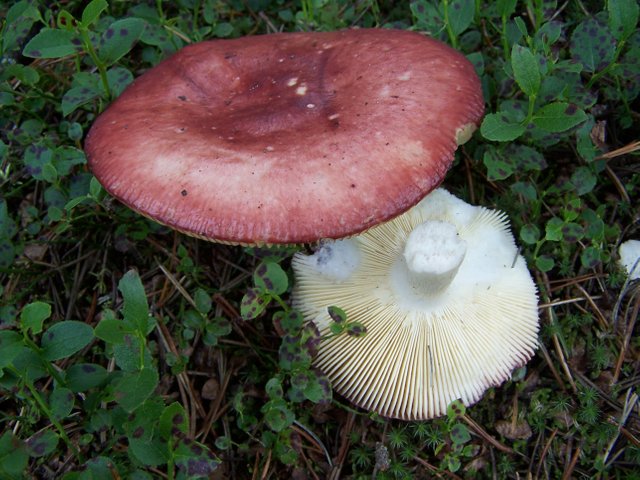 R. paludosa. Edible, but looks a lot like the inedible R. emetica (called The Sickener).
How do I know which mushrooms are in the Russula genus?
Finding out if a mushroom is part of the russula genus is actually pretty easy. They usually have brightly colored caps, and these can be yellow, red, brown, greenish, white, blackish or any shade in between. They will usually get between 6 and 10 centimeter tall, so they are not exactly large, but they are easy to spot in the forest.
All Russula species also share the following characteristics, which are used to identify them:
They have no rings on the stem.
They do not grow from an egg sac.
The stem is meaty, unless it has been eaten by bugs or slugs.
Most have a white stem, and white meat, but there are some exceptions.
Does not have milk in their gills like the Milk Cap family does.
The texture is very different from most other mushrooms.
I will expand a bit on that last texture part. While most mushrooms are somewhat bendable, the russula mushrooms will always break. This means it's easy to break the stem, and it will snap like a piece of chalk. The same goes for the cap. Most mushrooms will be somewhat bendable on the cap, but the cap on any russula species will snap without much effort. This feature is because the russula fungi has round cells, while most fungi has oval shaped cells.
If you find a mushroom you suspect might be a russula, throw it towards a rock or a tree and it will "explode" into many pieces, which most other mushrooms will not.
The mushrooms in the Milk Cap family also share most of these features with the russula family, but will secret a white or light colored milk from the gills when you break them.
After finding a few mushrooms that are in the russula family, you will begin to be able to identify them easily by looking at and touching the mushroom, but this takes a little bit of practice.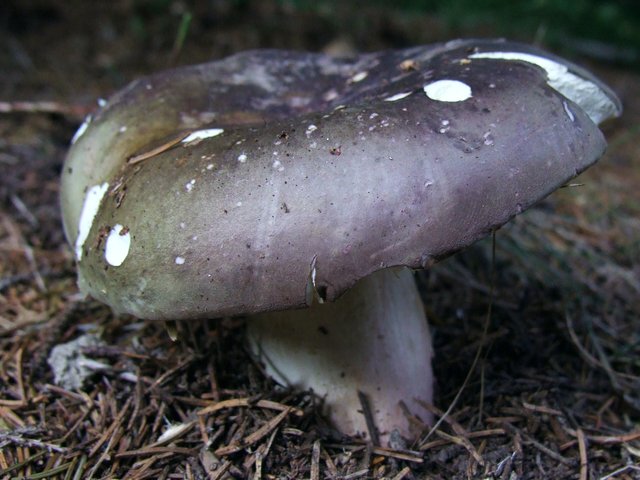 Russula cyanoxantha. This is one of the exceptions to the "rule" that the cap will snap easily. It's very common all over Europe, and is edible.
How to know if the Russula is edible or not
Warning, this part of the guide is based upon information from Northern Europe and the UK. I think it is also viable in the US, but definitly not in Asia. So check out local russula information if you are attempting this outside of the northern part of Europe. Don't attempt to use the below method unless you are 100 % sure you have a member of the russula genus!
Finding out if the russula is edible is actually a very cool process. It requires some bravery, but its actually not dangerous since we don't have any deadly or even dangerous members of the russula family in Europe.
What you are going to do is to break of a little bit of the flesh of the mushroom and put it on the tip of your tongue. Now, what do you feel? If it's a mild taste, the russula is edible. If it is burning on your tongue like chili, spit it out and throw the mushroom away. Some people are afraid that they will not be able to taste the difference and end up with collecting an inedible mushroom, but trust me, you will definitely know which ones to throw away! The taste from the inedible russula mushrooms is extremely strong, and you might have to eat or drink something to get the taste away.
Tasting the russula mushrooms to identify the edible ones are completely safe, but you should be sure to spit out (and not swallow) the ones that taste like chili or is burning your tongue.
With the taste test you will also get a rough expectation as to what the mushroom will taste like, but the taste will usually be a bit different once you use it in cooking.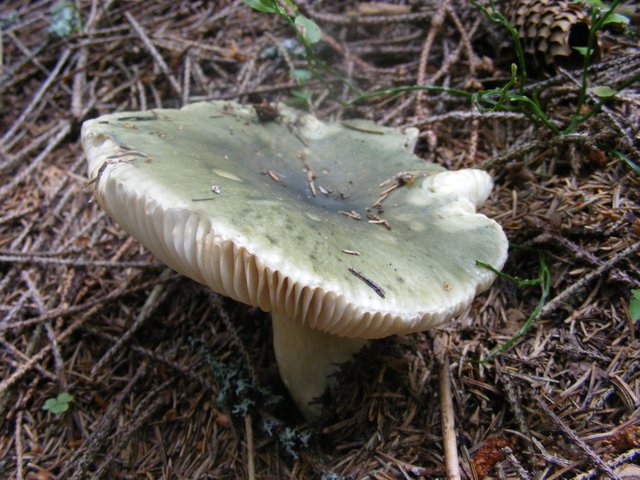 Russula virescens. A popular, edible russula mushroom which is often considered to be one of the best russula mushrooms to use for cooking.
Thanks for reading
Thank you for reading my mushroom post! Make sure to follow me if you like these kinds of posts, and please leave a comment below if you like the article, find a mistake or error in it, or have a question. As with any mushroom guide, you should always read any identification process from several different sources before attempting to identify them yourself, but in the case of russula mushrooms you are pretty safe, because they don't really look anything like the dangerous ones.
If you want to learn about the deadly mushrooms you might come across, make sure to read by other post: 5 deadly mushrooms that you can find in the forest.
Image sources
All images are from Wikimedia Commons. Sadly I don't have many non-blurry mushrooms images to use from my own collection.
Image 1: Russula vesca. Image by Luridiformis at English Wikipedia. Image source link. Used with the Creative Commons Attribution 3.0 Unported License.
Image 2: Russula paludosa. Image by Jerzy Opioła. Image source link. Used with the GNU Free Documentation License.
Image 3: Russula cyanoxantha. Image by Jerzy Opioła. Image source link. Used with the GNU Free Documentation License.
Image 4: Russula virescens. Image by Szabi237. Image source link. Used with the GNU Free Documentation License.